,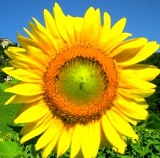 Welcome to My Italy in September


Maria's family mostly live around Thiene and Breganze. I'm sure you've never heard of either – nobody ever has. They might not be in any travel guides but I really think there are few better places in Italy in which to live...and they are great to visit too. I hope you enjoy our journey through both towns this month.
Then we'll go and wander around Acqua Alta in Venice, looking at the books and bathtub before we head over to the city of bicycles.
No recipe this month but wine instead.


One thing - if you don't have HTML enabled not all the links will be highlighted and they won't work. If that is the case just copy and paste them into your browser. Copy up to where it says .html

1) A Place to Live


Many people ask me where the best place to live in Italy is. Well for me it would never be the big cities like Rome or Milan, and cities like Florence and Venice are great to visit but not to live. These two little towns are wonderful though and only a short distance from Venice, the sea and the mountains. Read more here.
2) Acqua Alta


Cats everywhere, a bathtub in the middle of a busy room and a fire escape that'll have you splashing straight into a canal. This is the rather surreal Acqua Alta – discover it here.
3) City of Bicycles


The second oldest university in the world, and five times as many bikes as cars; little wonder some call this city Italy's Cambridge. Here's more.
4) Essentials on Italian Wine
I'm often asked which wines go with the dishes Maria and I have on the site. Here's a resource that should really help you if you've wondered the same.


---


Thank you for being a part of our little world this September and we'll catch up again next month.

Ciao
Andrew & Maria



P.S., are you off on vacation...anywhere? Please book through our site! Here's the link to bookmark. It won't cost you a cent/penny more and helps Maria and I to cover some of our expenses.
P.P.S. Please keep visiting often and I would suggest that you subscribe to the blogs on each of our sites if you have not already done so, you will automatically receive updates and new articles as they are added.