A Le Marche Country House.
La Vecchia Scuola (the old schoolhouse) is a lovingly restored stone and brick Le Marche country house, right next to the Monti Sibilli National Park, and only a short drive to San Ginesio (click for more), considered to be one of the most beautiful hill towns in Italy.
It's one of only a handful of really exceptional accommodation options that I feature in the Marches. You can see some of the others here.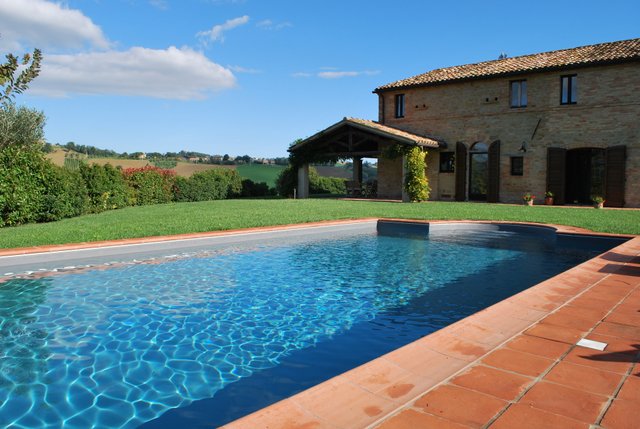 An idea of the beauty of the setting can be seen in the photo above but view the Vecchia Scuola site for more information plus some great photos of the area. 
Few old houses are ever restored this well and the wonderful house, together with the setting, makes this the perfect place to experience the "real" Italy, right in the rural heart of Le Marche and on the doorstep of both sea and mountains.
Of course before you get to the sea or the mountains you'll find countless fascinating villages to explore, small trattorie to eat at and great scenery to admire.

The history of the villa is uncertain although it is known that it once served as the local schoolhouse in the early part of the 20th century and hence the name.
The villa can accommodate up to four couples but even a single couple can easily be accommodated in great comfort and privacy.
If you are looking for a place where you can forget about the worries, stresses and pace of the modern world and step back in time to a slower rhythm of life, while not forsaking today's luxuries, then this is just the place.
When you see how special this Marche country house is you will also be pleasantly surprised at how reasonable the rates are – for a place this good they are excellent.
The Australian owners love for Italy and in particular Le Marche can be felt in even the smallest detail - they wanted everything to be perfect and 100% authentic. They are delighted to have achieved that and you'll be delighted to share in the benefits of their years of hard work. 

Home

›
Getway to Le Marche
› A Le Marche Country House