Hello, I trust that 2020 has started on a good note for you and your family.
Maria and I have been rather busy organizing our year ahead. We've a lot planned and we are so excited that our son William is playing a bigger and bigger part in sharing our love for Italy. He is now almost entirely in charge of our YouTube channel and we'll share one of his newer videos with you today.
William's goal is to bring a whole mixture of different types of videos to our channel: informational, inspirational and fun too. He'll slowly convert some of our website content into videos as well. Please do support him and subscribe if you haven't already. Here is the link: YouTube Okay, let's get onto what else we have today...
Around & Around We Go!


On a peaceful side street, just 5 minutes walk from the road to St Mark's Square and a million miles from the crazy crowds, exists a funny little tower.

It winds upwards in the pattern of a snail's shell (which is where its name Contarini del Bovolo comes from), around and around you go, then you step out into one of the most beautiful views of Venice.

There, on your left, is the famous Bell Tower, burnt sienna rooftops in-between and the dome of Santa Maria della Salute to the right of you. Standing before this beauty takes one's breath away.

Last time Maria and I visited, the music of Andrea Bocelli drifted up to us on a gentle breeze from somewhere far below. We stood there, all alone, with the dreamy sounds filling our souls and our eyes dancing across rooftops. It was a moment neither of us will ever forget.

Join us on our climb up the Contarini Del Bovolo
What's for Dinner?


The cooking of the Veneto is very different from that which most people would think of as typically Italian.

Okay, there is pasta and the local pasta version, called bigoli, is fabulous; a lot of dishes though are a little unusual and not for the faint-hearted. It is all delicious nonetheless and very addictive. I am hooked for life on the Veneto's cuisine.

Ready then for an authentic taste of the Veneto?
The Story Behind the Floods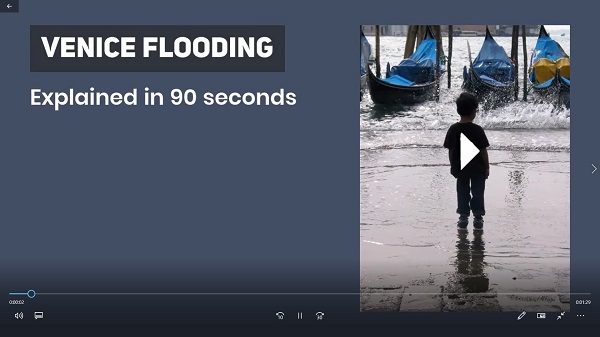 A lot of people have asked us why Venice has been flooding so severely this winter.

There is no simple answer, rather a combination of various factors that have all come together at the same time.

William has tried to explain some of the story in a video he made. I hope you enjoy it and please do subscribe to our channel - we'd love you to be a part of our little world on YouTube

You can watch the video here.


---

Enjoy your weekend and we'll see you again next month.

Ciao
Andrew & Maria

P.S., are you off on vacation... anywhere? Please book through our site! Here's the link to bookmark. It won't cost you any more and helps us to cover some of our expenses.