Last month we shared a walk from Ravello, which led down to Minori. Now we'll explore lovely little Minori itself, one of the most delightful towns on the entire Amalfi Coast.
After that it is off to another little old town, this time near Venice.
Lastly, we remember the past: the difficult times that have helped to shape the Italian character and make Italy the country it is today.
Splendid Minori


Minori is one of the loveliest spots to stay on the entire Amalfi Coast: a gorgeous little town, perfectly located to explore the rest of the Amalfi Coast. It is a far more affordable base than Amalfi or Positano and it hasn't the huge tourist crowds of those two either.

Did I mention the limoncello? Well, it is believed to be the absolute best limoncello of all.

As for the lemon marmalade... well that had me singing with joy - for a few seconds - until Maria and William begged me to stop. Okay, my singing may be dreadful, is dreadful actually, but Minori, the lemon marmalade and the limoncello are wonderful.

Read our article about Minori to see why you really should visit
Caorle - Burano on the Beach


Caorle's old town reminds me a little of Burano (which we featured a few months back), the cottages are all painted in blues, reds, pinks and sunflower yellows. The aroma of freshly cooked seafood tempts you down tiny lanes and locals chat in the little squares.

Enchanting indeed, but Caorle has a lot more than that going on: for starters there are lovely cycling paths, endless beaches and the Casoni. The Casoni are completely different, hard to describe really: best is to view the photos in our article.
A Dark Past Remembered


In my culture people always want to put the past behind them, to "move on". People rave about the latest, the flashiest, most modern. The past is old and old is out of fashion.

Italy isn't like that. It is one of the things I've always loved most about the country.

For Italians, the past and the present seem to blend together into a reality unlike anything I've ever known. The hardships of the past are a part of who they are today and they will always celebrate and learn from those experiences. It is why their communities and their family bonds are so strong

Chris Sobolev, one of our newsletter subscribers, explains it well in this article.


---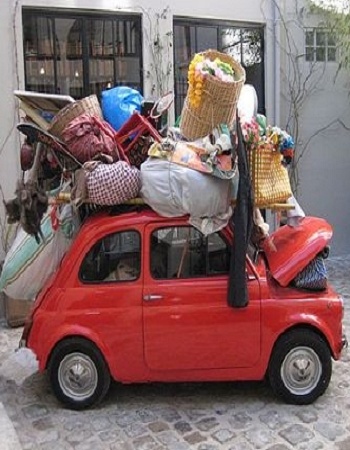 Got to go, Maria has packed up the car (she promised me she's only taking the essentials this time) and we are heading out to discover more of Italy.

Ciao
Andrew

P.S., are you off on vacation...anywhere? Please book through our site! Here's the link to bookmark. It won't cost you any more and helps us to cover some of our expenses.