Today we have a rather humble boast, we plan on giving you a glimpse of Heaven. Well sort of.
A glimpse of Heaven (or Heaven's balcony) is what locals call Ravello and I don't think they are far wrong. Standing in the gardens of Ravello, gazing down at the sapphire blue seas far below, is one of the most moving things I have ever done. I hope to give you a little taste of what being there is like in this month's newsletter.
It doesn't end there either, once we leave Ravello we'll take you on a walk, a walk as lovely as any I have ever done.
Lastly we've a Roman friend who would like to share a little about Rome with you.
Heaven's Balcony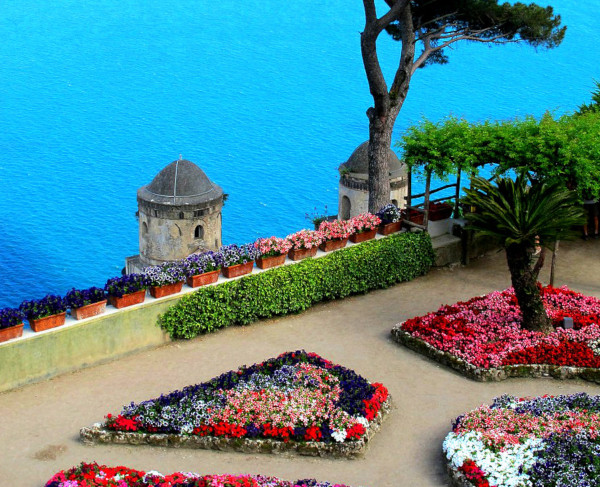 Every time I visit Ravello, I stand in the gardens of the Villa Rufolo, gazing down at the sea far below. No matter how many times I have stood here it is always like the first time. I feel an overwhelming sense of joy, my spirits soar and a sense of happiness overwhelms me. No wonder they call this the Garden of the Soul and Ravello the Balcony of Heaven.

Here's more about this incredible place.
The Pathways of Paradise


From Ravello there's a lane that leads down to the sea. Follow it through flower decked pathways, down endless stairs, through medieval villages and you'll eventually reach Minori. Last time I walked it my legs were sore for days afterwards, but it was worth it a million times over and I can't wait to do it once more... even if it will mean sore legs again.

Read more about the walk here.
A Roman's Rome


Emmanuele Serraino is a photographer and a Roman, his love for his city is evident in each and every photo and we were so pleased when he allowed us to share some of his best works.

Not only did he share his photos he also shared some great tips on how to see Rome in its best light

These then are Emmanuele's photos and tips.


---

More incredible destinations coming up next month; I look forward to catching up with you then.

Ciao
Andrew & Maria

P.S., are you off on vacation...anywhere? Please book through our site! Here's the link to bookmark. It won't cost you any more and helps us to cover some of our expenses.