We have been inundated with messages telling us that Italy is anti-American because Americans can't yet travel to Italy. We even had a Brazilian saying Italy is anti-Brazilian.
Where do people get these ideas?
It is simply not true. As I mentioned last month, every Italian I know misses the enthusiasm and excitement tourists bring.
Where do we stand on the whole issue?
Well, we addressed it in a blog post last week and we'll share that with you today.
We've also a few ideas on where to go and what to see ... once it is safe for everyone to return.
To return... or not?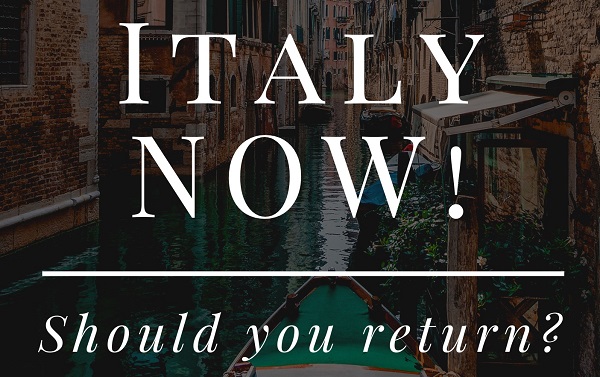 Maria and I thought long and hard before posting our thoughts about Italy opening up on our blog.

Our recommendations in that post are not in our best interests.

However, we wanted to be honest, to tell you how we felt.

Probably a case of shooting ourselves in the foot, but we wouldn't feel right about recommending something we don't believe in. That is not what we do, not who we are.

Anyway, for better or worse, you'll find our opinion piece on the ItalyMammaMia blog.
What is the Amalfi Coast?


Most people think of it as including everywhere from Salerno to Sorrento and even the island of Capri.

It is a little more limited than that.

We'll share the "official" designation with you and take you along to visit a few towns on the coast, sharing stories and photos etc.

You can start the journey here.


Back to the Future


Once better days are here again, what would you say to 30 days in Italy?

We've put together a few ideas to help you plan your return to Italy. There's a video too, featuring some of the absolutely stunning destinations mentioned in the itinerary.

Here are the details.


---

Maria is calling me for dinner so I have to run. Thank goodness for Maria's pasta dishes and wonderful cooking. I don't think I would have survived this whole lockdown thing without her pasta... and my stock of Piedmont wine.

Ciao
Andrew & Maria

P.S., are you off on vacation... anywhere? Please book through our site! Here's the link to bookmark. It won't cost you a penny more and helps us to cover some of our expenses.