,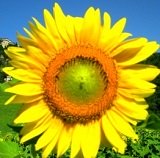 Welcome to My Italy in March


With summer soon to be knocking on the door, Maria and I thought that a journey to some of Italy's islands would be a good idea... so we're off to Sardinia and the Isle of Capri.
If that wasn't enough sunshine for you we've got the beach that's hidden down a fjord – it might be in a fjord but don't let that put you off... it is a warm and sunny fjord where ice and snow are unknown.
Instead of a recipe, we've a restaurant where few locals go and no tourists – I know that sounds a bit strange but I'll explain what I mean and why it is well worth a visit.


One thing - if you don't have HTML enabled not all the links will be highlighted and they won't work. If that is the case just copy and paste them into your browser. Copy up to where it says .html

1) Isle of Romance


Italy's most romantic island has to be the Isle of Capri – on such a little island every tiny corner has something to enchant, from stunning views to the fabulous blue grotto. Discover this magical destination here.
2) Beaches of Marbles


Beaches made of white marble and seas of Murano clarity await on Goloritzè. Often considered one of the world's best beaches this truly is an incredible place to get away from the stresses and strains of modern life.
3) A Fjord of Sunshine


When I think of fjords I think of Norway or somewhere else cold. I don't expect to find one on the Amalf Coast and yet here it is – filled with sunshine and vivacious Italian life. Click for more.
4) Huge Smiles & Huge Portions
A restaurant filled with Southern Italians and yet it is in Northern Italy? The portions are huge, while the atmosphere is typical of Naples – here is how it all makes sense.


---


Don't forget that Maria and I are always happy to assist you in planning a trip to Italy. Anything from itineraries to ideas on things to see – simply ask away.

Enjoy the rest of your Thursday.

Ciao
Andrew & Maria



P.S., are you off on vacation...anywhere? Please book through our site! Here's the link to bookmark. It won't cost you a cent/penny more and helps Maria and I to cover some of our expenses.
P.P.S. Please keep visiting often and I would suggest that you subscribe to the blogs on each of our sites if you have not already done so, you will automatically receive updates and new articles as they are added.