,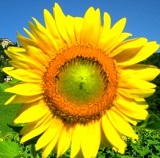 Welcome to My Italy in October


I'd like to share with you a small town in the Veneto, it has captured the hearts of artists, poets and writers for centuries. Many found that once arrived they never wanted to leave. It's like that for me and might well be for you too...you've been warned!
Not only do we have the aforementioned town, in which life would surely be close to perfect, we've also the secret to eternal love...and it's free. What more do you need?
Lastly it's off to Tivoli we go to explore the villas of Roman Emperors and Popes.
Nearly forgot, this month's recipe is for Stuffed Peppers.



One thing - if you don't have HTML enabled not all the links will be highlighted and they won't work. If that is the case just copy and paste them into your browser. Copy up to where it says .html

1) Lose your Heart


Every time I visit Asolo I can imagine making my life here. There's something very special about this tiny town. If you've a few minutes to spare let's go and explore.
2) Eternal Love


Eternal love is something I've always dreamed of; Maria and I are close to twenty years now and still going strong – could it be because of something we experienced in Venice a long time ago? Here's what we did.
3) Popes & Roman Emperors


Near Rome you'll find the splendid villas of Roman Emperors and Popes. The villa of the Roman Emperor Hadrian is the most impressive – a truly incredible mansion.
4) Italian Peppers
Stuffed peppers is a dish Maria often makes - it is one of our favorites. This is the recipe.


---


William is calling me to go and play football (soccer) with him. I promised I would hours ago - now I have to run otherwise I'll be in trouble.

I'll be back again in November with more.

Ciao
Andrew & Maria



P.S., are you off on vacation...anywhere? Please book through our site! Here's the link to bookmark. It won't cost you a cent/penny more and helps Maria and I to cover some of our expenses.
P.P.S. Please keep visiting often and I would suggest that you subscribe to the blogs on each of our sites if you have not already done so, you will automatically receive updates and new articles as they are added.