Le Marche Italy Restaurant Review
The Ristorante Tavernetta il Fontanino in Urbino is located on a working 32 hectare Italian farm in a part of the Le Marche region rich in history and tradition.
The farm also offers Agritourism or Italian style farm holidays. The setting is glorious with the towers of San Marino and San Leo (view my guide to this really lovely town) visible in the distance.
A few days spent relaxing here is always time well spent and if you like carp fishing the lake on the farm is ideal. Otherwise just enjoy the walks in the area but watch out for the wild boar!!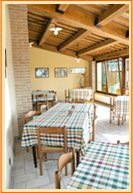 Prefer not to meet any wild boar? Then rather simply relax by the swimming pool or enjoy good game of tennis on the farms tennis courts.
The food is traditional local Marche farm fare, nothing very sophisticated but sometimes that is nice for a change. Everything from the bread, which is a meal in itself, to the desserts is prepared on the farm from organic ingredients grown on the farm itself
If an ingredient isn't available they will source from a nearby farm or not at all. All the cooking here is done with an eye to preserving local le Marche recipes and traditions.
Many recipes are those that have been in the owner's family for generations. The food is wholesome and traditional farm style cooking – no pretensions or airs and graces here – you'll just eat well, fairly cheaply and in abundance. I love it!

The perfect place to stay in Le Marche? I believe so!

Would you like more restaurant picks and much more besides? Then please sign up for my free monthly newsletter.

Like us? Why not support me and Maria.
All you need do is book via the search box below, or any of the hotel links elsewhere on the website. It can be for travel to Italy... or anywhere else on earth.
You'll get the best deal available and the income we receive helps us to:
Stay independent and to keep bringing you the best of Italy.
Never have to accept money from hotels directly, so that we can share only those we genuinely love.