Are you far away from Italy? Well then, we've just the thing: a way to bring a little Italy to your corner of the world.
After that we'll head to Piedmont, a region I simply adore. We lived there for ten years and the memories are truly special. I make sure I return as often as I can, although leaving is always painful.
Last stop is Ponza, an island that nobody has ever heard of but once visited, it is an island you'll never forget.
Aperitivo?


After a long and rewarding summer's day in Italy I like nothing better than to stroll into a piazza, take a front row seat at the theater of life (an outdoor cafe) and order an aperitivo.

Soon little plates are placed before me, bruschetta, salami, mortadella, olives etc.

Then comes my Aperol spritz and I am in heaven for the next hour.

I watch the world go by, chat with friends, nibble on the snacks and sip my drink.

Could anyone have invented a more perfect way to end the day?

Can't get to an Italian piazza? Here is the recipe!
Ponza - A Love Story


Everyone has heard of Capri, Sicily and Sardinia but have you ever heard of the Island of Love?

It's a beautiful little island surrounded by seas of the deepest blue and everyone has a story to share and time to spare.

Marina shared one such story with us. Marina's tale captures the unique joy of endless summers spent on Ponza.

It's a story of love but there's a sad ending and our prayers are with you Marina.

You can read Marina's story here.
I Love Piedmont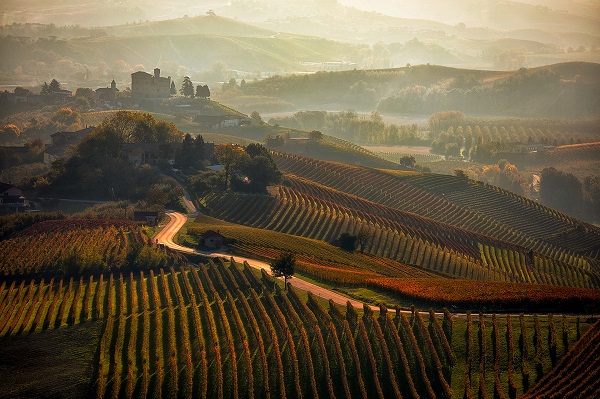 Piedmont was the first region I lived in Italy and it is where I always feel most "at home".

To me Piedmont has everything... except seaside. That didn't matter either, the Italian Riviera was only a short drive away.

What can it offer?

Rolling hills every bit as lovely as those in Tuscany, elegant cities and towns, soaring mountains, vineyards, medieval towns, ancient monasteries, castles. Well you get the idea.. there is LOTS to see

To begin exploring click here.


---

That's all for this month, we'll see you again in June. Oh, if you are going somewhere, please bookmark the link under the P.S. below.

Many thanks
Andrew & Maria

P.S., are you off on vacation...anywhere? Please book through our site! Here's the link to bookmark. It won't cost you any more and helps us to cover some of our expenses.