, have you ever thought about living in Italy?
Most of our readers live in non-EU countries; up until recently this made living in Italy next to impossible.
That has changed.
Now, there is a short window of opportunity to become a permanent resident and eventually a citizen. More in this month's newsletter.
Then, seeing you might be living in Italy soon, we thought we'd share a few things for you to do once there. One of those articles (about Saluzzo) is password protected - we've articles on dozens and dozens of wonderful little villages that we share only with supporters.
Don't worry though, you can access them all for the price of a cup of coffee.
With all the free things you get: eBooks, great discounts, exclusive content, tax & real estate advice, travel advice, tips and more, you actually get rewarded for loving Italy.
Put simply, it pays our supporters to love Italy ;-)
P.S. Join during March and get INSTANT access to our subscriber content forever. So don't delay! Sign up below...

Live in Italy - Forever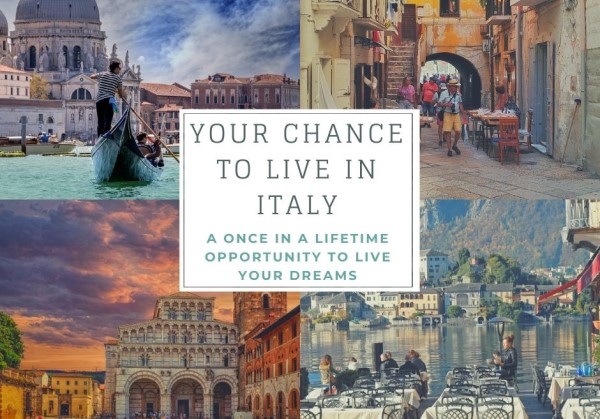 The English gentleman behind the investment for citizenship program is a good friend of ours. He is absolutely crazy about Italy and always dreamed of a project helping young people and his community in lovely Agropoli.

He's worked so hard to get the government to approve it . Finally they have!

HIS PLAN

He plans to turn the waterfront marina into a pedestrian only area, offering an opportunity for young people to create businesses showcasing local products, while offering investors the chance to be a part of an exciting opportunity in one of Italy's most beautiful destinations.

A DREAM COMES TRUE

Investors get the right to live in Italy and, after ten years, they receive Italian citizenship... without even having to do the language test. You can get all the details here.


Saluzzo - Really Cheesy


Cheesy in a good way. This is a little town that loves its cheese. We'll share one fabulous little store that has over 200 hundred of the most wonderful melt your heart and melt in the mouth cheeses.

Then there is an amazing little trattoria where all the most mouth-watering dishes of Piedmont's superb cuisine are served.

So can I temp you to visit Saluzzo with us?

You can do that here.


What To Do On The Costa Amalfitana


The short answer is that there are literally thousands of wonderful experiences awaiting you on the Amalfi Coast, but, unless you've months available you'll need to focus on a few of the most memorable.

Here are 7 you'll absolutely love.

---

Times are still tough around the world, but, even with a recent surge in case numbers in Italy, I have a feeling that we are coming to the end of this nightmare. From our contacts in Italy I hear that by late summer/early autumn they are expecting to reopen to all EU countries, Australia/New Zealand, Canada, much of Asia and the USA.

I don't recommend booking anything yet though, rather hold off for another month or two.

Ciao
Andrew & Maria

P.S., are you off on vacation... anywhere? Please book through our site! Here's the link to bookmark. It won't cost you a penny more and helps us to cover some of our expenses.