Login with your member password below to see your content

Why not become a Supporter?
Click the more info button to see what we offer...

Enchanting Saluzzo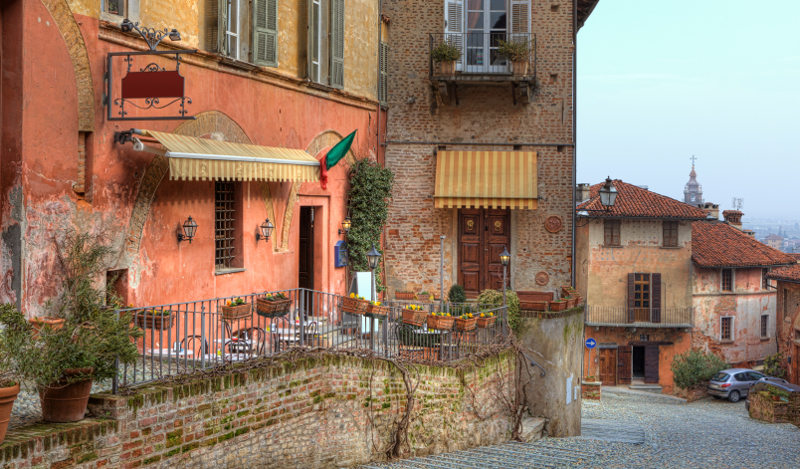 Saluzzo is an absolutely exquisite little Piedmont town, a real gem, encapsulating all that makes Italy, and more especially Piedmont, special. There is so much that is wonderful about this place; from the beautiful scenery around and about to the perfectly preserved old town.
Only an hour by car from Turin/Torino, its bell towers and ancient spires are visible in the distance as you arrive across the plains, while snow-capped Monviso (source of the River Po) rises up behind the town.
Where to Stay in Saluzzo

As a base to explore this magnificent town and surrounding region you will find no better place than the Hotel Antico Podere Propano . This delightfully restored farmhouse is run by an incredible couple for whom nothing is to much to ask. Be one of the first to discover the wonderful secret that is the Antico Podere Propano (click for more information and photos) .
Exploring Saluzzo
Saluzzo was once an independent kingdom ruled over by the Marchese, descendants of whom still own the towns beautifully preserved palazzo (palace).
This is a town that must be explored on foot. The main street is a treasure chest of antique shops, half a day can easily be whiled away in these little shops.
Wondering up through the narrow streets of the old town, every corner presents a new discovery. Beautiful bell towers, the palaces of nobles and ancient houses with huge wooden doors beautifully inlaid are discovered seemingly with every turn
It is so easy get lost in these little streets, up and down narrow lanes until you find yourself in a bygone age.
Eventually though you will no doubt wander out to the piazza Castello, dominated by the 14th century castle – the Mole di Castiglia. Nearby is the Dominican convent of San Giovanni, dating back to 1466.
Don't miss Casa Cavassa which houses the local museum with masterpieces on painted panels and frescoes.
Saluzzo also houses the Scuola di Alto Perfezionamento Musicale -The School of Musical Perfection in English.
Visiting in the summer you may be lucky enough to stumble across one of their outdoor concerts during their summer concert season – an evening concert in one of the medieval piazza is a memorable experience.
Worth a visit and only a few miles from town is the Residenza Reale di Racconigi, don't miss the Hercules room which is a tribute to all things male and the Diana room which is a tribute to all things feminine.
Where and What to Eat
No visit would be complete without a discussion of the gastronomic delight that await. Italian cuisine and more specifically Piedmont cuisine at its pinnacle are to be savoured here.
Make sure you try the Bagna Cauda or the Ravioli al Castelmagno.
The cheeses to be found in this little town are some of the finest Italian cheese to be found anywhere. The greatest cheese shop on earth, the Casa del Parmigiano, I Formaggi di Franco Parola, in Piazza XX Settembre 16 is the absolute pinnacle.
Franco is one of Italy's leading cheese makers and his naturally made cheeses are a joy. This shop is a legend in slowfood circles in Piedmont and Italy. The variety and quality will ensure that cheese gourmands will find themselves entering a literal cheese heaven.
The cheeses are even wrapped in Piedmont chestnut or cherry leaves to ensure only natural flavours. Try the Toumin dal Mel. 
If you love cheese as much as I do you will find yourself asking yourself why you don't move to Saluzzo, which in any case is not a bad idea.
The delightful cuisine invites one to enjoy long lunches and a good bottle of local wine from the Colline Saluzzesi in the company of good friends or the love of your life.
The best restaurant to do this at is the Trattoria I Quat Taulin in via Piave 5, tel: 0175 44491. This is an absolute joy and a memorable dinning experience.
Where is Saluzzo?