,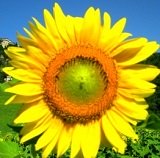 Welcome to My Italy in April


I used to work in global logistics and lived and traveled all over the world. That's where our idea for our new site Exquisite Coasts.com started. We wanted to keep it simple – maybe a dozen of the coastal destinations that really "wowed" us over the years.
Then we made lists of our top four or five places of various types and you know what? In nearly every single list there was somewhere in Italy. Be it for coastal drives, islands, beaches... whatever...Italy always came up. So, this week I'd like to share with you 4 islands that have enchanted us and guess what...one of them is in Italy. Can you guess which one? The answer is coming up!
Someone asked me the other day what they should see during there first visit in Italy - well we've just the place to start and, even if you've been to Italy ten times, you might still find a few useful ideas for visit number eleven.
Then we've a great way to stay connected while in Italy and a way to feel you belong in Venice too.


One thing - if you don't have HTML enabled not all the links will be highlighted and they won't work. If that is the case just copy and paste them into your browser. Copy up to where it says .html

1) That Feeling of "Home" in Venice


Maria and I wanted our websites and Facebook pages to not only be about us. The dream has always been to create a little bit of Italy, a piazza, where everyone can share their stories about Italy; stories like the one Holly Pasiuk shared with us on how she makes herself feel a part of Venice. This is her story.
2) Fabled Islands


I mentioned an Italian island making our top four island list earlier. Wondering which one it is? Here is the answer!
3) What to See in Italy


When you're planning a trip to Italy, particularly for the first time, it can be overwhelming. I mean where do you start? Well here is a good place.
4) Expresso WiFi
I've been absolutely shocked in the past by the cost of internet roaming and how frustrating the WiFi can be in hotels in Italy. If you don't want shocks or frustration try Expresso WiFi.


---


Next month we'll be going to the seaside so get your sun-hats and cream ready :-)

Ciao for now
Andrew & Maria




P.S., are you off on vacation...anywhere? Please book through our site! Here's the link to bookmark. It won't cost you a cent/penny more and helps Maria and I to cover some of our expenses.
P.P.S. Please keep visiting often and I would suggest that you subscribe to the blogs on each of our sites if you have not already done so, you will automatically receive updates and new articles as they are added.