,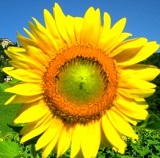 Welcome to My Italy in January


How is 2016 going for you so far? We seem to have started at a frenetic pace...so much for dolce far niente and the Italian art of taking things slow :-(
What do we start the year with? Well if you've ever wanted to learn Italian we'll help you do that...in ten minutes.
Then we'll go for a walk. After all the eating Maria and I have been doing over the festive season we could use one! We'll walk through Turin and explore a little of Rome.
The recipe is something fishy.


One thing - if you don't have HTML enabled not all the links will be highlighted and they won't work. If that is the case just copy and paste them into your browser. Copy up to where it says .html

1) Italian...in Ten Minutes


You can pretty much say anything simply by waving your hands about in specific Italian ways. Here's more on learning Italian in ten minutes.
2) A Walk in Rome


Everyone who has ever been to Rome has walked around the tourist sights like the Trevi fountain and the Colosseum but there are some other lovely sights which are less well known. Put on your walking shoes and let's go and explore.
3) From Palaces to Miracles


Turin is one of the best cities in all of Italy to explore on foot and this walk has something for everyone including the site of the "Miracle of Turin". Click here to begin.
4) Really Fishy
Anchovies aren't for everyone I know, I love them though, and they are supposed to be really good for you. Have I convinced you? Great! Here is the recipe.


---


That all for this month – see you in February.

Ciao
Andrew & Maria



P.S., are you off on vacation...anywhere? Please book through our site! Here's the link to bookmark. It won't cost you a cent/penny more and helps Maria and I to cover some of our expenses.
P.P.S. Please keep visiting often and I would suggest that you subscribe to the blogs on each of our sites if you have not already done so, you will automatically receive updates and new articles as they are added.