,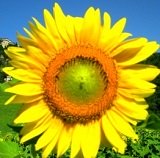 Welcome to My Italy in January


Last month I shared a book about moving to Italy. I was overwhelmed by the number of people who then contacted me asking for information about living in Italy. Most wanted to know about working in Italy or buying property so I thought I include a little about both subjects this month.
Then we've a great story from a New York couple who gave up the big city for life on an Italian farm and we've the story of Lexa Dudley whose first visit to Sardinia changed the course of her life.
Last stop is a little town in the Veneto region famous for wine and offering one of the warmest welcomes in Northern Italy.


One thing - if you don't have HTML enabled not all the links will be highlighted and they won't work. If that is the case just copy and paste them into your browser. Copy up to where it says .html

1) Time to Move?


Finding a job in Italy is not easy but you can always start a business that you can run from anywhere like us or maybe open a guest house. Another option is a working holiday in Italy before deciding. Here is how a couple from New York did just that.
2) Somewhere to Live


Decided Italy is for you? Now find that bed and breakfast or country cottage you've always dreamed of. Here's where to begin.
3) Sardinia & Whispering Stones


One of our community shared a story of how a trip to Sardinia, many years ago, changed her life forever. It's a beautiful story and the whispering stones she discovered are something I've added to my list of things I must see. Read it here.
4) Soave
Soave is a small town where the simple pleasures rule: good food, superb wines, lots of laughter and families who'll often make you feel like a long lost relative. Let's visit Soave.


---


I'm so excited about this year and all the things Maria and I hope to share with you. We can't wait! I just hope you don't mind lots of Italy coming your way.

Ciao for now
Andrew & Maria




P.S., are you off on vacation...anywhere? Please book through our site! Here's the link to bookmark. It won't cost you a cent/penny more and helps Maria and I to cover some of our expenses.
P.P.S. Please keep visiting often and I would suggest that you subscribe to the blogs on each of our sites if you have not already done so, you will automatically receive updates and new articles as they are added.