An Insider's Guide to Italy
The Regions of Piedmont, Marche, Sardinia and Liguria
Eleven years ago my Italian wife and I (that's us in the photo) moved to Piedmont Italy.
Over the years we have discovered some real gems amongst the places, people, beaches and cuisine of Piedmont, Sardinia, Marche and Liguria.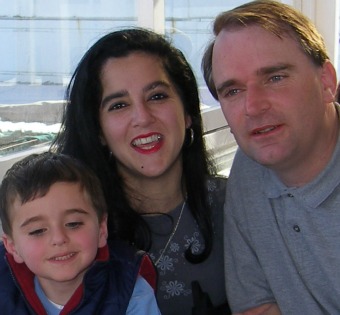 Everything that is so wonderful about Italy can be found in these four regions.
Beaches, better than any other in Europe, with turquoise seas and ivory sands, delightful landscapes of vineyard covered hills, ancient villages and elegant cities.
Don't even think about going anywhere else until you've been here.
We fell in love with it all and we would challenge anyone to spend time here and not to fall in love too.
About these Italian Regions
Piedmont
Turin/Torino, Piedmont's capital, has been our home for most of our years in Italy. This Italian region is fantastic and offers everything that Tuscany does but more, including dare I say it - better food and wine. In fact the best food on earth!
Le Marche
Absolutely gorgeous! A year after I moved to Turin in Piedmont my wife and I rented a villa in Le Marche. That summer we both fell hopelessly in love with this magical region.
Sardinia/Sardegna
Sardinia has by far the best Italian beaches, in fact these are the best beaches in Europe and maybe the world.
Our family has spent years splashing about in gentle waves and building sand castles on castor sugar beaches all in an attempt to discover the best beaches. We've narrowed it down to a few truly spectacular ones.
I'm sure the photos under our Sardinian section will help convince you too!
Liguria
The Ligurian beaches are those most easily reached from Piedmont and we've visited them all, from those beaches on the French border through to the Cinque Terre and beyond.
We discovered an amazing way to explore them too.
Our hope is that through exploring our site you will be inspired to visit these enchanting regions of Italy. For you too, as it was for us, it could be the beginning of a life-changing experience.
OK, "enough chatter." Let's start exploring ...
How to explore our site?
The navigation column on the top of the page links to all the main site sections. Our site search engine below will help you find anything specific.
Andrew and Maria
Custom Search
Like us? Please support Maria and I.
All you need to do is to use the Booking.com search box below to book you next trip to Italy or anywhere else. Plus you'll get the best deal on accommodation available anywhere!