Some of The Best Beaches in Liguria... 
& a stunning cycle path along a railway track
Elsewhere on the site, I mention how much I love Finale Ligure. It is a great place, but there is an even better way of enjoying Liguria and its beaches: one of the best Italian coastal vacations possible...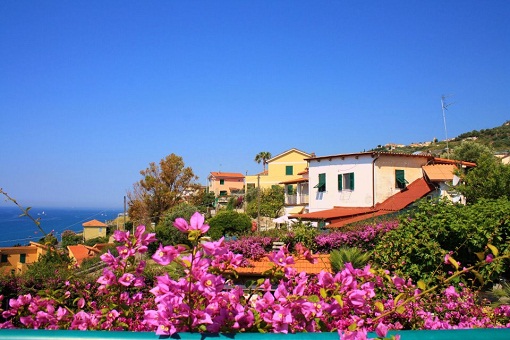 This little-known coastline (see the map of Liguria at the bottom of the page) includes some of the best beaches in Liguria and extends from San Lorenzo al Mare until a little before San Remo.
Where to Stay
Santo Stefano al Mare is the perfect town to stay in if you'd like to explore this coastline, and nestled in the picturesque coastal town of Santo Stefano al Mare, you'll find the Terramata Resort. The resort offers a perfect blend of relaxation and exploration, making it an ideal base to uncover the enchanting charms of the Ligurian coastline.
For beach lovers, the resort is just a stone's throw away from pristine sandy shores and crystal-clear waters. Spend leisurely days basking in the sun, taking refreshing dips in the sea, or engaging in thrilling water sports. 
In addition to its beachside allure, Santo Stefano al Mare is also an excellent starting point to embark on adventures by both car and bike. Rent a bicycle and pedal along the scenic coastal roads, exploring charming villages and capturing breathtaking views of the Ligurian Sea. Alternatively, hire a car and set off to discover the hidden treasures that await inland along the winding roads of this mountainous coastal region.
After a day of exploration, return to the Terramata Resort, where you can relax in comfortable and well-appointed accommodations. Take a dip in the inviting swimming pool or simply enjoy the serenity of the resort's surroundings.
A good alternative is the Case Vacanze Paola, which provides easy access to the town's attractions and amenities. The apartment comes with a kitchen, but if you don't really want to cook while on vacation, all you need to do is wander out into the narrow streets of Santo Stefano al Mare, where you will discover many delightful cafes and traditional restaurants serving delectable local cuisine to suit all budgets. The property is also within walking distance of the beautiful beaches.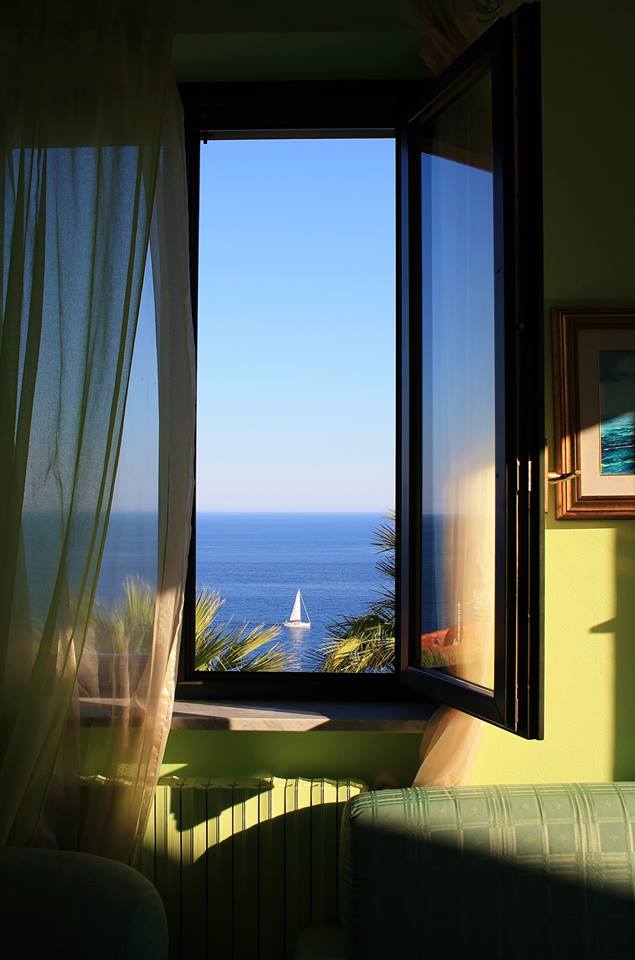 Why is this coastline so wonderful?
Well, it has always been one of the prettiest bits of coastline in Liguria, with none of the crowds seen along the more easterly parts of Liguria.
In fact, the towns to the east, nearer to Savona and Genoa, are always packed, mainly because they have the best beaches close to Milan and Turin.
This coastline, except for the last bit near San Remo, is pleasantly uncrowded; only August gets busy here. The beaches are just as good as those further east.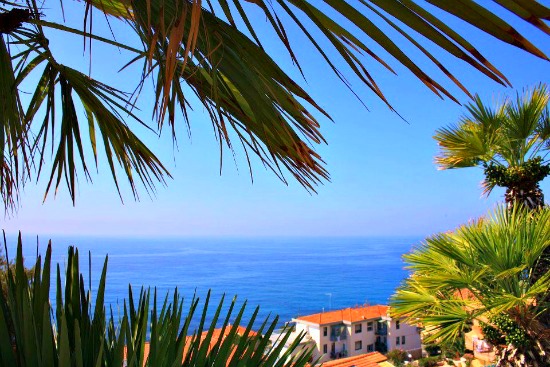 It was good before but now it's way better!
The reason is that a few years ago they rerouted the train track that used to run along the coast, just a stone's throw from the sea.
What they did was turn the train track into a 25-kilometer-long cycling path, with stunning views and many lovely little towns (like Santo Stefano al Mare) along the way.
Some of the best beaches in Liguria are scattered all the way from San Lorenzo al Mare to just before San Remo, and even better is the fact that most of them are free. I love it.
You get on your bike after breakfast, cycle a few kilometers through quaint little towns, stop at a beach for a few hours, then get back on the bike to find a little town for lunch and gelato.
After that, you cycle a bit to burn off the lunch, and when you feel the need and a good beach calls, you stop again.
It's a marvelous way to explore and really discover the coast.
Best of all, it is all pretty much flat, so it is easy to do. My friends son, who is only nine, did the whole route without any problem. The bit he loved best was cycling through the old railway tunnels; with their stalagmites hanging from the walls, they seemed like caves.
Don't have a bike? Don't worry; nearly all hotels provide them, often free of charge.
The bottom line is that if you enjoy cycling and love the beach and beautiful blue sea, this is an amazing destination.
The little towns all the way along this coast are so quaint and full of character, and the whole coastline is so enchanting that I can promise you'll be wishing you could live here. 
The Towns to Visit
Santo Stefano al Mare: offers its own unique allure, with its quaint streets, charming piazzas, and delectable cuisine. Local restaurants serve up tantalizing seafood dishes, showcasing the freshest catch of the day. As the renowned food critic Luca attests, "Santo Stefano al Mare is a gastronomic delight, offering a fusion of traditional Ligurian flavors and innovative culinary creations." Indulging in a leisurely meal while overlooking the shimmering Mediterranean Sea is a truly unforgettable experience
Imperia: Just a short drive away from Santo Stefano al Mare is Imperia, a larger town with a rich history and vibrant atmosphere. Explore the historic center, known as Porto Maurizio, with its narrow streets, charming squares, and medieval architecture. Don't miss a visit to the beautiful Villa Grock, an eccentric and whimsical mansion that showcases the life and work of the famous Swiss clown Grock.
Sanremo: Located east of Santo Stefano al Mare, Sanremo is a glamorous coastal town known for its luxury resorts, lively promenade, and the annual Sanremo Music Festival. Stroll along the elegant streets of the city center, admire the Belle Époque-style architecture, and visit the historic Casino di Sanremo. Don't forget to explore the colorful and fragrant Sanremo Flower Market, where you can find a variety of plants, flowers, and local products.
Dolceacqua: Nestled in the Nervia Valley, Dolceacqua is a picturesque medieval village that will transport you back in time. Its most iconic landmark is the ancient stone bridge spanning the Nervia River, which is a perfect spot for scenic photographs. Explore the narrow alleys and climb up to the imposing Doria Castle for panoramic views of the village and surrounding countryside. Dolceacqua is also famous for its production of Rossese di Dolceacqua wine, so be sure to try a glass or two while you're there.
Apricale: Tucked away in the hills overlooking the Ligurian Riviera, this medieval village captivates visitors with its maze of narrow streets, stone houses adorned with flowers, and enchanting squares. Explore the ancient castle, visit the Church of San Michele, and take in the panoramic views from the village's vantage points. Apricale is also known for its vibrant cultural scene, hosting various events and festivals throughout the year.
Cervo: Situated along the coast west of Santo Stefano al Mare, Cervo is a small town that packs a punch with its beauty and cultural heritage. Its crown jewel is the Baroque Church of San Giovanni Battista, a striking white structure overlooking the sea. Stroll through the town's historic center, adorned with colorful buildings, and explore the winding alleys that lead to hidden squares and charming viewpoints. Cervo is also renowned for its annual Chamber Music Festival, attracting renowned musicians from around the world. Cervo is considered one of the best towns in Liguria to visit, and it has not yet been discovered by the tourist masses. Get there before it becomes too well known.
Getting Here
Santo Stefano al Mare is the town to choose as a base and this is how to get to Santo Stefano al Mare:
By Car: If you prefer the flexibility of driving, you can reach Santo Stefano al Mare by taking the A10 motorway. From Nice, France, it is approximately a one-hour drive, while from Genoa, Italy, it takes around 90 minutes. The town is well-connected by roads, and there are ample parking facilities available.
By Train: The nearest train station to Santo Stefano al Mare is in Imperia, which is just a short distance away. From major cities like Genoa or Nice, you can take a train to Imperia and then either hire a taxi or take a local bus to reach Santo Stefano al Mare. The train journey offers scenic views of the Ligurian coastline, adding to the overall experience.

More Great Italian Riviera Destinations
Map of this Coast
If you enjoy my site I'd love your support.

All you need do is book your accommodation via this link, or any of the other hotel links on the website. Whether it's for travel to Italy... or anywhere else on earth, your support means the world to us.
You'll get the best deal available, and the income helps us stay independent and to keep bringing you the best of Italy.