Your Guide to Shopping in Milan
Being one of the biggest fashion capitals, people often associate Milan with a rich and glamorous lifestyle. And while there are high-end shops in almost every street, what visitors often don't realize is that there are places to shop for any price point, style and preferences. And they are just as good as the Prada boutiques.  That's why we asked Sianna Marinova - an expert at shopping in Milan -  to share her shopping tips with us and you. 
If you're looking to stay in Milan I'd suggest the perfectly located and great value Una Maison Milano.

About Milan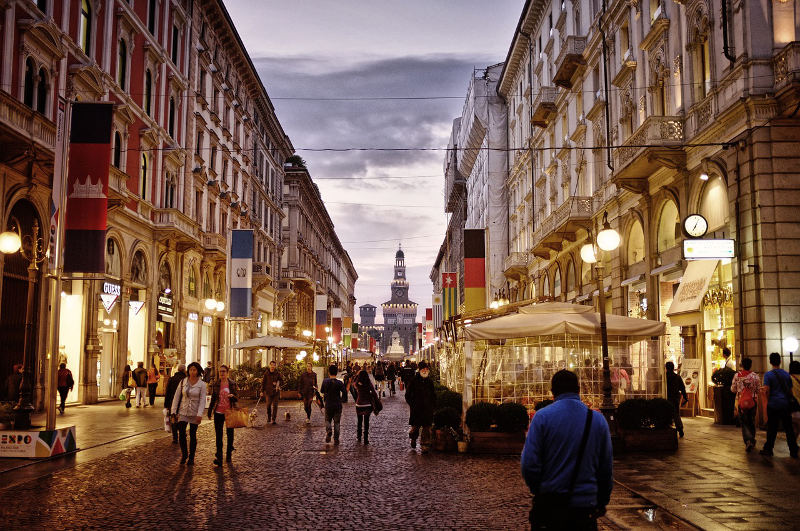 Milan is a multicultural city that attracts tourists from all over the world but let's not forget that real people live there as well – students and working people, who don't particularly care about trends and golden shop windows. You'll meet these different types of people on the streets of Milan, they create an interesting diversity, the overall look of the city and the street style.
What's more, before you start shopping, you don't need to look for the newest trends in the fashion magazines, just look on the street. Every area of Milan has a different style.. Get a ton of inspiration by just observing the people while enjoying your aperitivo in the evening. Then get to the serious business – shopping!
ENTER THE WORLD OF FASHION
💸 With a little help from an expert you can get the unique fashion world experience. Shop at genuine factory outlets and showrooms set in designer's studios for the best prices.
Book the shopping tour herе
Galleria Vittorio Emanuele
Galleria Vittorio Emanuele is probably in every guidebook but there is a good reason why. There are not that many places where you can shop high-end brands in a royal atmosphere like this. The historic building's architecture is opulent yet with a lot of natural light during the day.
When you think it can't be more beautiful take a look up and you will be rewarded by another stunning view of the glass dome. Named after Victor Emmanuel II, the first king of the Kingdom of Italy, this Art Nouveau building was built between 1865 – 1877 which makes it one of the oldest shopping centers in the world. Here you can find an iconic Prada store, followed by Versace, Armani, Vuitton, and Swarovski. When you are tired of exploring the gallery, numerous restaurants and cafes are available inside and around.

La Rinascente
La Rinascente is an eight-storey department store located just next to Vittorio Emanuele and across from the Duomo. This must visit store has a contemporary interior and an amazing selection of designer brands.
A whole floor is dedicated to interiors and product design where you can find not only your next coffee table but inspiration for redecorating your whole apartment. The Food Hall, located on the 7th floor, offers international cuisine, sweets to tempt you after a long shopping haul and a refined selection of gifts. The balcony offers a whole new perspective of the Cathedral square from above and is definitely not to be missed.

10 Corso Como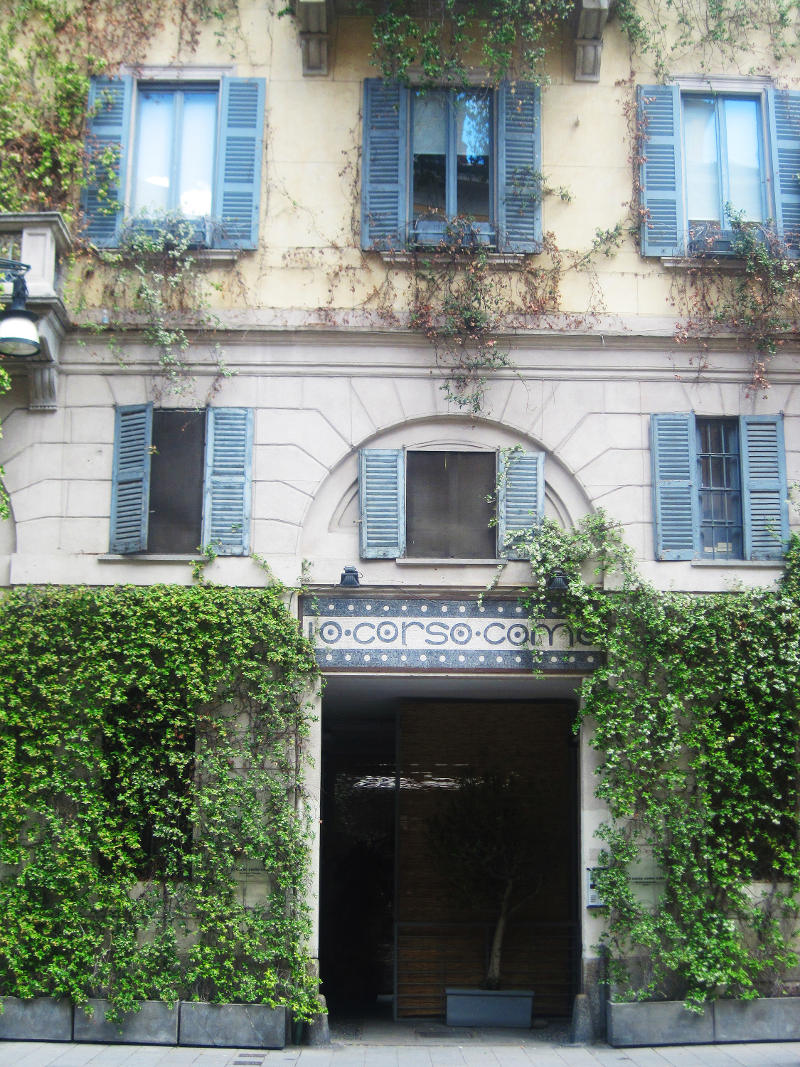 10 Corso Como is both the name of the street and the design complex that is situated there. Created by the popular fashion publisher and gallerist Carla Sozzani, the complex combines a gallery, store, restaurant and a bookshop all in one . They offer a wide variety of carefully selected art, design, music and fashion items. Here's a tip: ask the staff for directions to the outlet!

Quadrilatero d'Oro
'Quadrilatero d'Oro' or The Golden Square is the most expensive and fashionable area for shopping in Milan. Every high-end fashion label aims for a place there. The main street you can start from is via Montenapoleone which is one of the most expensive streets in the world. If you are looking for elaborate shopping windows, with the latest pieces from the runways, this is the right spot.

Navigli Canal
Along the Navigli Canal, you'll find a bohemian atmosphere and a nice blend of bars and cafes together with vintage shops and handmade jewelry. Every last Sunday of the month an antique bazaar is held there. 

| Tip
🛥️ A perfect after-shopping evening in Milan can be complemented with a sunset cruise
Street Markets
Some street markets are organized for bargain hunters and antique collectors. Check for current information before going and always ask the locals for the best advice on this type of shopping.
Just a few examples:
Mercatino Filatelico is for collectors of stamps and coins,
Mercato della Terra is where you'll find organic local products,
Viale Papiniano cannot be beaten when it comes to buying designer fashion at bargain basement prices. You've got everything here from shoes to outfits to accessories. The market runs from Tuesday to Saturday between 7 a.m. and 2 p.m. On Saturday it ends later - around 6 p.m. although some stalls close earlier. To me, this is the best spot for shopping in Milan.
Piazza Diaz second-hand book market, with many international booksellers, at Piazza Diaz every second Sunday of the month.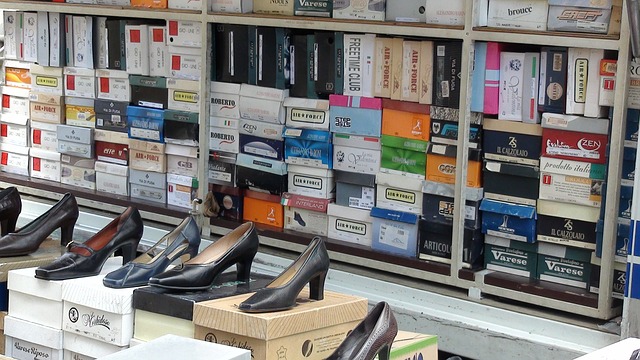 Brera
Picturesque Brera is a very artistic and bohemian district which means that you can find many small independent boutiques,  artisan shops and pieces that are indeed made in Italy.

Porta Ticinese
Porta Ticinese is the young, hip and alternative area for shopping. 
The square in front of the San Lorenzo Basilica is crowded with people in the evening. Sitting on the floor with their friends, drinking and smoking, this place, and the bars around, are full of young people having fun till the wee-hours of the morning. Every single night! No wonder that the shops cater to a certain age. From vintage shops and tattoo parlors to hipster shoe shops and Japanese boutiques.
Prices are decent so take a look if you are searching for a bargain!
Milan's Outlets
There are many outlets in the suburbs of Milan as well as in the city. The most popular one is probably the Fidenza Village where you can find great bargains on designer goods including a fancy Furla bag for up to 70% off. They even have a luxury bus service that you can book. Many Asian tourists come shopping in Milan just to visit the outlets.

If you enjoy my site I'd love your support.

All you need do is book your accommodation via this link, or any of the other hotel links on the website. Whether it's for travel to Italy... or anywhere else on earth, your support means the world to us.
You'll get the best deal available, and the income helps us stay independent and to keep bringing you the best of Italy.