Italian Cooking Courses
I get a lot of requests from people asking me which is the best Italian cooking course to do or which is the best Italian cook book to buy.
This page shares some of the courses that Maria (my wife and personal chef) and I feel confident about recommending.
All these courses are run by genuine people with a great love for Italy and Italian food.
They share their love for food with a passion and the dishes that come out of their kitchen's will leave you astounded and your mouth watering!
Particularly wonderful is the warm and bubbly Mamma Ledi (photo and more info further down the page).
First of all the easiest and cheapest way to learn how to cook like an Italian is through books. Maria has put together her Italian cookbook guide which should get you started.
Recommended too are the courses in New York run by Viviane Bauquet Farre - I have written a little about her previously and you can read my article here. If you live in the area and can't make it over to Italy this is a superb alternative.
Viviane is a quite remarkable chef and offers some excellent Italian style courses.
Recommended Cooking Schools
Centro Culturale Conero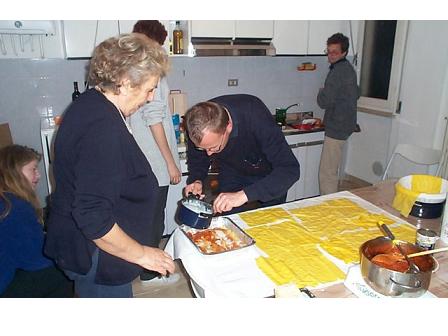 This is a fabulous place to learn to cook in the traditional Le Marche (Marchigiana) way.
The cooking courses taught by Mamma Ledi are legendary.
All the courses are very hands-on and not at all expensive.
A word of warning though, you need to have a big appetite, Mamma Ledi expects you to eat everything afterward and accepts NO excuses.
Mamma Ledi unfortunately doesn't speak much English but this really is not a problem as the courses are very easy to follow and she is so enthusiastic that you really do understand everything.
Her passion is catchy too.
Visit the Centro Culturale di Conero site if you would like more info.
Scuola Italia in Urbania
Scuola Italia offers a short 12 hour course, over four days, that is ideal for those on holiday.
The school is located in one of the loveliest parts of Le Marche and courses start from only 150 Euros. More details are available from the Scuola Italia website.
Please be so kind to support our family through difficult times when you next travel.
All you need do is book via the search box below, or any of the hotel links elsewhere on the website. It can be for travel to Italy... or anywhere else on earth.
You'll get the best deal available and the income we receive helps us to:
Stay independent and to keep bringing you the best of Italy.
Never have to accept money from hotels directly - meaning that we can share only those we genuinely love.