Turin - Discovering an Enchanting City
Rome, Florence, Venice and Milan all have undeniable allure, but for me, Turin, or Torino, is the Italian city that steals my heart.
Torino is beautiful, with a very unique character. One of Europe's great cities and unspoiled by tourism. 
An Introduction to Torino

The city's setting is breathtaking!
Lying in a valley, surrounded by an alpine backdrop and world-famous ski resorts, Turin  is overlooked by a hill that is as beautiful as anything in Tuscany.
Adding to the charm are the numerous rivers flowing through the city, including the mighty Po.
Torino was the first capital of Italy and the home of the Savoy kings.
The regal character has been preserved, with wide squares, arcaded avenues (so royalty could walk without getting wet!) and, of course, the palaces: Palazzo Reale, Palazzo Madama, and Palazzo Madama.  Reggia di Venaria (the best of them all) and Stupinigi.
The palaces here are equal to anything that Versailles and Paris can offer and are now UNESCO World Heritage Sites. I still visit all of them regularly and am still making new discoveries.
Turin's Shroud, housed in the Duomo next door to Palazzo Reale, is a must on any Turin tour, but only if you are lucky enough to visit during one of the periods when the shroud is open to the public.
Where to Stay in Torino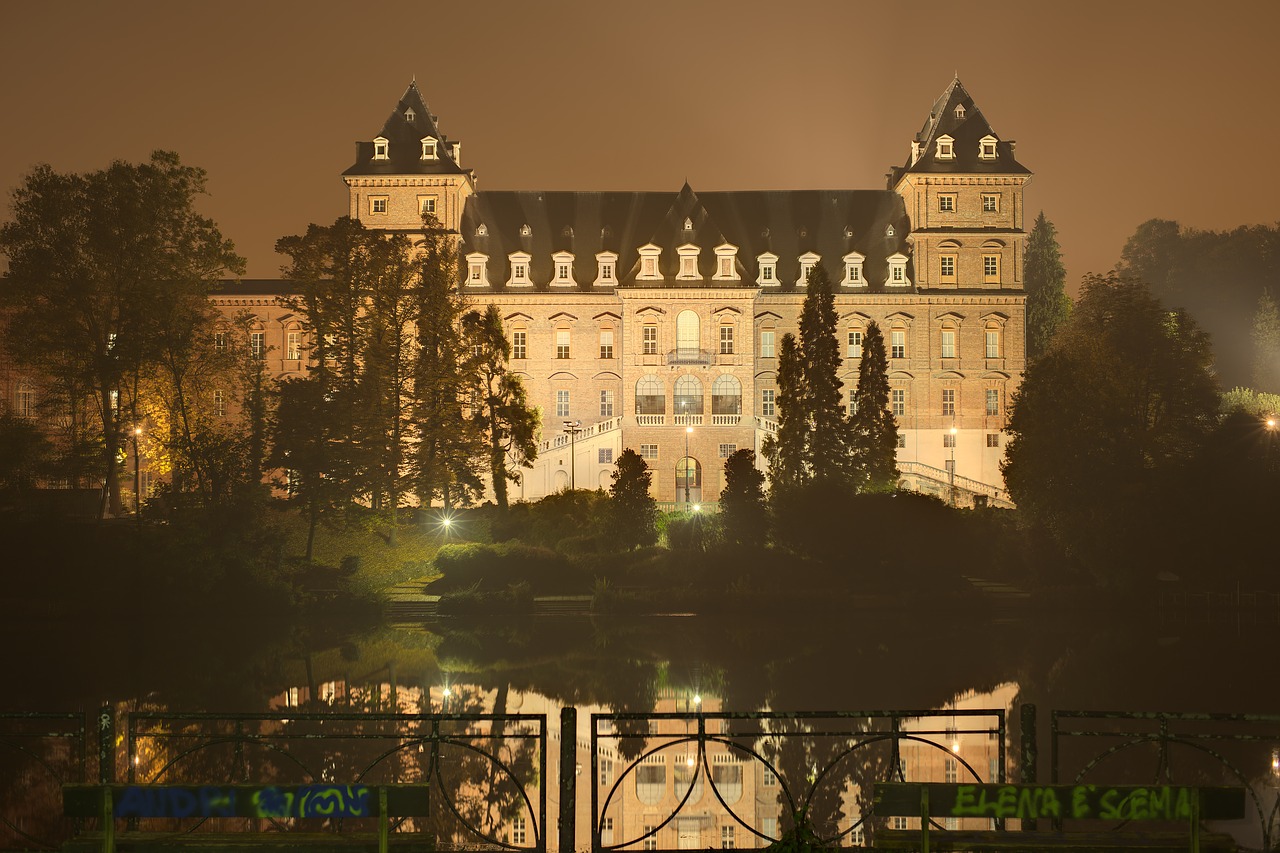 You'll want to get the most out of your time in Turin, so you'll need a hotel in the right area. There are two hotels in Torino that I always recommend to friends and family. They both offer good-quality accommodations in the right part of the city.
My preferred choice is the Grand Hotel Sitea, Perfectly located, you'll be part of life in lovely Turin as soon as you step out of the door. The hotel is elegant, the atmosphere is very warm and welcoming;  prices are reasonable considering the hotel's high standards and location.

The next best Turin hotel is the Principi di Piemonte - a great location right in the heart of the city and large, well-furnished rooms make this a very good second choice if you can't get into the Grand Hotel Sitea.
Turin's Museums
SEE WHAT TURIN HAS TO OFFER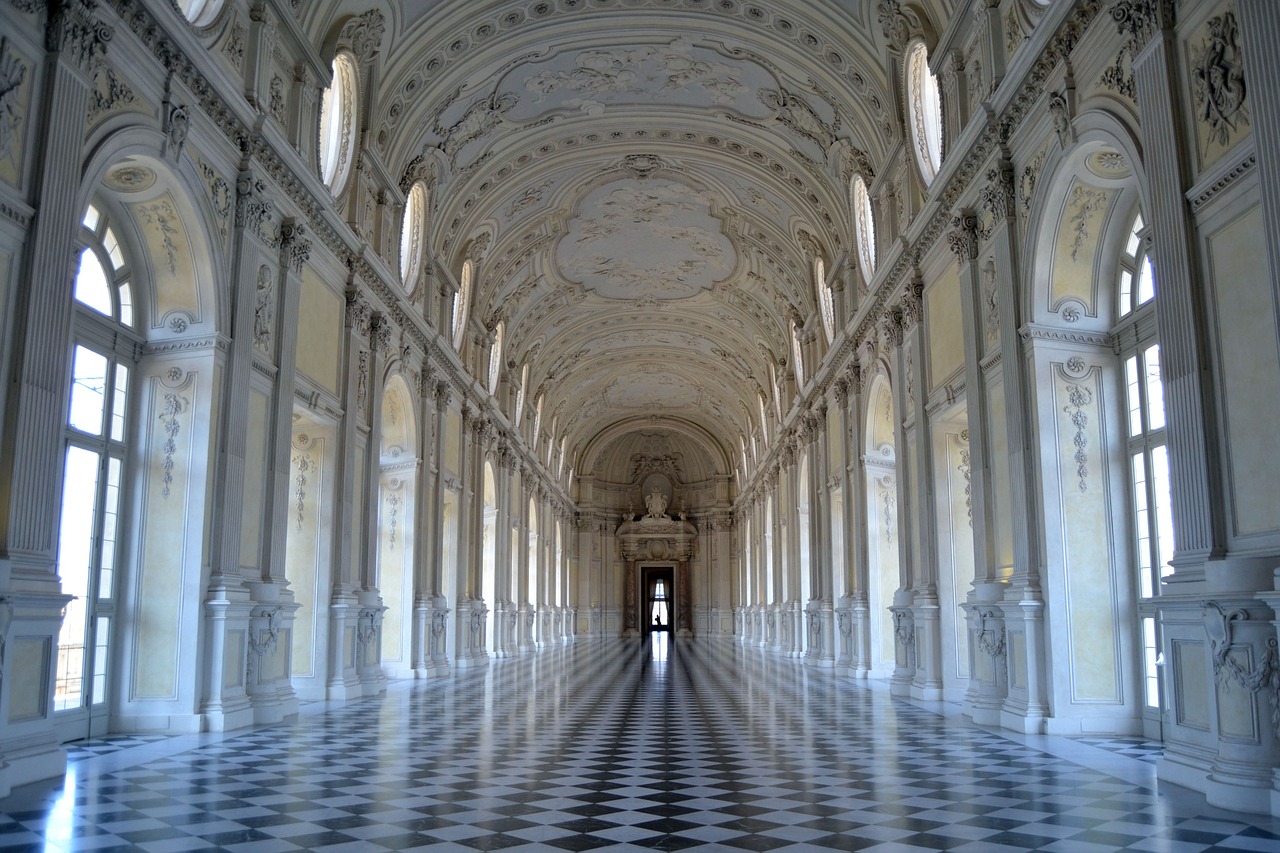 Turin has one of the richest selections of museums and art galleries of any Italian city. The range is huge, and for a more complete guide, visit my Turin Museums section.
Some of the most famous are the Egyptian Museum of Piedmont, the Biblioteca Reale with one of Leonardo da Vinci's most famous works, the Modern Art Galleria d'Arte Moderna, the Automotive Museum, and the Cinema Museum in the Mole Antonelliana (Turin's Eiffel Tower).
The puppet and fruit museums are pretty obscure but worth a visit.
Touring Turin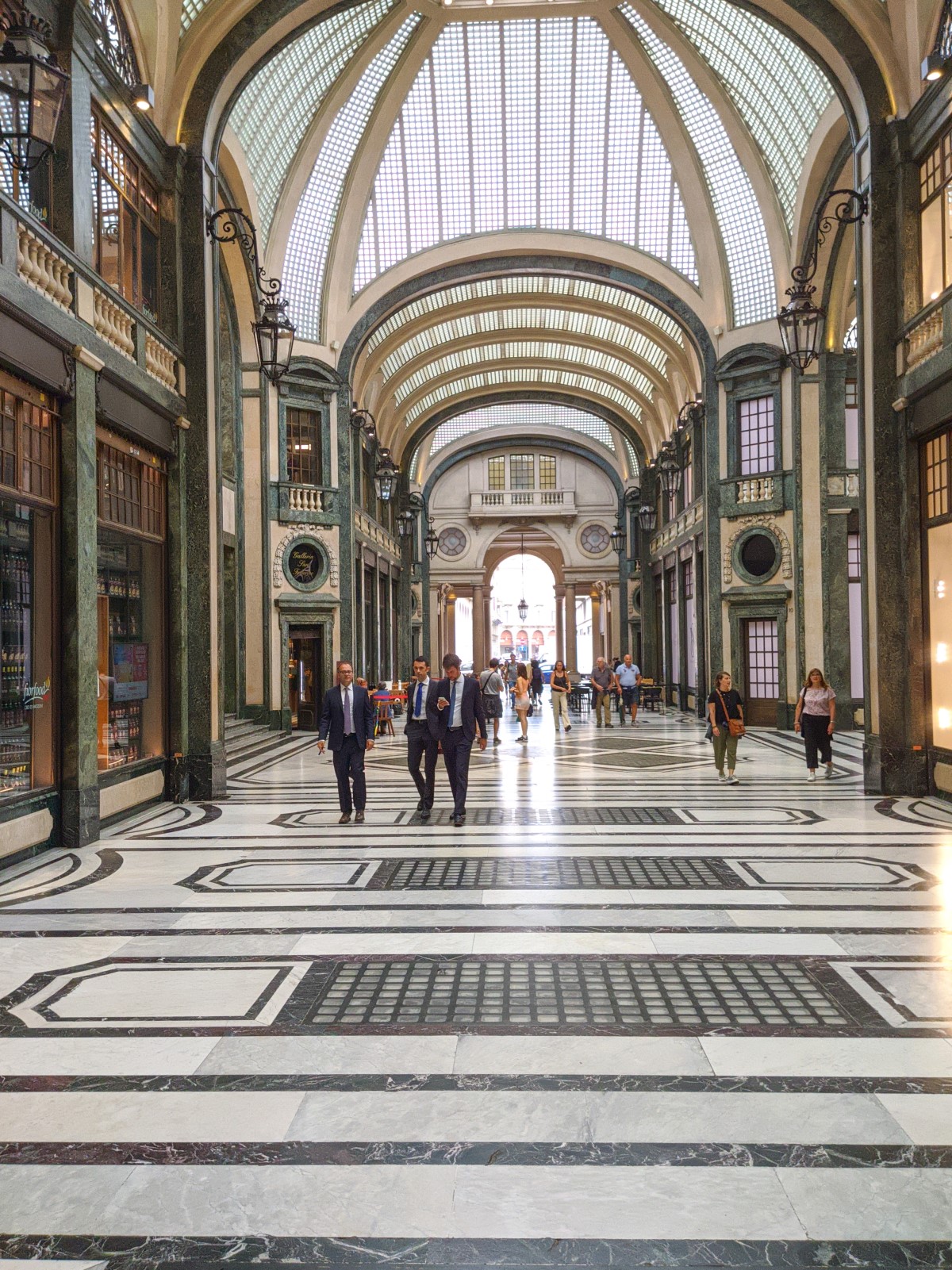 Galleria San Federico
Get yourself the Torino card. It's the perfect way to tour the city. You'll get free entrance to many museums, castles, exhibitions, etc. and discount travel on the train up to Superga as well as for the panoramic lift up to the top of the Mole Antonelliana.
The Torino Tram Restaurant is highly recommended. This is a beautifully restored tram that is now a restaurant. It takes you on an evening tour of the city while you get to enjoy a five course meal, great wines, and listen to live jazz - definitely the refined way to see the city.
The best way to really get to know the city though, is to tour Turin on foot. Two of my favorite walking tours are the "gallows walk" and the café/antique/museum stroll.

Torino's parks (view article) are excellent too. I have spent some of my happiest moments with my family picnicking, strolling the leafy lanes, and enjoying the crowds and laughter of children at many of the parks. They include the largest urban park in all of Italy.
The Turin Hills
Don't miss the breathtaking Basilica of Superga, built in 1706 to celebrate the victory of Duke Amedeo of Savoy over the French. It is definitely one of Italy's greatest cathedrals.
I ALWAYS bring visitors up here because the view is spectacular—one of the best in Europe.You really can see for ever—the whole of Torino stretches out below you, and snow-covered Alpine peaks rise up in the distance.
The Basilica is also a shrine to soccer fans, as one of Italy's greatest sports teams of all time (Torino FC) was wiped out here in a plane crash in 1949.
To get here, either drive or take the little old train (built in 1884) up from Turin. The three-kilometer journey winds through the dense vegetation of the hill and provides panoramic views of the city below.
Another great thing to do, if you don't mind rustic accommodation, is to spend a night with the friars. These friars look after St. Mary of Superga, and it is a moving experience to spend the night with them. They are very happy to offer hospitality to pilgrims. For more luxurious options check out Turin's hotels here.
In my younger days, a trip up to Superga at the end of a romantic evening was great. The Colle della Maddalena, on the other hand, is more popular with romantic couples. This is the other main peak above Torino, offering equally great views but also a nightclub,  bar, and restaurant.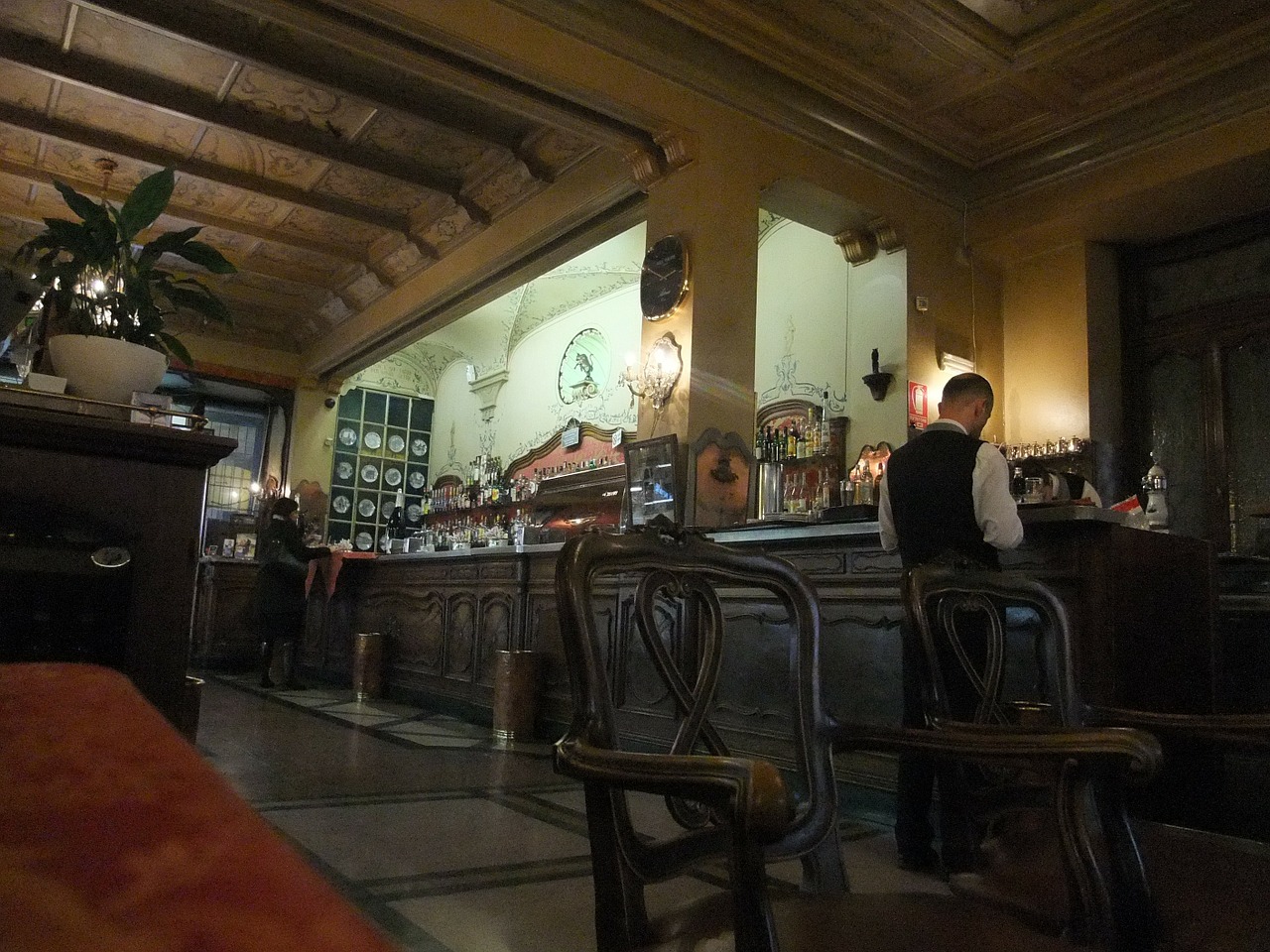 Food and Shopping in Torino
| Tip
Explore the Turin central market with a knowledgeable guide! This way, you'll get to really know and appreciate local culture and cuisine.
Do you enjoy shopping? I don't much but my wife lives, sorry loves, to shop and apart from Rome or Milan nowhere in Italy beats Turin. 
From designer boutiques to quaint shops that have been around for centuries, Turin offers the dedicated shopper a paradise. In some ways it is even better than shopping in Rome or Milan as prices are often lower.
Many of the best places to shop, including Via Roma and the outdoor markets, are mentioned in my wife's Turin Shopping Guide. It's a must read before you visit.
Now for the best part of all – the food. This is undoubtedly the city with the best food in the entire world, the best coffee, the best chocolates, and some of the best wine.
This is an unbiased opinion from someone who is not originally from Torino and from someone who has been to all the great cities of Europe... me!
Forget about anywhere else Torino is the place to come to eat. It is impossible to eat better – have a look at some of the recipes in my Piedmont cooking section.
From wine to Piedmont truffles or from chocolate to bicerin ( a bicerin consists of three decadent layers of melted chocolate, coffee, and steamed milk), a week is not enough.
Torino is also the birthplace of Lavazza coffee, vermouth, grissini bread sticks, and the Slowfood movement.
Torino chocolate is so good that it deserves a separate section and my guide to Torino's chocolate heaven is a must read.
Don't miss enjoying an aperitivo - a Torino tradition. This is an art that the Torinese have perfected, and seeing as they invented vermouth it is not surprising. The best place to try the classic aperitivo of the Turin tradition is at one of these cafes.
Turin's Restaurants
Follow the aperitif with dinner at one or more of Torino's historical and traditional restaurants. In my view, the best is Del Cambio, but it is expensive. The San Giorgio restaurant in the ancient medieval castle built in 1884 for an exhibition. Here is the full list:
Ristorante Del Cambio, Piazza Carignano, 2
one of the best in town. It has been around for over 250 years, so it has definitely stood the test of time. It is a favorite of Cavour, but it is expensive and you need to book.
San Giorgio (behind the Borgo Medioevale). This is definitely worth a visit—it's set in a medieval castle built in 1884. The castle was built for an exhibition and was kept afterwards. It is a faithful reproduction of an actual castle, with strolling minstrels and little artisan shops within its walls. The restaurant creates a great medieval atmosphere and serves good traditional Piedmontese cooking.
Taverna dell'Oca, Via dei Mille 24, 011 837547011, 837547
Reasonably priced and a great place to try ancient recipes from all of Piedmont
Imbarco del Re "da Perosino," viale Virgilio, 53, 011 657 36 2011, 657362
Great views of the Po and great traditional cooking
Traditional Dishes to Try
Bagna Caoda, made from olive oil, garlic, and anchovies, is a must-try.
Agnolotti, similar to ravioli and filled with meat, cheese, and spinach, are a great first course and are typical of Piedmont; served with a roast meat sauce, this is absolutely fantastic.
Bollito Misto, a real classic, it needs to be eaten and can't really be described beyond saying that it is legendary in Piedmont.
Wash it all down with a bottle of Piedmont Barolo, a great red wine and perhaps Italy's best wine.
Panna Cotta or Zabagone to finish.
You'll find a great Piedmont sample menu here, and more traditional Piedmont recipes can be found under my Piedmont recipes section.
Great Value Restaurants in Turin
The restaurants I mentioned above are all pretty well known and are listed in some guidebooks. Now I am going to let you in on a secret—please don't tell the locals I told you!  These are my absolute favorite, completely authentic, fantastic restaurants. None are expensive, but I can guarantee you that you will eat well. Here is the list.
Before you go...
For information on flights to Torino click here.

Please subscribe to my monthly newsletter, it lets you know what information I have added and provides you with lots of free insider advice.
See you soon in Turin!
Been To Turin?
Have you visited this great city? Share your experience!
What Other Visitors Have Said
Click below to see contributions from other visitors to this page...


Wonderful Turin Not rated yet
We visited Turin in June. This was our second trip to Italy. After our arrival in Rome, we took a lovely four hour train ride through beautiful …

Hiking near Turin and in Piedmont Not rated yet
Hiking in Piedmont is a fantastic way to see the region and to find out more about the local way of life. There are so many fantastic trails that you …
If you enjoy my site I'd love your support.

All you need do is book your accommodation via this link, or any of the other hotel links on the website. Whether it's for travel to Italy... or anywhere else on earth, your support means the world to us.
You'll get the best deal available, and the income helps us stay independent and to keep bringing you the best of Italy.