Italy: A Boot Made for Walking
Walks and Hikes in Tuscany
That's an old saying, and never so true as in Tuscany. But I needn't tell you. It's obviously so. Cypress-lined country roads, delightful colored farmhouses, rolling lands, forests... in short, a walker's paradise.
Tuscany is known for its slow food, and here, the slow walk is recommended too. The added benefit: when exploring on foot, one expends energy and eats guilt free. Nice! 
Seriously, though, the walker experiences the countryside most authentically, wandering through lands that have sustained the locals for centuries and now delight the modern traveler. 
Enchanting Chianti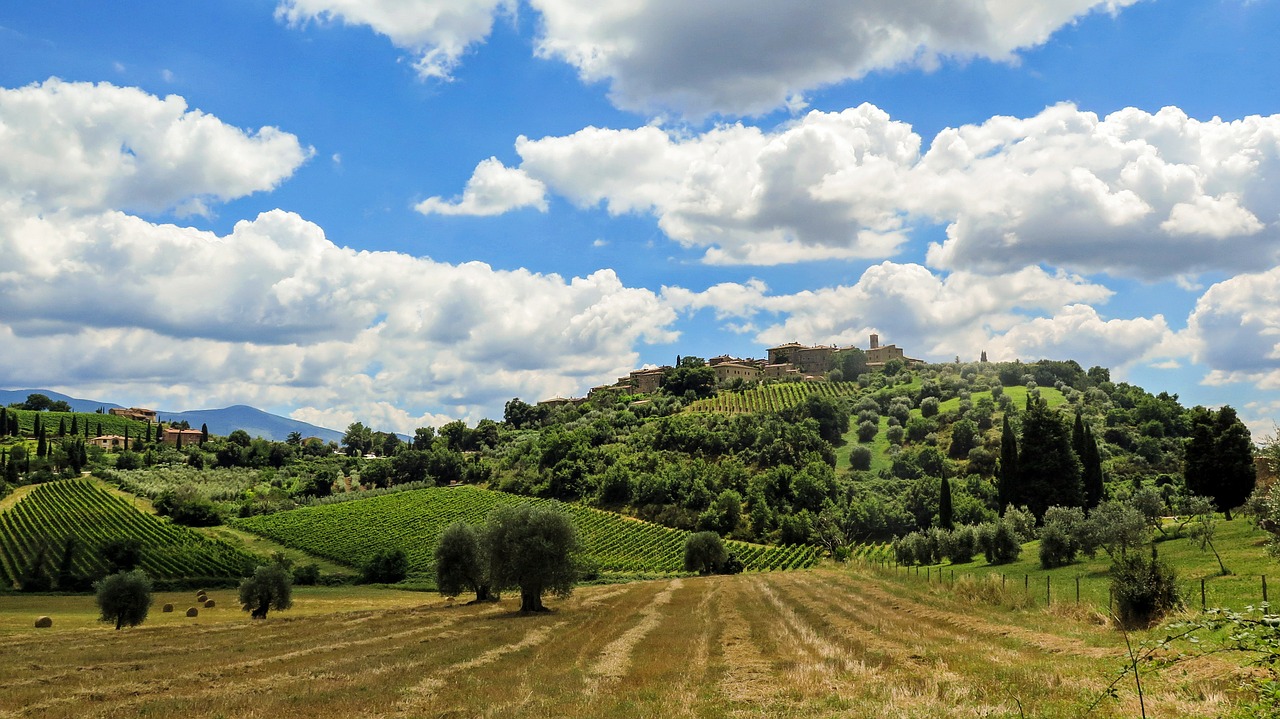 Lace up those walking shoes, pack your back-pack, and don't forget the suntan cream. We're off to the Chianti region, where the walking is as enchanting as the wine. 
Chianti is on the doorstep of Florence and Siena, 15-odd miles from both, and is where you'll find Greve in Chianti:  our base for this walk and a beautiful town, with a pastel-colored main square so typical of Tuscan expression.
Where to Stay
The two walks we prefer start from Borgo Del Cabreo, a charming well-appointed B&B, nestling in the vines on the outskirts of town.
It's always best, I feel, to travel either side of the summer months, when the rush of people is past, and the Tuscan sun not so hot, but it is still warm enough to enjoy a dip in the pool and al fresco breakfasts on the terrace.
At Borgo Del Cabreo, you've the pool, breakfasts on the terrace, your Wi-Fi is free, your TV via satellite, your bathroom spacious.
They are actually a working wine farm so a tour of their nearby cellar is highly recommended. Just visit after the walk - not before as I did.
It is a gorgeous place to stay and they never offered me anything to say that either - just my opinion.  We never accept a cent from any hotels . Bottom line is you're made to feel comfy and are well catered to, before and after the day's walk.    

A Meander to Montefioralle
Me, I love a Tuscan hill town, complete with fortress walls, bell tower/cathedral, centro storico and winding alleys. Montefioralle is all that, and in the spirit of the 'slow movement,' the walk up to the Chiesa di Saint Stefano is perhaps the toughest part of the day, gradient wise. 

Just 2 miles from Borgo Del Cabreo, Montefioralle is more a short and pictureque stroll, leaving one all the time in the world to explore the town.
A longer walk is made by following a route from Montefioralle, via the olive groved valley to the north, which leads to the Pieve of San Cresci: ancient, Romanesque, and, dare I say, classico.
From there, a lovely little forest road takes you back to Greve, a road on which birds chirp, time disappears, and one walks on in awe of Tuscany.
Having traveled light, I was needing sustenance on arrival back at Greve, where the regional specialty, Florentine steak with white beans, is served in just about every eatery, and is best enjoyed, of course, with a glass of the famous red.
Thereafter, a sunset stroll back to base with the ones you love is just the ticket. 
---
Greve to Panzano
An  alternative to the previous walk is  the road from Greve to Panzano. A sedate and scenic walk of about 5 miles, through the vineyards, on country dirt roads (strade bianche) that take you past monasteries and within sight of majestic hilltop villas.
The roads (there a couple you can take) are studded with inns and tucked away trattorias… so there's ample opportunity to taste all manner of regional delights. 
The roads to Panzano, from either Greve or Montefioralle, are quiet stretches.
Rather than the sound of car engines, what one hears most is the crunch of gravel underfoot, a bird or two, the conversation of one's companions, and "ciaos" from other walkers.
The walking itself is as flat as rolling hills allow, until ascending to Panzano itself which is, no surprise, a hill town, set along a scenic ridge, and having many unique attractions, notably its historic castle. Well worth visiting.

Where to Stay
Overnight along the way at Villa le Barone in Panzano before returning to Greve in the morning.
---
Baddaccia Montemuro to Volpaia
9 miles. 6 hours. 

Conversely, the rugged hills to the south will get the blood pumping.
The passage between the hilltop villages of Baddaccia Montemuro and Volpaia is up and down, often steep, but never dangerous.
Wooded valleys in between encloses one in a natural canopy so beautiful and benign it could well be paradise.
Steep climbs at either end, to those villages on their hills, reward the hiker with the most spectacular views of the Chianti Classico vineyards below. 
Not to be tackled lightly though. One needs be fit and experienced. 
Where to Stay
To break the hike, stay at Il Borgo di Vescine, on the path about 2 miles before the climb to Volpaia (or 2 miles after the descent, depending on the direction of travel). 

Not being a circular walk, the logistics defeat the casual ambler. Either the trusty day-pack is replaced by the heavier overnight pack, or gear is transported by a second in a car.
---
On Paths of Pilgrims - The Via Francigena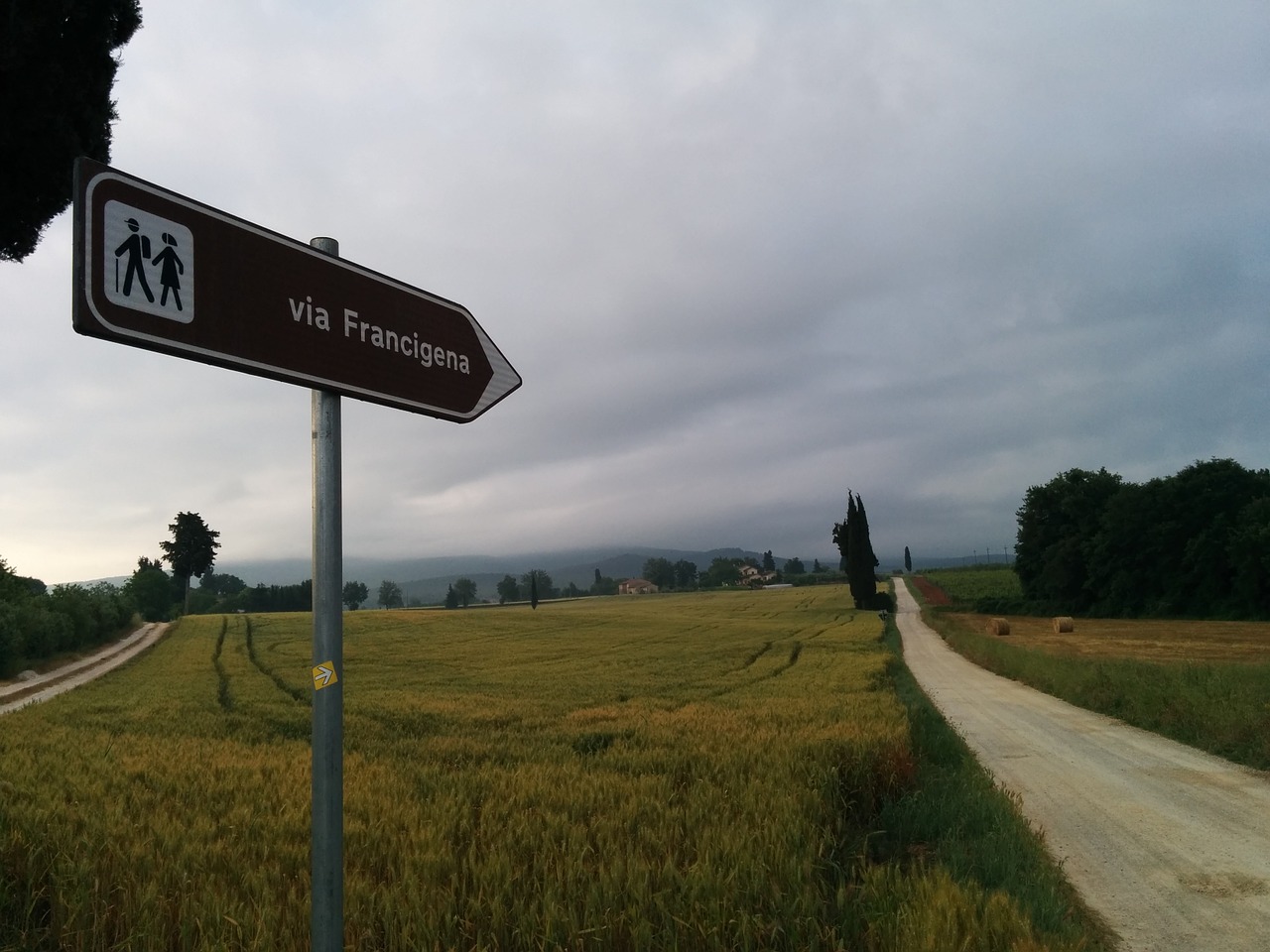 Starting in Canterbury and ending in Rome. The Via Francigena is a collection of roads that were used by medieval pilgrims travelling from England and France, who came down the Italian peninsular, to Rome, as an expression of faith.
The path, defined over centuries, saw infrastructure rise in its wake: roads, abbeys, and towns were established to service the needs of the pilgrims. One walks today in those same footsteps, in the glow of carefully preserved history, and in awe of divinely-inspired nature, architecture, art and culture.
The Via Francigena (the French Way) is 1000 + miles long, of which 230 miles are in modern Tuscany, from Passo Della Cisa to Acquapendente. There are 15 official Tuscan stages which can be, and are, walked in sequence. 
Walking even the Tuscan section of the Via Francigena is an extreme undertaking, considering the distance, the terrain, the changes in weather, etc. It requires logistical support and is better served by a touring company. 
We prefer the more casual, independent approach… so have cherry-picked our top 3 stages: one easy stage, and two we think most interesting. The walks described here aren't connected geographically, and are presented as day trips. 
Be prepared
Walking from town to town implies carrying overnight gear, and no walk of 10 + miles, with an overnight pack is casual in my book.
The paths are well marked and well traveled, anyone can do them, but reasonable fitness and experience is mandatory. These are long walks. Shoes should be sturdy, and broken in… and water is a priority. 
Here, we'd only you give a sense of the experience, which should be researched and prepared for.
In keeping with the pilgrim theme, we highlight the churches but, needless to say, there are many many other attractions too. 
All that said, let's be off…
---
Lucca to Altopascio
10 miles. 5 hours

The town of Lucca was a major stop en route to Rome. Its religious significance is reflected in its Duomo, the San Martino Cathedral, which attracted pilgrims with a celebrated wooden crucifix called the Volto Santo, or 'Holy Face.'
The walk itself is mostly on forest roads, so is relatively cool… and safer today than in its heyday.
The forest meant medieval pilgrims had to keep an eye out for bandits. There are none of those today, but the roads are still remote, so one does need to worry about food and water. Not much can be bought on the way.
One exits Lucca through the San Gervasio gate, and proceeds on flattish terrain and paved roads to Altopascio.
Highlights include Capannori, where the modern pilgrim can pay homage at the church of San Quirico. Further along, in Badia di Pozzeveri, the church of Santi Jacopo is equally quaint and historical. 

Religion aside, visiting these churches, getting into the spirit of the journey so to speak, imbues the walker with that sense of reverence, experienced by pilgrims of old.
Where to Stay
Right in the heart of the old town of Lucca, is the Al Carmine a set of elegant apartments, as I remember, that delivers authentic old-style hospitality… something towns along the Via Francigena became known for. 

---
Gambassi Terme to San Gimignano
8 miles. 4 hrs
This is an easy walk, covered fairly shortly, but you may find cause to linger and take it slow. This gorgeous stretch of Tuscany showcases the beauty of the incredible Val d'Elsa.
Even before leaving Gambassi, though, you may want to stay, to enjoy a natural spa bath, before strolling on to one of Tuscany's most unique hill towns.
Heading into farmland, one passes vineyard, forest and cypress tree, crosses the stone bridge of the Madonna, and from there it's uphill to Pancole… where water bottles can be refilled.
That's not said lightly.
Again, water is a precious resource here, and needs be considered and managed, especially at the height of summer. 
The sights of Pancole include an intriguing underground passage, and then its back into the sunshine, and to a skin-prickling first view of San Gimignano, with its spectacular and distinctive array of towers. There are a few risks that come with visiting San Gimignano; click to learn what they are.
As for the churches, the Collegiate Church, and the Church of Sant' Agostino are the ones to see. Definitely one of the best of all the walks and hikes in Tuscany.
Where to Stay
Leon Bianco makes for an even more memorable stay in San Gimignano. Being on a walk, you may not need the fitness center but you'll appreciate the bar. 
Another excellent option, also in San Gimignano, is the Hotel/Albergo La Cisterna. That's the hotel, the stone building covered in flowers, in the photo above.
Last, but far from least, is the Hotel L'Antico Pozzo.
---
Monteriggioni to Siena
13 miles. 6 hours. 

The road first takes you to the medieval village of Cerbaia, from where you continue, through the woods as far as Chiocciola Castle, followed by a gentle descent to Pian del Lago. Cross the Renai woods and you're at the Porta Camollia, the traditional Via Francigena entrance to the city of Siena (check out our guide to this great city here).
After a day immersed in old times, the traffic and "modernity" of Siena seems quite sudden.
The route concludes with a walk down Banchi di Sopra and then up to Piazza del Campo, with its Duomo, ornately decorated with statues, frescoes, mosaics and paintings, literally from ceiling to floor… including works by Donatello and Michelangelo.
And there you are, our top 3 Pilgrim picks, to whet your appetite, for an experience that, if possible, shouldn't be missed. 
---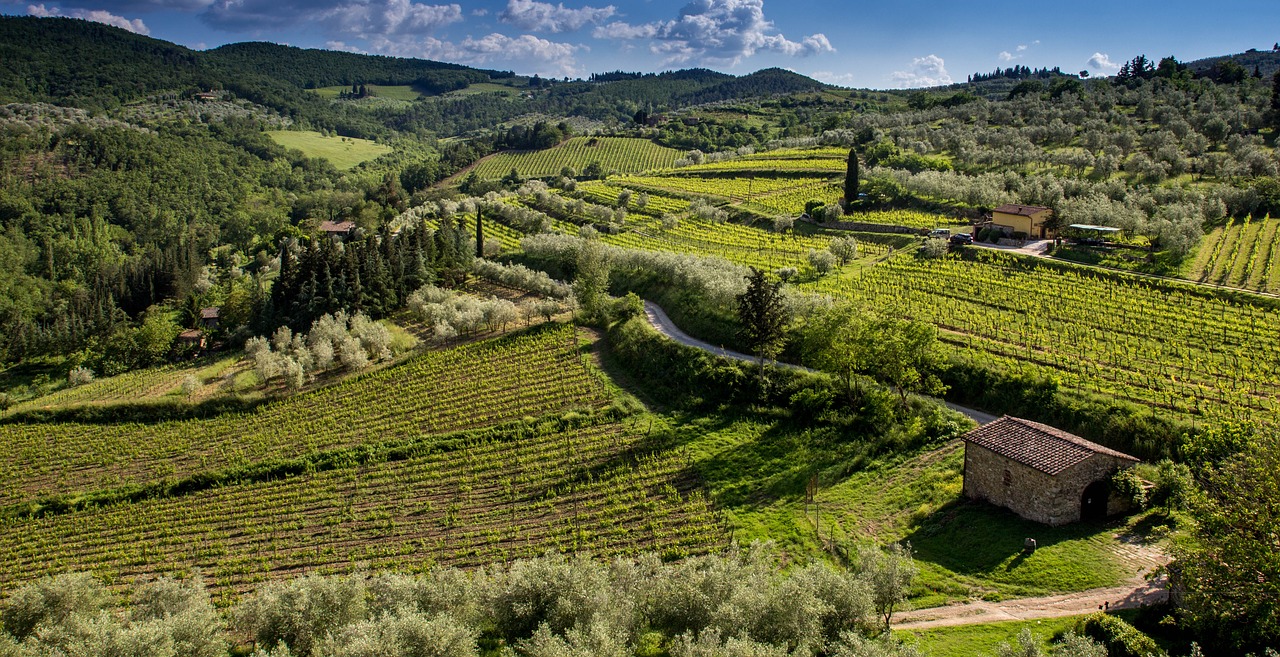 Map of the towns featured in these walks
While the map doesn't show the footpaths we wandered between the towns they are easily found and well sign posted. Stay at any of the places we mention and they will gladly point you in the right direction.
If you enjoy my site I'd love your support.

All you need do is book your accommodation via this link, or any of the other hotel links on the website. Whether it's for travel to Italy... or anywhere else on earth, your support means the world to us.
You'll get the best deal available, and the income helps us stay independent and to keep bringing you the best of Italy.