The Real Italian Recipe Guide
 For those who love Italian cooking.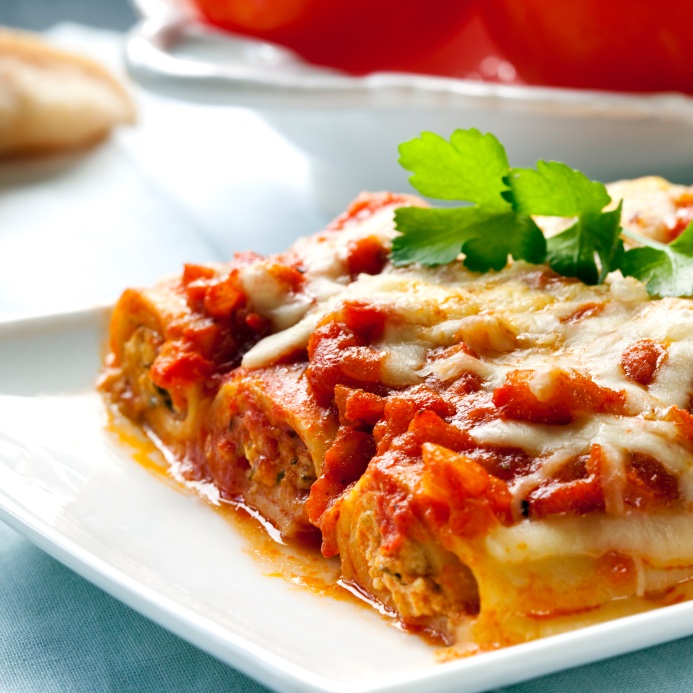 Our Cannelloni recipe
A truly authentic Italian recipe made from only the freshest ingredients grown on Italian soil is without doubt one of the great pleasures of life.
Italian foods are deservedly world famous and these recipes are the best of the best
I must just warn you though that if you want your Italian recipe to taste like it does in Italy you need to use authentic Italian food products. It REALLY does make the world of difference to the final result.
My site focuses mostly on Piedmont, (please visit my Piedmont recipes page) Sardinia and le Marche. But...
I felt it would be remiss of me to not include some great Italian dishes from other regions of Italy.
I have included recipes ranging from a panettone recipe (Italian Christmas cake) through to traditional recipes like an authentic recipe for cannelloni and a couple of recipes for fettuccine - one with a cream sauce and the other Genoan (Genovese) style.
The tiramisu recipe is also very, very good.
Whichever one you try I'm sure you'll enjoy it...a taste of Italy makes life just a little more dolce wherever you may be!
Have you ever thought about learning to cook like an Italian?
If you have then I've put together a list of great cooking as well as unique Italian holidays - just select the one you like in your favorite region of Italy - and Order a FREE Travel Brochure!
Now let me get on with the recipes...

The Recipes
Starters & Main Courses
Fettuccine with Cream, Basil and Cheese
Cakes & Desserts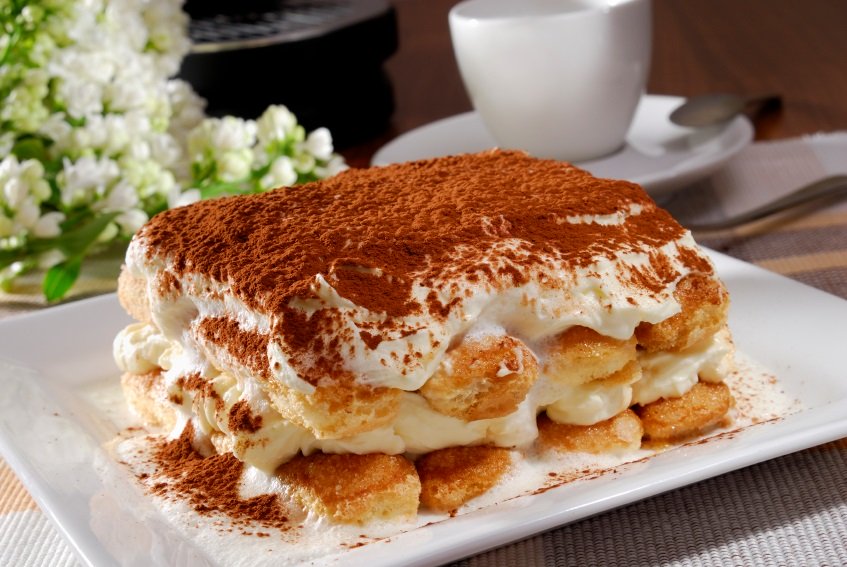 Tiramisu
Le Marche
The Marche  (discover more here) is one of the lesser known culinary regions of Italy.  It's cuisine combines the best Italian cooking traditions of Northern Italy with the great culinary traditions of South Italy.
The region is marked by two distinct culinary types. The first is that of the coastal region where seafood is the order of the day. The seafood soups and seafood recipes of this region are legendary throughout Italy. Inland the cuisine is dominated by the truffle, mushroom and olive.

The olive is the unifying element of Marchese cuisine, used often on both the coast and inland. The olives of Le Marche are as renowned in Italy as their Tuscan cousins and are noted for their huge size.
The great taste of the olives themselves is further enhanced by the awesome stuffed olive antipasti of this area. These huge  olives are stuffed with mince, parmesan, egg and spices. The amazing taste that results is impossible to describe.
My personal all time best when it comes to local dishes are some of the inland meat recipes, mostly involving lamb and pork.
Desserts in Le Marche are not really anything special. Most are based around almonds and fruit and the frustingola consisting of dried figs, almonds and dark chocolate is probably the best to try.
Wine is also good in the Marche as wine in Italy invariably is. In the main the most common varieties are Sangiovese, Montepulciano, Trebbiano and Verdicchio. The most famous Le Marche variant is undoubtedly the Verdicchio, the perfect accompaniment to seafood dishes. The Matelica variety is particularly good. My favorite red is the Conero from Ascoli Piceno.
If you are not into cooking then I suggest you go to my le Marche restaurant review page where you will find my personal recommendations of Le Marche restaurants I can thoroughly recommend.
Click here for a favorite Marche recipe of mine.
Have A Great Italian Recipe?
Perhaps you have a secret Homemade Italian Lasagna, an authentic Osso Bucco Recipe or even the World's Best Italian Meatball Recipe. Why not share it with us?
What Other Visitors Have Said
Click below to see contributions from other visitors to this page...

A trip to Asti Not rated yet
The city of Asti, 55km east of Turin, is one of the must-see places in the Piedmont region. Built on the plain of the Tanaro River, the area has a …
Cheese-making in Piedmont Not rated yet
The art of cheese-making is something of an institution in the Piedmont region of Italy. The area offers a wide selection of different cheeses, many made …
Like us? Why not support me and Maria.
All you need do is book via the search box below, or any of the hotel links elsewhere on the website. It can be for travel to Italy... or anywhere else on earth.
You'll get the best deal available and the income we receive helps us to:
Stay independent and to keep bringing you the best of Italy.
Never have to accept money from hotels directly - meaning that we can share only those we genuinely love.