Best Beach Hotels in Sardinia

Maria and I love beaches, hours spent snoozing in the sun and floating about in turquoise seas.
Once the hard work is done we like to return to a hotel where we can enjoy a sunset cocktail, a great dinner (is there any other in Italy) and then fall asleep, in a lovely comfortable bed, to the sound of the sea.
This page is all about our discoveries. It would be great if you too could share your experiences with us! See bottom of page for details.
My Favorite Hotels in Sardinia

The Hotel Bue Marino

This Hotel is one of the best beach hotels Sardinia can offer. It is right on the beach in Cala Gonone, facing onto the Gulf of Orosei. Nothing too fancy and expensive but warm and welcoming; frankly when I'm on a beach holiday with the family I prefer it that way.

The location makes it the perfect place to get a boat to one of the best beaches in Sardinia. Boats leave from the little port which is only 5 minutes away from the hotel and they've all the info you need on getting a boat or hiking to the nearer beaches.  If you need anything else then Paola, the owner, is a great source of information.

The whole hotel was completely refurbished a few years back and though it is only 3 stars very few 4 star hotels in Sardinia are as good. 
Rooms are modern and comfortable, many having spectacular sea views. The terrace restaurant and the terrace bar in particular have great views over the entire gulf, where you can enjoy traditional Sardinian cooking, or a cocktail, while watching the sunset. 
Try the fish dishes and the desserts, which are often traditional family recipes. They have a good wine list too with some lovely local wines which are worth trying.
After dinner go up to the roof and enjoy the view of the beach lit up, it is truly dreamy and so very romantic.
This hotel is definitely one of the best beach hotels in Sardinia - utterly charming. Click here for more reviews of this hotel. 
Tip: If you do visit make sure you try the Pescatore Restaurant, near the Cala Gonone port, for at least one lunch or dinner - we have always eaten really well there and the seafood is superb.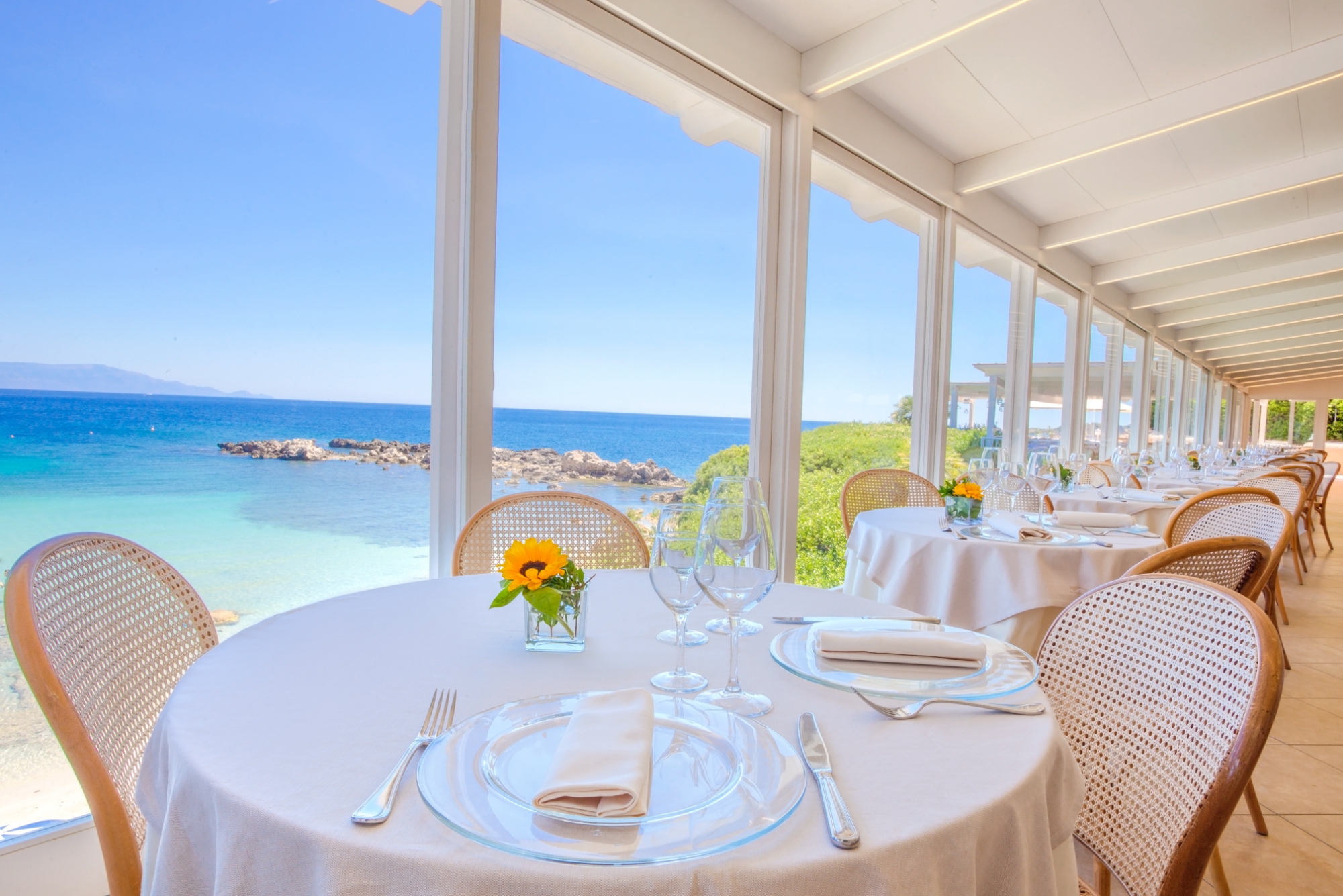 The Hotel dei Pini is situated on a private beach -  next to the stunning Porto Conte nature reserve.
The hotel is a great resort in Sardinia for those with kids.  Actually, it is great for everybody!
The rooms are very pleasant and spotlessly clean and everything about the place seems to fill your very soul with lightness, brightness and happiness.
I really like the food in the restaurant too. It is mostly traditional Sardinian with a few Italian dishes and the pasta is al dente so, if you like al soggy or prefer steak and chips, then perhaps this is not the ideal hotel.
I know that isn't you though and I know you'll love the wonderful local cuisine .
The hotel is about 5 or 6 miles from Alghero town and has shuttles to take you into town and back.
An ideal hotel for a relaxing holiday in magnificent surroundings.
For more independent reviews of this hotel or to book please click here.

Your Favorite Hotels in Sardinia

Click on the links below to see some great reviews of other Sardinian hotels. They were all written by visitors to this site.

The Hotel Costa Paradiso: The family and I had a fantastic time here. The kids loved it too and the sea was amazing. A dream vacation.

Al Saraceno: A really serene and relaxing atmosphere. Not a big hotel but a lovely setting. Clean and modern with the most helpful and friendly staff. Great price too.

Hotel Su Barchile in Orosei:  Just a note to tell you that the Hotel/Restaurant Su Barchile in Orosei Sardinia should be at the top of your list of the beach hotels Sardinia offers. Click here to read more of this review.
Have You Stayed Somewhere Wonderful?
I have stayed in a number of unforgettable places which I share on the site. I am sure you too have stayed somewhere extra special - why not share it!
What Other Visitors Have Said
Click below to see contributions from other visitors to this page...


Sardinian Hotel & Beach Help Not rated yet
Dear Andrew, I've enjoyed and signed up with your website. The beaches you recommend are alluring. But it appears most of them are only reached by boat …
FANTASTIC!!! Not rated yet
I really would like to share with you a wonderful hotel, the best we have found in Sardinia, and we visit often. It is called the Nascar Hotel in Santa …
A Hotel Near Those Best Sardinia Beaches Not rated yet
We really wanted to visit Sardinia and discover those beaches you show on your website but when we went to book the Hotel Bue Marino you recommend it …
Love Italy? Subscribe to my FREE monthly newsletter.
If you enjoy my site I'd love your support.

All you need do is book your accommodation via this link, or any of the other hotel links on the website. Whether it's for travel to Italy... or anywhere else on earth, your support means the world to us.
You'll get the best deal available, and the income helps us stay independent and to keep bringing you the best of Italy.