Villas Holidays Sardinia

Maria (my wife) and I offer personally selected Sardinian accommodation choices. We are the specialists on the East Coast of Sardinia and the Alghero region.
The east coast is the forgotten, but most stunning part, of Sardinia.My best beach in Sardinia page will give you an idea of just how lovely this coast of Sardinia is.
It's the least touristy part of the island and do-it-yourself holidays are the best way to explore this magnificent coastline.
You really won't believe the beaches here!!
I've travelled to some pretty exotic islands in the Indian ocean and elsewhere and I've never found better.
The area around Alghero too is lovely and Alghero is one of the easiest places to get to if you are arriving by air.
Exploring with a hire car and using rental accommodation is a cheap way of visiting and easy to organize.
These then are our rental recommendations...

Situated five minutes walk from the heart of the Old Town. Shops, cafes, restaurants and the local market are right on your doorstep.
The five apartments were completely renovated a few years back. They offer a variety of accommodation options, all with access to a rooftop terrace, kitchens, one bedroom and a bathroom with shower. The apartments are equipped with flat screen TV with satellite channels, free WiFi and all other essentials. More details here.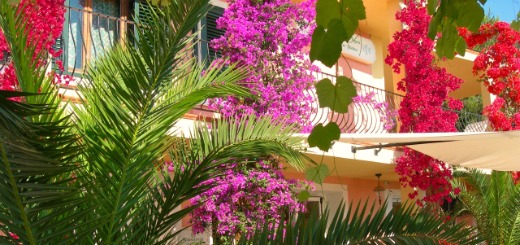 These residential apartments, in a lovely hotel, are ideally located. Great for enjoying the sun and the beach but also perfect for exploring a little of Sardinia's culture. The apartment is right on one of Sardinia's best beaches. More info available here.
This two bedroomed house is the perfect base to discover the beaches we feature in our article: the best beaches in Sardinia. Beaches like gorgeous Cala Luna - considered one of the best beaches in the world.  Claudio and his parents really go out of the way to make everything perfect and you've the town center and a beach only a short walk away  For more details click here.
If you enjoy my site I'd love your support.

All you need do is book via this link, or any of the hotel links on the website. It can be for travel to Italy... or anywhere else on earth.
You'll get the best deal available, and the income helps us stay independent and to keep bringing you the best of Italy.