Trains in Italy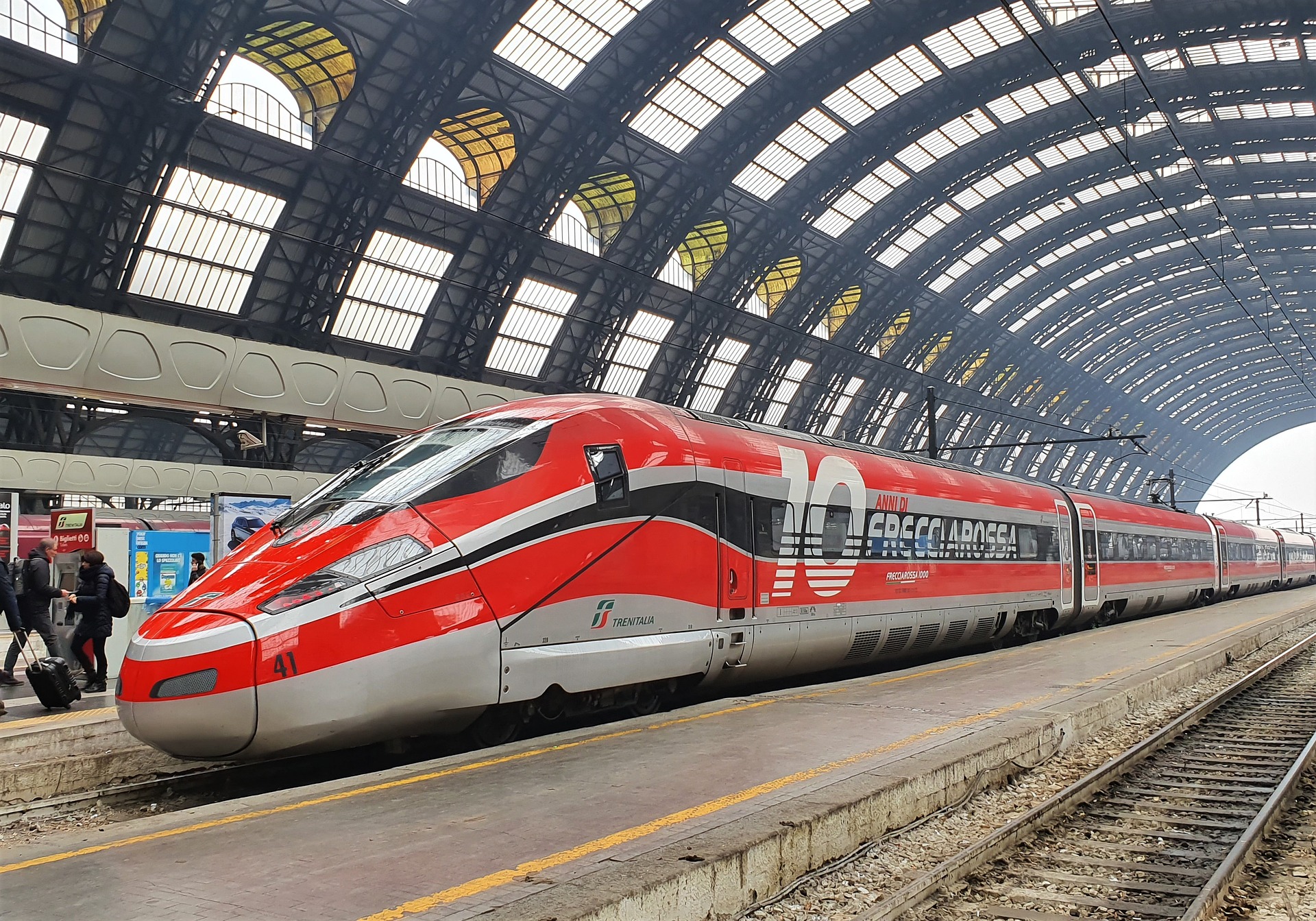 For driving and car hire in Italy read our article here.

Italy's awe-inspiring train system is nothing short of extraordinary, presenting you with an unparalleled way to explore. The high-speed network effortlessly spans Italy's most prominent towns and cities, transporting visitors from the vibrant north to the sun-kissed landscapes of Calabria and Sicily in the south. Scroll down this page and discover the greatest Italian rail journeys of all.
TrenItalia, the nation's rail operator, operates three remarkable high-speed train versions: the Frecciarossa, Frecciargento, and Frecciabianca. These sleek and sophisticated trains whisk passengers across Italy with efficiency and style.
For an alternative choice, Italo provides its own high-speed services, ensuring passengers have ample options for intercity travel.
Embark on an unforgettable Italian rail journey and allow the rhythm of the tracks to carry you to hidden gems, picturesque landscapes, and cultural wonders. So hop on board and let the enchantment of Italy unfold before your very eyes...
For more tips on how to get the best deals on tickets scroll down to our questions section.
Trains such as the one from Turin to Nice and the route along the Italian Riviera offer stunning scenery; further down the page, you'll find details of these and the other train journeys that are rated as the most spectacular train journeys in Italy.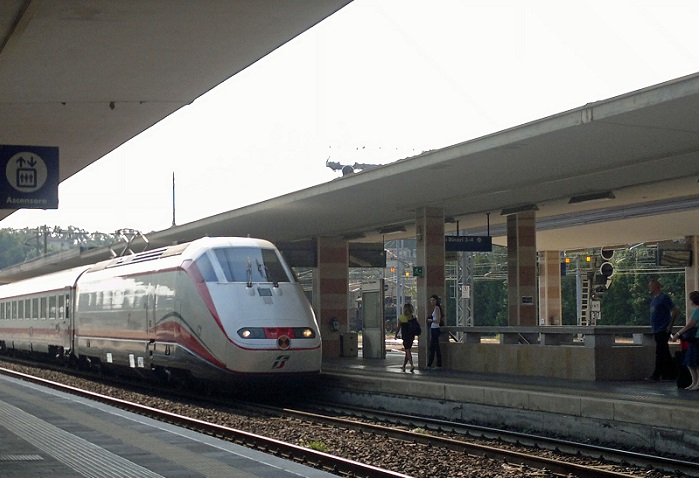 My Introduction to Italian Trains
With regards to exploring Italy in general; trains are great, but some of the countryside regions and little villages aren't well covered by the rail network. There are exceptions though, the Cinque Terre villages have a superb train service and so too does the coast of Calabria
Many decades ago, long before I met and married my Italian wife, Maria, I visited Italy by train on a Eurail Pass. It was a great first introduction to Italy, and I saw all the main cities - the typical tourist cities of Rome, Venice, and Florence. I loved it.
However, to really discover the Italian countryside, a car is best. Base yourself in one town or village, find a characteristic place to stay, and explore.
Having said that, there are definitely some train journeys one really should take - some of the best ones I've listed below the photo. If you are a supporter, you are always welcome to contact me for personalized advice.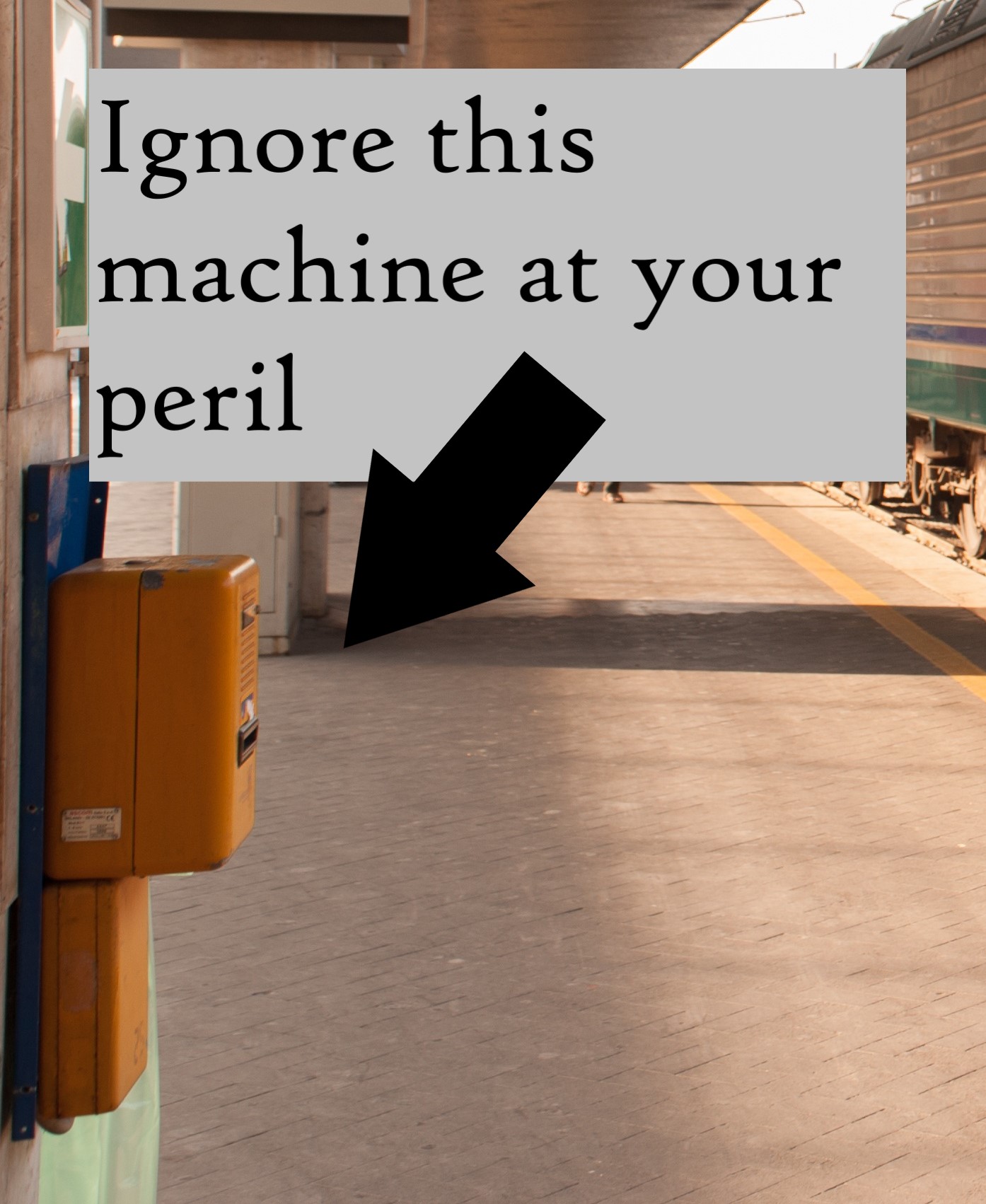 SEE QUESTION 4 BELOW FOR REASON WHY
Answer:

Turin to Grenoble through the Val di Susa. There are plans for a high speed train connection through this area known as the TAV, linking Turin with Paris, but it's facing a lot of protests and the slow train that exists at present is perfect for enjoying the view.
Turin to Nice through the mountains and the French and Piedmont countryside. The scenery and little villages en route are lovely. You normally have to change trains in Ventimiglia and sometimes Cuneo.
Tropea to Pizzo offers an unparalleled view of one of Italy's most beautiful coastlines: coves, beaches, and glimpses of Italian Mediterranean blue, which is a blue like no other.
The fast train from Milan to Rome or vice-versa is amazing. It covers the 350 miles/560kms in two hours and forty-five minutes and races through some beautiful scenery in Tuscany and Lazio. 
Traveling aboard the Autumn Foliage Train between Domodossola and Locarno is one of the most beautiful journeys in Italy. The journey is around 50 kilometers and takes two hours. Spectacular doesn't come close to describing the magnificent scenery.
The Cinque Terre Train is a must - we wrote about the train and the Cinque Terre here.
Journey from Bari to Matera. The train journey is incredible and Bari and Matera are two of the most fascinating towns in Italy. Both should be on your list of must visit destinations.
Trans-Siberian between Sulmona and Isernia. The name, Trans-Siberian, came about because of the winter scenery which recalls Siberia. Summer or winter, this high altitude journey through the mountains of Abruzzo is spectacular.
Volcano Train of Sicily: Circumetnea is the line's official name, and it offers a three-hour journey (110 km) through villages, vineyards, and pistachio groves while Etna glowers down upon it all.
Asciano - Monte Antico line: a steam train journey through some of the most beautiful Tuscan scenery. The line was closed in 1994 but was reopened by a group of dedicated volunteers. The video below has more on the route - although in Italian, the beauty of the area is clearly shown.
Venice Simplon-Orient-Express: This iconic train journey starts in Venice and takes you through the stunning Italian countryside to Paris. The journey takes about 17 hours and offers luxurious accommodations, gourmet dining, and breathtaking views of the Alps and French countryside. This train journey is truly an unforgettable experience.
Bernina Express: This train journey takes you through the stunning Swiss Alps, but starts and ends in Italy. The train departs from Tirano and travels through 55 tunnels and 196 bridges, including the iconic Landwasser Viaduct. The journey takes about 2.5 hours and takes you to the Swiss town of St. Moritz.
Answer: The maximum recorded speed in testing is 393.8 km/h (244.7 mph), although operating speeds are limited to 300 km/h (186 mph). The fastest trains are the Frecciarossa 1000  trains, followed by the Italo trains that can reach a maximum speed of 360 km/h (160mph).
Answer: I find that booking for the fast trains between one and three months before traveling generally works out the cheapest. If you are booking a regional train, the prices are generally the same regardless of when you book. A good idea is to download the Trenitalia app so that you can buy tickets online, and then the ticket inspector simply scans the QR code on your phone.
Answer: If you don't buy tickets online, you will need to physically validate your train ticket using the little machines on the platform before boarding, plus fill in the date and sign if it is a multi-day ticket. Not validating your train ticket, together with the fines from getting caught in ZTL zones, is the most common way tourists get fined in Italy. You can find out about ZTL zones and other mistakes tourists to Italy MUST NOT make here.
Answer: No, the tickets are very affordable and, considering the quality of Italian trains, are often a real bargain.
If you enjoy my site I'd love your support.

All you need do is book your accommodation via this link, or any of the other hotel links on the website. Whether it's for travel to Italy... or anywhere else on earth, your support means the world to us.
You'll get the best deal available, and the income helps us stay independent and to keep bringing you the best of Italy.