Trains in Italy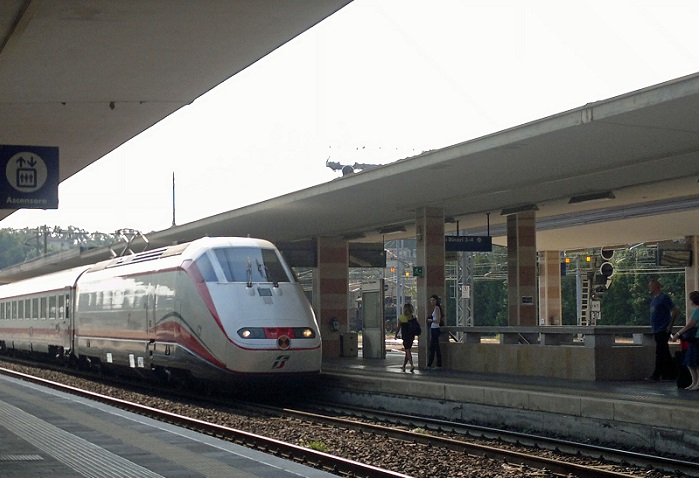 For driving and car hire in Italy read our article here.

---
Trains in Italy are generally excellent and it is a wonderful way to arrive in Turin. Trains to Turin from Nice and the Italian Riviera offer stunning scenery - lower down the page you'll find details on these train journeys.
Car is best if you are focusing on visiting one region, in this case train travel is not an ideal option, great to get there yes, but not the way to explore.
The type of holiday where you base yourself in one town or village, find a characteristic place to stay and explore with your own car or hire car is the best way to discover Italy. The small villages, markets and traditions of this ancient land can only really be discovered in this way - not by train.
Trains are perfect for visiting the major cities and towns
Many many years ago I first visited Italy by train on a Eurail Pass. It was a great first introduction to Italy and I saw all the main cities - the typical tourist cities of Rome, Venice and Florence, but I never really understood Italy or saw the real Italy.
The following year I bought myself a Trenitalia Pass, it was great value, I made lots of friends on the trains and I saw more big towns and cities but I only saw the countryside from an Italian train window.
Arriving in Piedmont by train though is great. Whichever way you arrive the trip is scenically spectacular with the only exception being the train journey in from Milan.
My favorite ways of arriving in Turin by train are:
1) From France through the Val di Susa. There are plans for a high speed train connection through this area known as the TAV, linking Turin with Lyon, but it's facing a lot of protests and the slow train that exists at present is perfect for enjoying the view.
2) The train to Turin from Nice through the mountains and the French and Piedmont countryside. The scenery and little villages en route are lovely. You normally have to change trains in Ventimiglia and sometimes Cuneo. If you need details on the timetables from Nice to Turin please contact me at the bottom of the page.
Home
› Italian Trains