The Best of Le Marche Italy
Le Marche is perhaps the most picturesque region of Italy. Discover my guide to the best of Le Marche. From San Leo to Ascoli Piceno I'll show you the amazing places the tourists haven't yet discovered.

Le Marche Italy is located on the East Italian coast, sandwiched between the Appenines and the Adriatic, halfway down the boot - there's a map at the end of the article.
Le Marche, like Piedmont, has really begun to open up with the onset of cheap flights (you'll find the best flight deals here) and with many wonderful and great value hotels in Le Marche bargains are a lot easier to find here than in most other Italian regions.

Where to Begin?
The Marches, to give the region its English name, is a scenically beautiful region of Italy and one rich in tradition and history.
The best of all is that it is still relatively unknown outside of Italy, and fifteen years ago it was a region of Italy that was completely new to me.
My discovery happened about a year after moving to Piedmont, in the north of Italy. Some friends suggested that my Italian wife, Maria, and I join them on a holiday and together we decided to rent a house in Le Marche: the house we rented is still there and is now available on my site  - see the second house on this page.
Ever since my love for this region has continued to grow, Le Marche, the Veneto (where my wife's family hails from), and Piedmont are the places in Italy that I know best and love most. Maria's first love is still for her home region of Veneto; however, she too has fallen in love with the Marche.

Le Marche encompasses all the best aspects of Italian living and is characterized by small, intimate cities like Ancona and Ascoli Piceno.
Where to Stay
Apart from renting your own home there are some really lovely hotels in Le Marche.
First is the quite incredible Hotel Ristorante Tre Lanterne a hotel, a spa, and a place where dreams and hopes are magically restored in this enchanting countryside location. You will need a car to explore though.
Then there is the Ca Virginia Country House, although not really a "traditional" hotel the Ca Virginia is a delightful place to stay, a true taste of Italian country life, and very good value too.

The Coast
The best Le Marche beach region is a little south of Ancona, the completely unspoiled nature reserve of Monte Conero and the coastal area around Portonovo, known as the "Riviera del Conero". A magical land of azure seas lapping gently onto beaches of silver sand.
Many of the best beaches can only be reached by boat, or by hiking or cycling through the surrounding oak forests. Base yourself in Portonovo to best explore. 

Getting to the Marche
Ancona is often your place of arrival with many flights arriving here. The city is okay and if you stay overnight make sure you eat at the Ristorante Osteria Teatro Strabacco featured in my Restaurant Guide.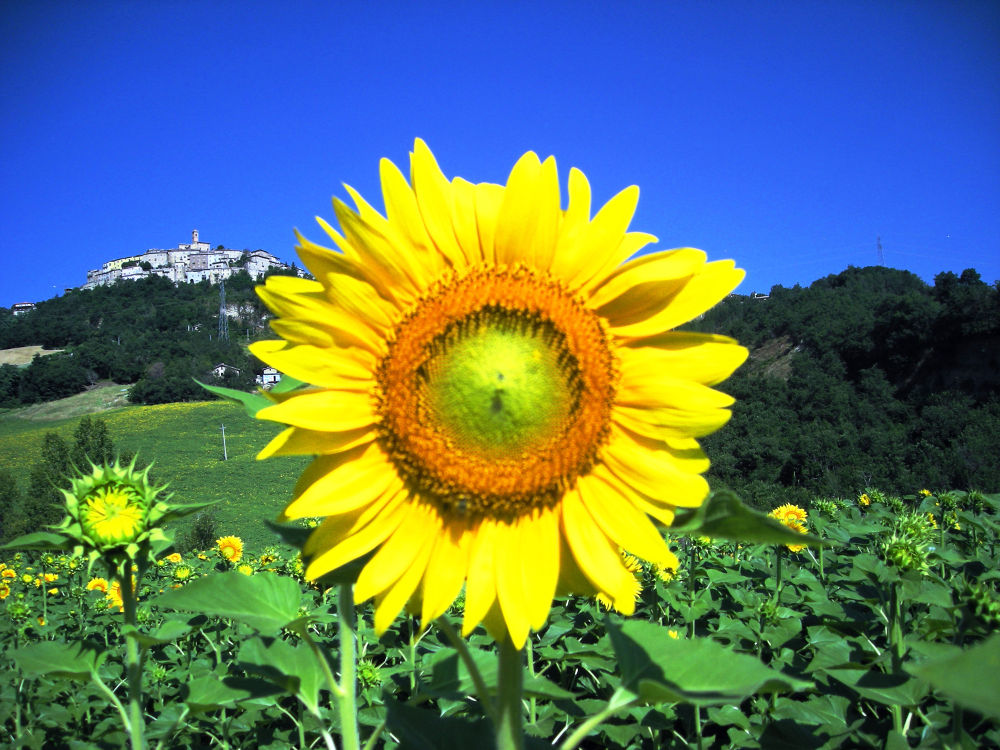 Touring the Marche
If you have been to Italy before and/or speak Italian you can easily tour on your own BUT whether you know Italy well or have never been before it is a good idea to let Moreno help you.
Moreno is a local who knows this bucolic landscape inside and out. His tours really are something special and can be tailored to fit your needs. From big groups to two people he'll take you on an unforgettable journey. His Italy is the Italy you have always dreamed of, the Italy of yesteryear and the Italy of Under the Tuscan Sun...only better!
For an example of the tours Moreno can offer click here.

Villages & Country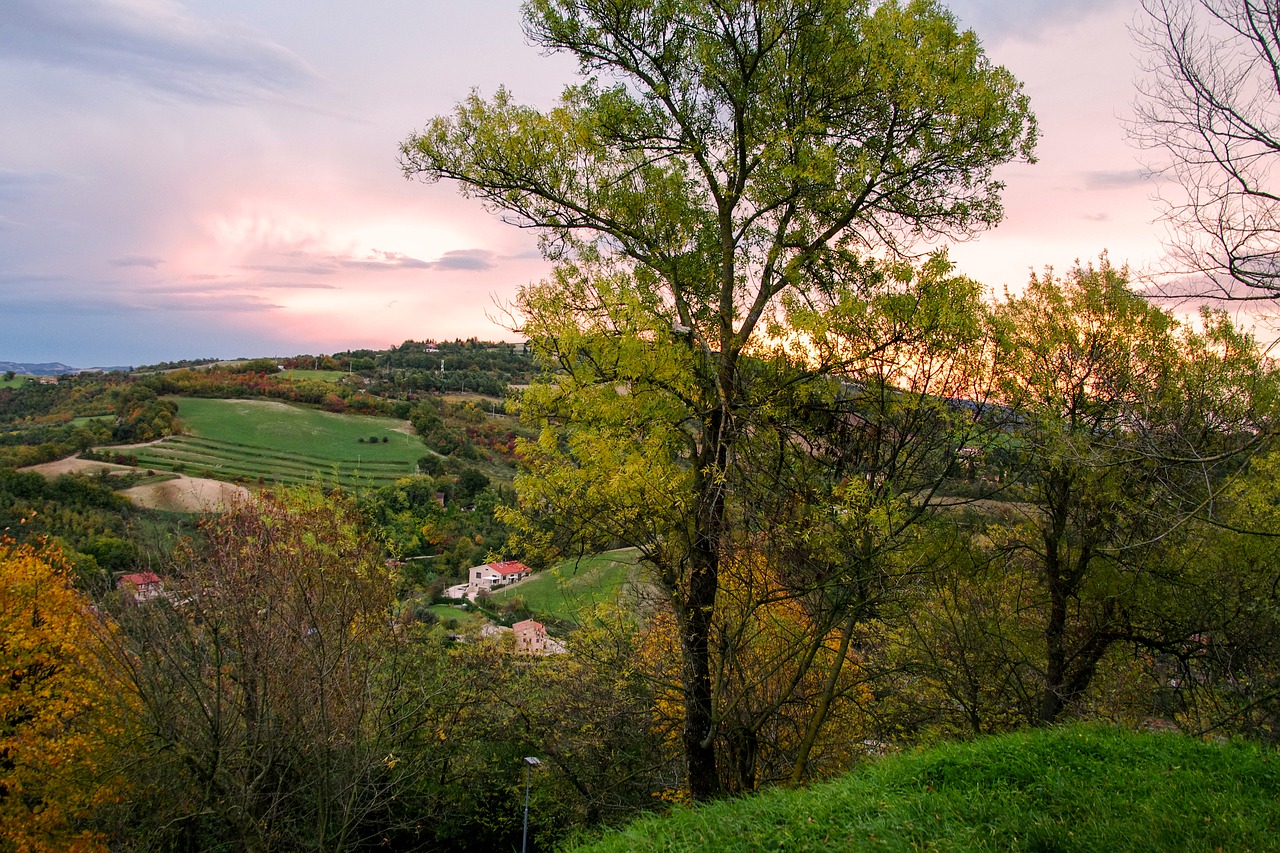 Ascoli Piceno is a definite favorite, the food is absolutely fabulous and there is so much to see. A small city of around 50,000, Ascoli Piceno dates back to before Roman times. The highlight is the beautifully preserved medieval old town, built entirely of travertine stone, it is one of the loveliest in all of Italy.
Urbino, together with the ancient hill town of San Leo (just across the border of Le Marche), and the famous villages of Mondavio and Corinaldo are awe-inspiring. It was near here, over sixteen years ago, that we rented our first Marche villa together with friends.
Since then we have not been able to avoid coming back year after year. More good news is that Urbino, Mondavio and San Leo, like almost the entire Marche area, are virtually tourist free... especially out of season.
Don't miss Genga too, where you'll find the awe inspiring church in a cave (click for more).

One other lovely little village you should try to see while here is San Ginesio (read more). A real little gem on the doorstep of the Monte Sibillini National Park.

Once you visit the Marche you will keep coming back and maybe even buy a holiday home here. Le Marche will change your life forever!!!

Where is le Marche?

---
Subscribe FOR FREE to my monthly newsletter. Italy delivered straight to your inbox!

---
---
---
If you enjoy my site I'd love your support.

All you need do is book your accommodation via this link, or any of the other hotel links on the website. Whether it's for travel to Italy... or anywhere else on earth, your support means the world to us.
You'll get the best deal available, and the income helps us stay independent and to keep bringing you the best of Italy.