Login with your member password below to see your content

Why not become a Supporter?
Click the more info button to see what we offer...
Aci Trezza - Best of Sunny Sicily
I'm sure I'm not alone when I say I love a good story. The one I'm reminded of presently is by the ancient Greek poet Homer, who tells of a giant man-eating Cyclops, Polyphemus, the son of Poseidon, who hurled huge rocks at Ulysses' ship in an attempt to stop him from escaping the island of Sicily.
The Greek hero survived and sailed off, but the rocks thrown by Polyphemus still remain today, jutting out of the azure sea just off the coastline.
The Faraglioni dei Ciclopi, or Rocks of the Cyclops, are Aci Trezza's most distinctive feature.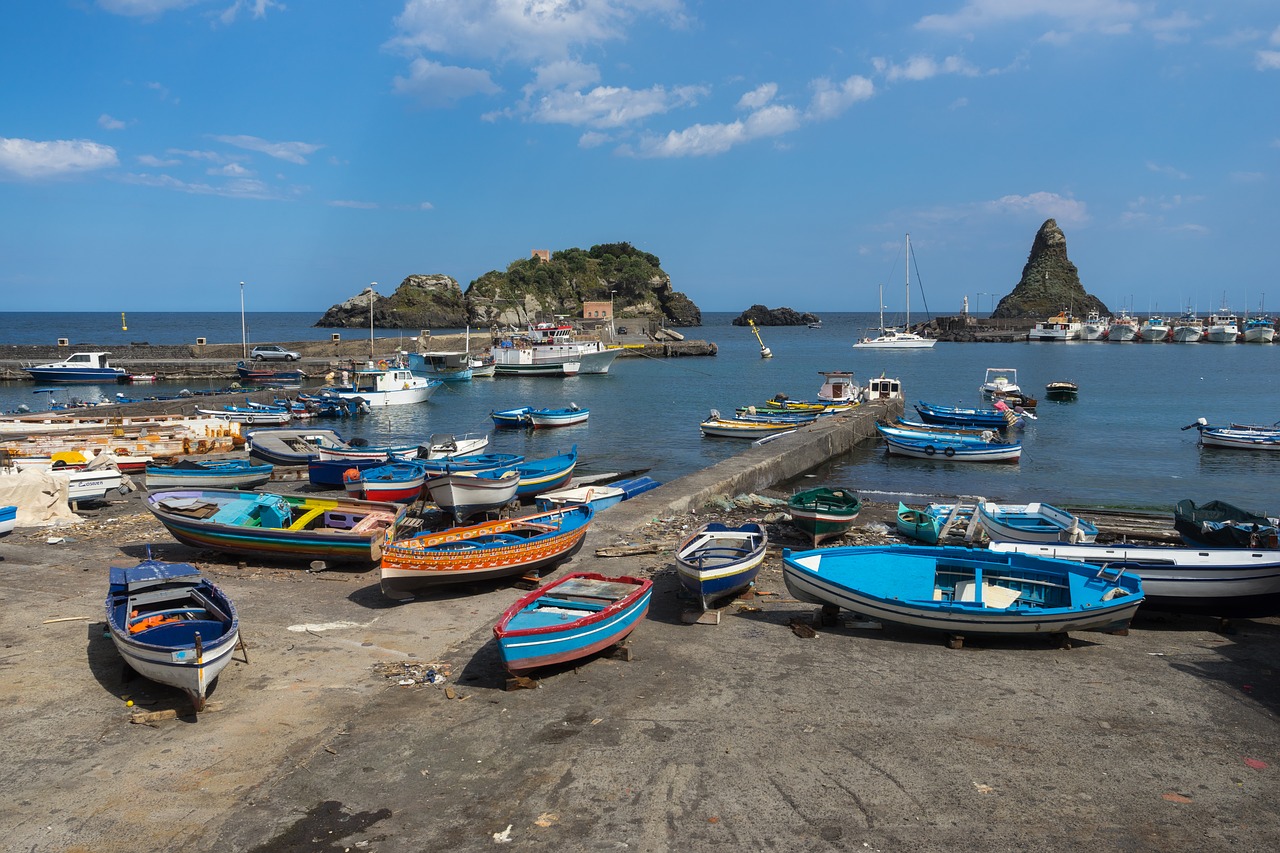 Aci Trezza Today
Life in Aci Trezza these days is more sedate and congenial, but it remains a place of stories, told by fishermen unloading their catches on the lungomare; or by the townsfolk in the piazze, trattorie, streets and markets of this charming little fishing village.

Not forgetting the stories of travellers…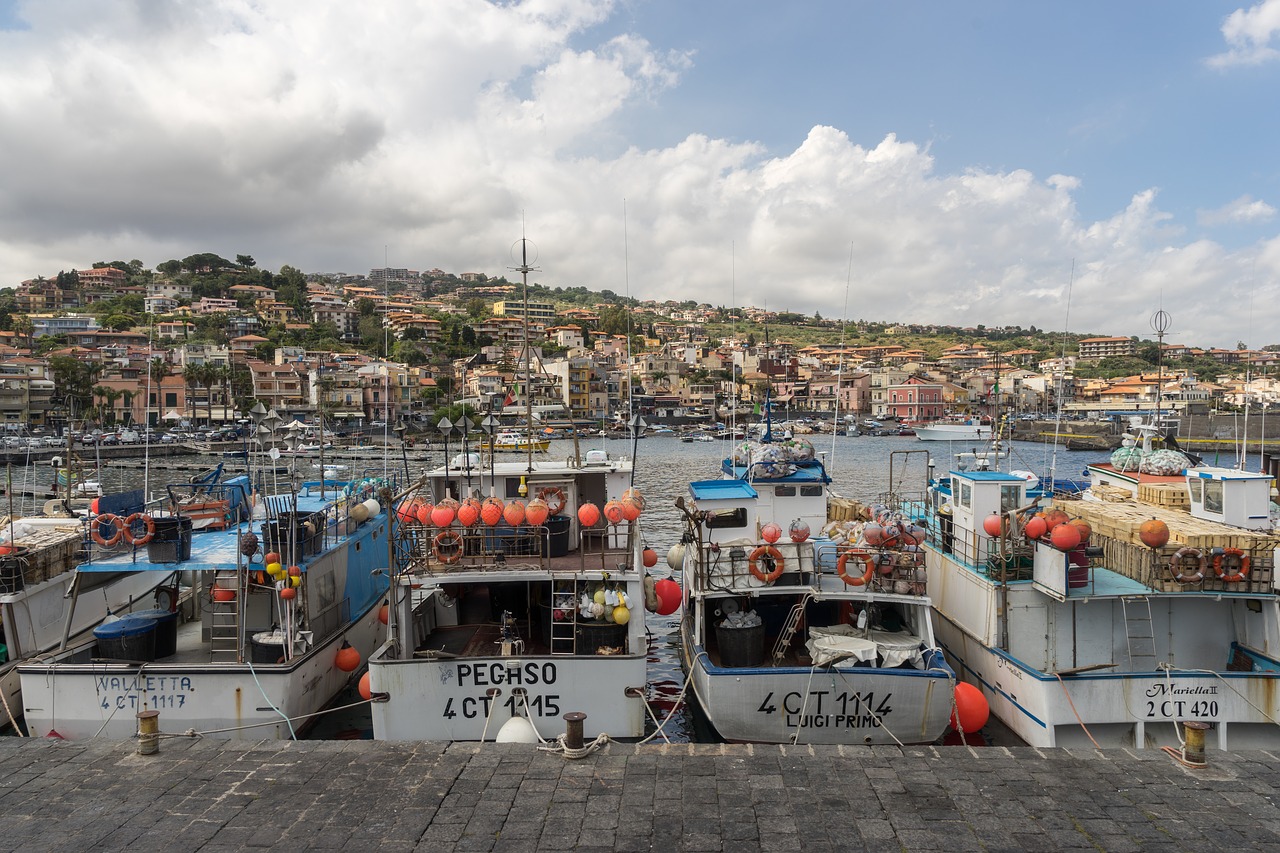 Where to Stay
Our Aci Trezza story invariably starts at the Acitrezza B&B, a stone's throw from the beach. Unobtrusive, this comfy B&B doesn't draw attention to itself, but that's how we like it. It's a great family space. The breakfasts are traditional Italian and so tasty: just the thing before long stroll along the Lungomare Cyclopi, which is usually the first thing we do once we're settled in… it is then that my cares melt away, and my lovely wife becomes even more lovely in the romantic Sicilian air.
Alternatively, for the full hotel experience, the Grand Hotel Faraglioni, is your luxury option. Positioned on the seafront, it's a tad mainstream for us, but I can say first-hand that in terms of the view from the terrace and the seafood-rich buffet, the Faraglioni delivers! The octopus I had there was memorable, to say the least.

Eating Sicilian Style
With fresh fish coming off the boats morning and evening, and sold there and then, you can, if you like, always find yourself a self catering unit and cook for yourself. But, as its hard to beat an authentic Sicilian master chef when it comes to preparing seafood, I recommend what I consider to be the spot to eat in Aci Trezza - Trattoria Verga by Gaetano.
Seafood is definitely the main gastronomic draw card, but with a son like mine, you're never going spend a family holiday in Sicily without going out for pizza. On our wanderings through town, we're always happy to find that Alla Vecchia Fontana is still where it used to be. Happy but hardly surprised. Things tend to remain rather constant in Aci Trezza, and the pizza there is, well, still cheesy… in the best sense of the word.
Otherwise, for great seafood take out, try the fritto misto at the Anchovy Fish Bar.

What to Do?
My recommendation: lay back, do little. Aci Trezza is the ideal place for a recliner, an umbrella, a pair of sunglasses and a bottle of ice cold prosecco. The beaches are all pebbles, but there are decks where you can sunbathe, at the Ghenea Beach Club, for instance, where for a small fee you get the recliner, the umbrella and access to bathroom and changing facilities.
After a few hours sunbathing, a cooling dip is pretty much perfect. For the more adventurous, there's also snorkeling and kayaking… all in the pristine blue waters of the Ionian sea.
Being in Aci Trezza in summer, chances are you'll happen upon one of the fish festivals there. One in late June in honor of the patron saint San Giovanni Battista, and one at the end of July. Not to be missed.
The town, of course, has churches; and there's the island of Isola Lachae; and Catania, 6 miles to the south, with its own collection of Sicilian wonders. Aci Castello, a 12th-century Norman castle set on a spur of rock to the right of the harbor, is also worth a visit.

How to Go
This is Sicily, where things happen on Sicilian time. There is a bus service between Catania train station and Aci Trezza town center, the AMT 534, but it's not that regular. And the taxis are not really an option next to hiring a car.

Aci Trezza itself is walkable but if you're planning excursions further afield, which I certainly recommend, then the hired car will help you make the most of this delightful destination, which my wife Maria affectionately calls 'Aci-treasure'.

I think she has a point.
Where is Aci Trezza?