Login with your member password below to see your content

Why not become a Supporter?
Click the more info button to see what we offer...
Anguillara Sabazia
On the shores of Lake Bracciano lies Anguillara Sabazia. Far less famous than the lake towns around Lake Garda and Lake Como, it has only really been "discovered" by tourists from Rome.  
In Anguillara Sabazia restaurants tend to serve local dishes only (joyfully no tourist menus), few people speak English and yet everyone is happy to communicate with hands and smiles.  
A friend of mine who speaks zero Italian had no trouble communicating and lots of fun doing it - made even more fun after a lunch washed down by copious amounts of the local Bianco Del Lago wine.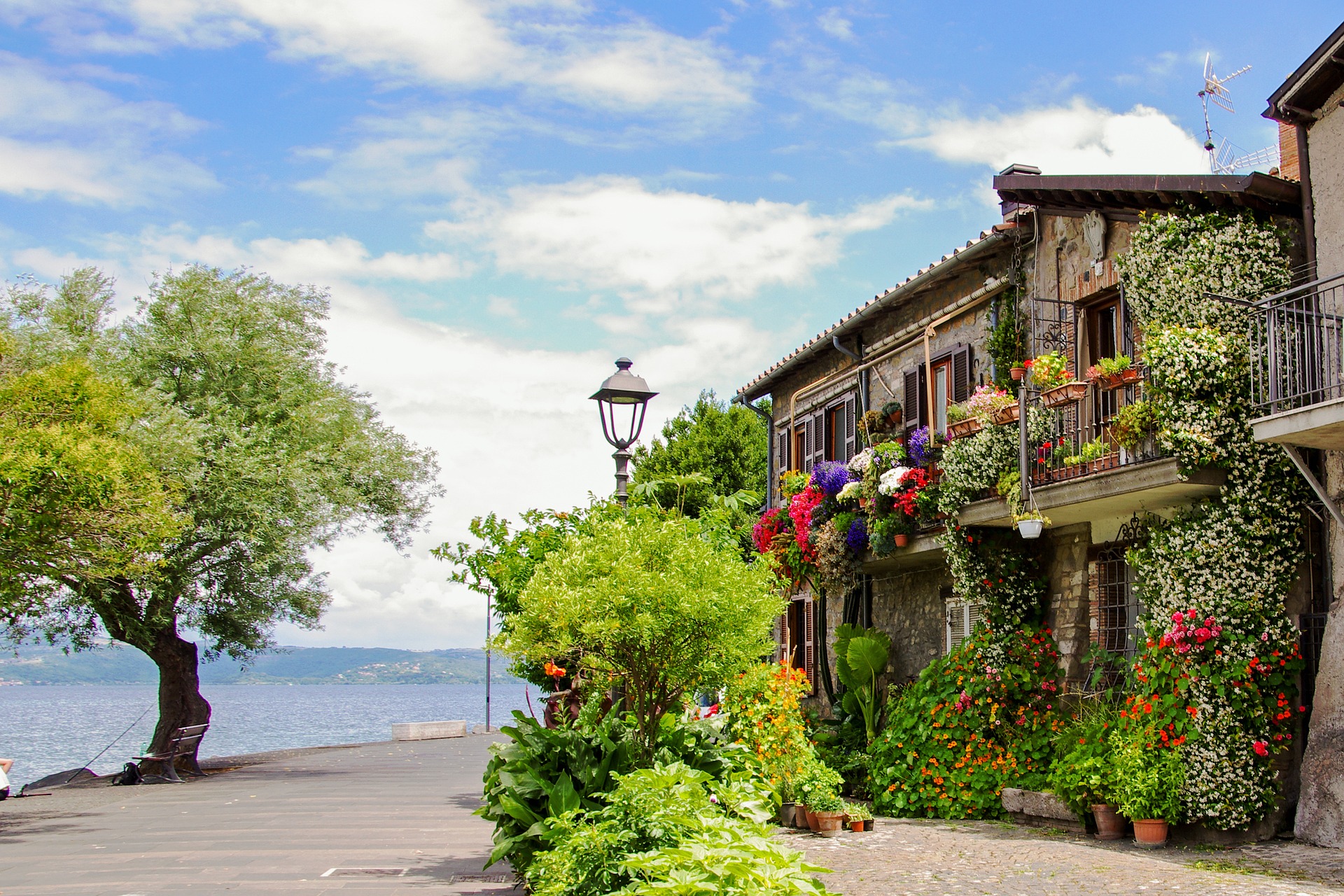 Where to Stay
There aren't many places near the old town. which is where you'll want to stay.
Thankfully though there is Federico and the Al Vicolo dei Pescatori.
Al Vicolo dei Pescatori is not just "somewhere to sleep" but part of the memories you'll make.  Federico is that typically friendly Italian you see in movies like Under the Tuscan Sun and he really goes out of his way to ensure that your stay in Anguillara Sabazia is special.
What to See
Anguillara Sabazia is one of Italy's best preserved medieval villages so you've lots of history.
Just walking around the narrow lanes, houses the color of butter, lemon and biscotti, is wonderful. Get yourself lost in the maze of the old town - well as lost as you can in such a tiny town. You'll soon find yourself back in a familiar piazza or overlooking the lake.
There are some lovely little churches like the Chiesa dell'Assunta, the Church of San Francesco and the Church of San Biagio.
All the churches are worth visiting - just the typical little churches I love. On a sweltering summer's day I love entering the cool dark interiors; often I'm all alone kneeling in the silence. These are the moments I feel closest to God.
Next door to the Chiesa dell'Assunta is a terrace which affords magnificent views across the lake.
The other notable tourist attraction is the medieval arch above the old town's entrance.
Take an evening passeggiata along the lakeside - there's a lovely walkway that starts at the jetty and leads right the way to the end of the headland.
Another good idea is to take a boat trip - there are various options so the best thing to do is to inquire with the tourist office which is in Viale Reginaldo Belloni.
Nearly forgot, do visit the 15th century Castle in Bracciano (the next town along the coast). My son and I love castles but even if you don't this one is worth a visit.
Time to Eat
You've got to eat at least once at the Ristorante La Terrazza Sul Lago in Piazza del Commune and make sure you give yourself lots of time - the food and the views are to be savored. 
Everything they serve is made fresh and is sourced locally - nothing is done quickly and the couple who run the restaurant have an obvious love for cooking and good food.
The seafood fettuccine is something I'd happily travel great distances for and as for the chocolate dessert, made according to the chef's mamma's recipe... well let's just say that biting into it is one of life's great little moments.
After two hours of gorging on outstanding views and food I was so satisfied that I fell into a deep and satisfied sleep as soon as I got home.
Where is Anguillara Sabazia?
It's easy to get here from Rome; just take the train from Rome's Ostiense station. It shouldn't take more than 35 minutes.