Bed and Breakfast in Alghero
The Countryside Bed & Breakfast
Set in an idyllic location, only a few miles from Alghero and a short walk from the sea. You'll have the best of both worlds; the quiet of a rural setting and yet you are only a short drive away from the lively town of Alghero.

With Ryan air offering cheap flights into Alghero from many parts of Europe getting here has never been easier.
The house has been completely renovated with the utmost care and attention and with loving respect for the local Sardinian traditions.
It clearly shows just how much Nicola, the owner, loves Sardinia and after a stay here you will understand just what makes this little corner of the world so very special.
One of the highlights of any stay here is the breakfast. The house is surrounded by organic apple, pear, plum and fig orchards and these are served during the breakfasts on the veranda. What a great way to start your day!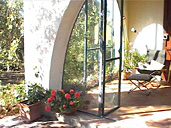 The price of a vacation here is very reasonable and is certainly the best value in the Alghero area; perhaps they should be charging more in my opinion but better not tell them this. This place is truly delightful and I would be happy to pay more than the low rates they are currently charging.
One last tip - I would suggest that if you are visiting this bed and breakfast during the spring or summer that you book early, this is a very popular place.
Read more about The Countryside Bed and Breakfast in Alghero here

For more of my Sardinian hotel suggestions click here.


Love Italy? Please subscribe to my FREE monthly newsletter.

Home

›
Sardinian B&B's
› Countryside B&B
Like us? Why not support me and Maria.
All you need do is book via the search box below, or any of the hotel links elsewhere on the website. It can be for travel to Italy... or anywhere else on earth.
You'll get the best deal available and the income we receive helps us to:
Stay independent and to keep bringing you the best of Italy.
Never have to accept money from hotels directly, so that we can share only those we genuinely love.