Bosa - Village of a Thousand Colours
What comes to mind when you think of Sardinia? For many it's luxury yachts, jet set parties, the famous beaches on the Costa Smerelda and, as the Spanish say, living 'la vida loca.' But Sardinia's northeast coast is also one of the more crowded tourist spots in Europe.
Not to knock places like Porto Cervo and Palau; but we like to showcase an Italy that is every bit as beautiful, just less well-travelled and a whole lot more relaxed.
So we rather take you now to Sardinia's west coast, to the ancient fishing village of Bosa; another of those Italian gems so easy on the eye yet so hard to describe. For now let's call it a melting pot of colors, cultures, cuisines and comforts.
Far more our style.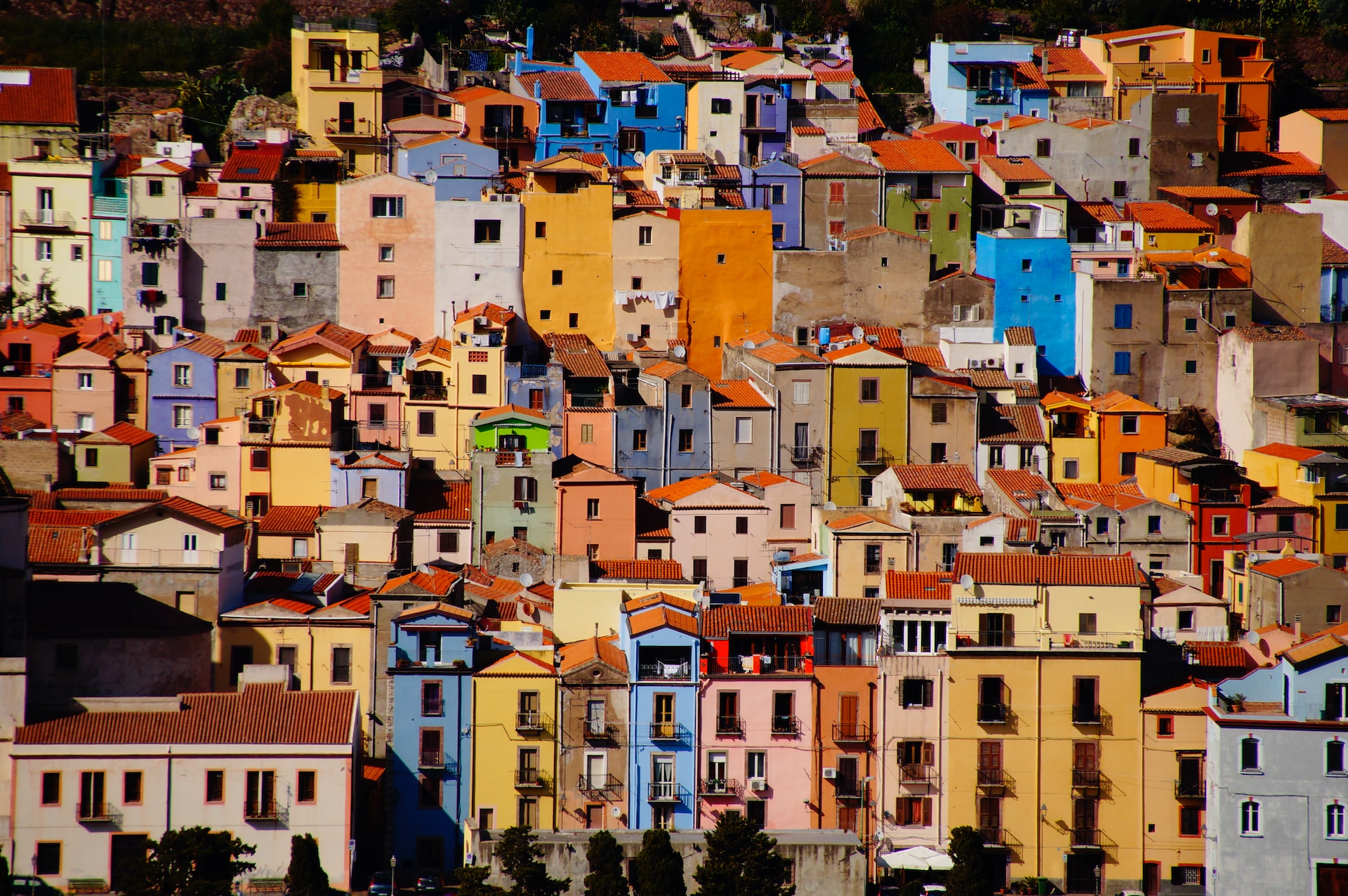 If you're anything like me, you are a sucker for these out-of-the-way medieval towns with their old buildings, crumbly facades and cobbled lanes, in which you can get happily lost, only to find some hidden corner caffè with out-of-this world coffee where you just feel right at home.

Where to Stay
Nothing defines this town's character quite like a string of moored boats bobbing and creaking on the River Tema. Sardinia has only the one navigable river, on which Bosa is built. But staying on the Lungo Tema has disadvantages: there's more traffic here than there is inland, and so there's more noise.
Make no mistake, this is a lively town. People like me and you may wander slowly up and down, gazing at one thing or another; but the locals get on with busy lives.
Otherwise, the Hotel Palazzo Sa Pischedda, on the other side of the Tema, is our regular stay-over. It's not right on the river bank, but you get a modern, comfy room; it's quieter, and the view of Bosa from the outside is unforgettable… especially in the morning sunlight. The hotel is also right by the river bridge, so it's a quick and easy walk to the old part of town. Oh, before I forget, the breakfast is good here too: more substantial than the classic Italian coffee and biscotti.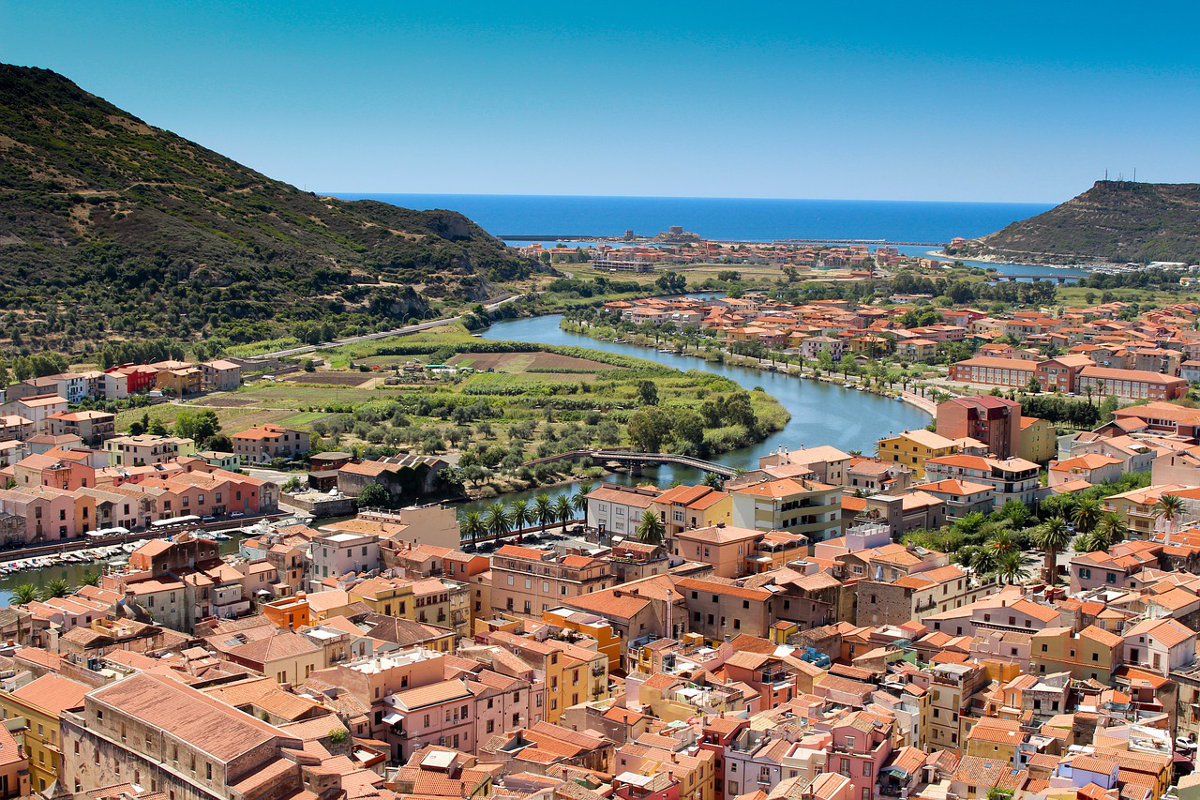 Dining Out
Savoring a meal on the courtyard outside Locanda Di Corte is about as authentic as it gets. The menu is typically Sardinian, with pasta and meat courses separated into primi piatti and secondi piatti, and lots of traditional Sard dishes too. The menu is in Italian but, the friendly staff will gladly translate and set you right.
Squid ink pasta may not be to everyone's taste, but here it is, dare I say, "buonissimo!". Equally buonissimo is their Tagliere di Salumi e Formaggi Tradizionali - basically a selection of local cheeses and salami.
Being in a fishing town, you're going to want to try the pesce. Ristorante Ponte Vecchio Bosa sits right on the Lungo Tema inside one of the historic old tanneries there. Bosa used to be an important leather-producing town back in the day. When we were there last, Maria's steak was tender – definitely not leathery – and I really enjoyed the sea bream… along with our romantic bottle of Costera Cannonau.
The Castle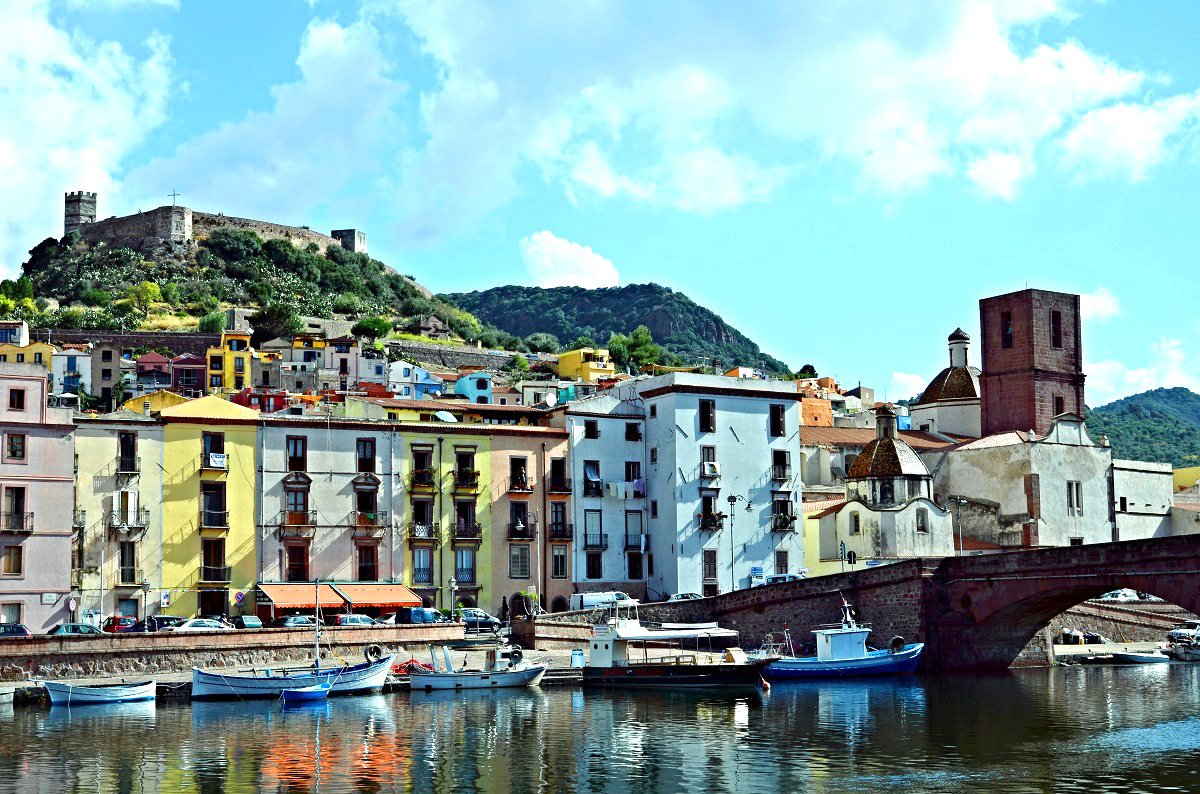 Malaspina castle overlooks the town that grew up beneath it; is also called Seravella castle for the hill that it sits on. Bosa is rich in history, has endured one invasion after the next, and has flourished commercially, always under the protection of this many-turreted fortress.
Now just a skeleton, Malaspina castle is still worth a visit. In fact I'd say that the walk up to what is now more of a walled garden, is a must; if not for the garden then for the spectacular views you'll get of Bosa, the Marina and the Med.

Cattedrale dell'Immacolata
Bosa's duomo is in the heart of the old town between Corso Vittorio Emanuele II and the Temo River. Originally built in the 12th Century and restored in 1803, it retains a decorative interior and some stunning 15th Century frescoes.
Top 3 Beaches
My love for beaches is well known, and here in Sardinia there are some of the most exquisite beaches in the world – the ones here on the west coast being, for my money, on a par, if not better than the ones in the north, south and east - with the notable exception of those beaches on the Maddalena islands and near Cala Gonone.

The Marina
Bosa's local beach is not as secluded as all that, but is still idyllic, with its pristine sands, turquoise sea and laid back marina atmosphere. At nearly 900 m in length it's a favorite with the watersports crowd, and also great spot for a family outing.

Turas
This cozy little beach is about a mile south of the Marina, so is ideal if you want somewhere smaller and quieter but still close and convenient.

Cala Managu
To me, the prettiest of the lot. Cala Managu is about 6 miles out of town, so is an outing of itself, but is so well worth it, for its secluded cove, pristine water, coral and its myriad of sea life – literally a snorkeler's paradise.

Getting There
I'd recommend a car, which can be hired at either Alghero or Olbia airports, your access points if arriving from the mainland. From Alghero, take the SP 49 for about 35 miles. From Olbia it's a bit longer – about 85 miles – via Ozier and Macomer.
Busses also run from Alghero airport to Bosa (about an 80 minute trip). The schedules can be found here.
By ferry, your closest port is Porto Torres about 60 miles away. The busses connecting Porto Torres to Bosa are fairly frequent. 
The only train in Sardinia is the Green Train (Trenino Verde), which connects Bosa from Macomer. Details here.
Map