Emigrating to Calabria (Part 4
Emigrating to Canada

Part Four
This is the continuation of Tammy's inspiring adventure that has taken her from being a single mom in Canada to a new life in Calabria. To read the story from the beginning click here.

I have been away from Santa Domenica Talao for nearly two months now, and it has been an emotional time as I begin to say good-bye to some friends and acquaintances and also participate in events and holidays in Canada for the final time.
To say that the emotions are raw would be an understatement, but I am enjoying fully the last few months with my son, creating memories and laughs during this transition time for both of us.
When I left Italy in March, I left with certain understandings and expectations. The main expectation was that we had adequately secured the installation of the electricity service on the property a few days after my departure.
I did not question whether or not it had been completed, assuming that as payment had been made and the electrician was arranged to be on site that day to assist, all would be completed the way they needed it to be.
Well, as I have said before, I am prepared to accept things happening in their own time, in the Italian way. It turns out that this is a good thing! A few weeks after the scheduled appointment date, I received word from a friend that they had received mail for me from the electric company. It was a package of papers that resembled a blank contract (of which I had previously completed) and a letter indicating that the monies I had paid for the service installation would be refunded, but with no explanation as to why!
Over the next month, there was a lot of discussion and deciphering of documentation, and to make a long story short, it is best to say with a smile, "Only in Italy!" Unknown to us or the persons at the electrics office, their policy is no longer to install a pole for electrics; however, they require the installation of underground services!
When the technician originally arrived, there had not been a trench dug, so he could not do the work.

He did, however, speak with my builder that day, and they sorted out a plan; unfortunately, it appears they omitted to tell anyone! I giggle with slight adoration for my new life and a new way of communicating.
I am content to sit and wait for news of the project, having complete faith in the builder. A few concerned folks, both in the area and here in Canada, have expressed worry to me that the project did not continue after I left in March. This was expected and understood by myself at the time, and I have been content, knowing that in the month of May it would likely recommence.
As I sat lazily drinking my coffee these past weeks, I received an unexpected email from a lovely couple who had been past my property and took photos. Unbeknownst to myself, the work had begun! And wow, had it ever changed! I was quite emotional when I viewed these pictures, and I still am. The dream and transformation are taking an even more concrete form while I am away. Or, shall we say, it is taking a deconstructed and cleared form?

This first photo is a view from a distance. The trees are abundantly beautiful, are they not? Can anyone notice what is different on the hillside?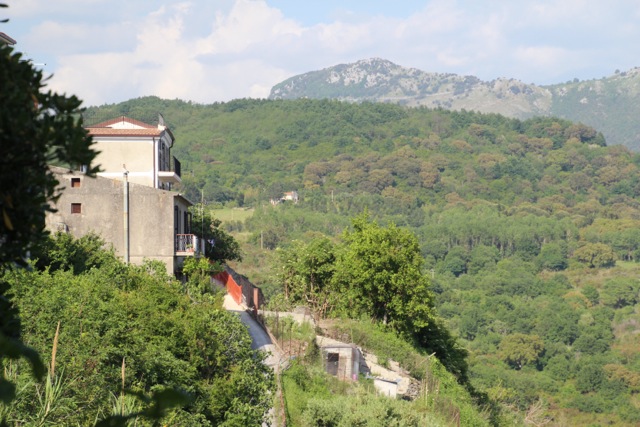 And the house structure is GONE!  As I have not spoken to the construction company, I can only assume that they had deemed the entire structure to be unsafe and opted to take it down. This both saddens me but also gives me relief in knowing that the walls will be new and straight.

Peering down into the property from the other side affords the view of the tiny garden, I am pleased they saved the garden wall. The best surprise is that two of the trees that were close to the old house are still intact, I believe they were orange trees!

As well, the issue of the 'un-installed electrical service' was resolved nicely and there is now a power source supplied to my property and attached to the garden wall, ready for the builder to commence!  I am excited and although this project is seemingly ever changing, my resolve and faith in the process is strong. In the end, I will have the home and life that I dreamt of when I embarked on this journey.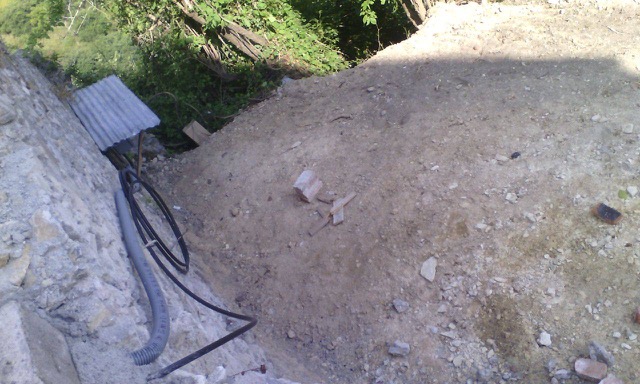 During this time of waiting, many practical things have had to be sorted out here in Canada in regards to preparing for the transition later this year. After overcoming a few personal health hurdles, I forged ahead confidently.
The day in which I arranged my one way flight to Lamezia Terme (try Kayak for the best deals)will forever be engrained in my memory. It was tear filled and joyful all at once.  The date that was finalized for emigrating to Calabria is September 1, 2015 departure from Vancouver.
With this concretely in place, the next steps were to arrange medical coverage, sort out the type of Visa I would require to begin this journey (and subsequent documentation), delve into the wondrous world of international shipping after having determined the belongings that I would like to transport with me, begin sourcing out the potential of a vehicle and finally, to begin making the arrangements necessary for my sons future after his completion of secondary school.
I attended my Visa appointment at the Italian Consulate on May 20 and it was a relatively simple process with a very lovely Italian lady. I had previously spoken to her on the telephone and in the hour I spent with her, I learned a fair bit about the process that would be in front of me.
I had heard many stories of difficulties from other expats when dealing with the documentation for entry and staying in Italy and can happily say that I encountered nothing but a pleasant experience.
Even with the fact that I was applying 102 days before I was to depart, and the policy in place states that you can only apply for a Visa within 3 months from departure, I was thrilled when the official shrugged her shoulders and said "Va bene, we will do it anyway, it won't be a problem."
Today, I picked up my Elective Residency Visa effective Sept 2, 2015 for a full year. This is the beginning of the process and with this document in hand, I have a renewed sense of optimism and calm..

As I type this brief update, I am sitting here with a very grateful heart - for so many people who have rallied around me over the last months. Especially the many friends, both new and old that have held me up emotionally on the days when it felt very emotionally raw to take the next steps. 
I was reminded by a dear friend recently that new beginnings are scary, but not taking the step and living with the regret would be worse.
I am constantly astounded by the range of emotions that have developed. The sadness for leaving friends behind, the pride in my children and the love I am developing for some very special people in my new life.. women and men who are becoming very close and making this journey very rewarding.

Until next time..

If you enjoy my site I'd love your support.

All you need do is book your accommodation via this link, or any of the other hotel links on the website. Whether it's for travel to Italy... or anywhere else on earth, your support means the world to us.
You'll get the best deal available, and the income helps us stay independent and to keep bringing you the best of Italy. 
Emigrating to Calabria (Part 4