Le Zercole, a Harley & Barrel of Grappa
by Pete Hussey
(UK)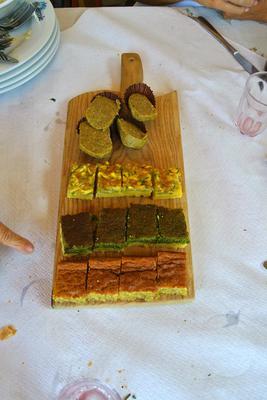 I thought today to focus on a restaurant. For me, the story began just before arriving in Italy for my annual visit when my Italian friend said that we had been invited to a particular restaurant in the foothills of the Dolomites.

When booking, all we had to do was request 'meat' or 'vegetarian' options. Now this place uses a lot of flowers and herbs gather in the fields surrounding so that was intriguing and so I chose that.

There was a slight 'problem' though in that the wife of the couple that had invited us only had a vehicle with two seats so would I mind riding pillion on a motorbike? We took the train from Mestre to Conegliano where we were met.

The motorbike turned out to be a very large and shiny Harley Davidson Road King!

So began a dream I have had for a long time of riding the winding roads around and through the moutains. It took days to wipe the smile from my face!

After a noisy, winding ride we arrived....somewhere....I had no idea where and nor could I see any building. We then set off on foot across the fields full of wild mint and other herbs. In front was forest clothing a mountain and some distance behind the sharp, craggy peaks of the Dolomites.

I suppose we walked for half an hour to the small restaurant, 'Le Zercole' nestled under the steep mountain side.

The food really was excellent and each of the many dishes was studded with flowers or herbs that we could see growing around us. Beside us on a window ledge was a small glass barrel from which we were at liberty to to help ourselves to the grappa it contained. Nobody checked what we used, it was that sort of place.

Afterwards we sat in deckchairs on the terrace with the mountain peaks before us although my view was somewhat curtailed as I fell asleep.
It is somewhere I would love to visit again and would recommend to anyone who wants something different from the usual.
Join in and write your own page! It's easy to do. How? Simply click here to return to Share Your Secrets.
If you enjoy my site I'd love your support.

All you need do is book your accommodation via this link, or any of the other hotel links on the website. Whether it's for travel to Italy... or anywhere else on earth, your support means the world to us.
You'll get the best deal available, and the income helps us stay independent and to keep bringing you the best of Italy. 
Le Zercole, a Harley & Barrel of Grappa