Login with your member password below to see your content

SO YOU'D LOVE TO SEE THE REAL ITALY YOU'VE HEARD SO MUCH ABOUT?
Click subscribe to see what we offer...
Discover San Leo
San Leo is one of my favorite hill towns in all of Italy.

I was completely stunned the first time I came here. I couldn't believe that such a place could be so little known outside of  Le Marche and Emilia-Romagna - it lies on the border of the two regions. Now I'm a regular visitor and many of the tourists are in fact returnees. Once you have been here you will find it difficult to resist the longing to return.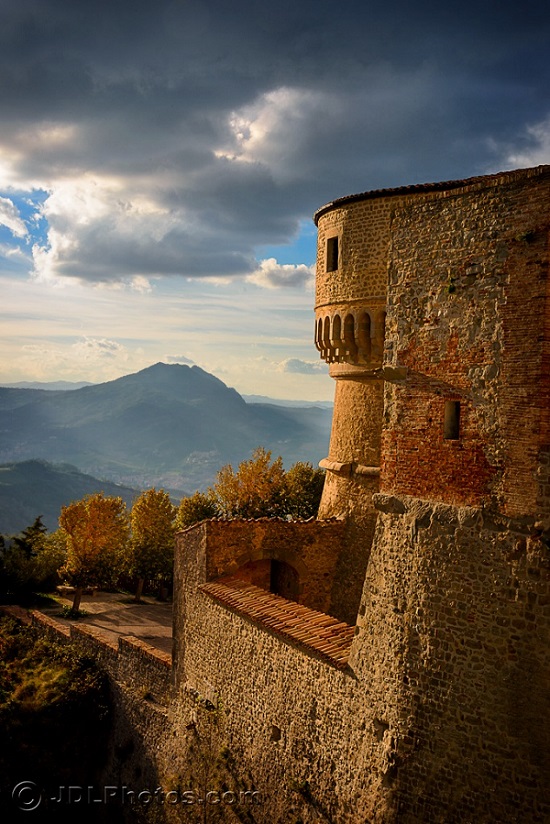 Photo by Jim DeLutes

Where to Stay

Not a hotel but a wonderful farm where all the food served is produced locally, their homemade cakes and biscuits are something else. The place is just a little outside of San Leo and is called the Poggio Duca Agriturismo (click for details).
About San Leo

Approaching this gorgeous stone village, sprawled across its cliff top, is a breath-taking experience. From a distance the town appears as a miniature version of the nearby Republic of San Marino but San Leo is the better of the two – smaller and far less touristy.
It really feels like you have stepped back in time and, unlike in Florence or Venice, the lack of tourists here enhances that. The village still remains much as it must have been a thousand years ago.
Towering over the town is the medieval castle. It is a bit of a walk up the hill to the castle but well worth the effort and the views are stunning.
It is not hard to imagine prisoners of the papacy being brought into the castle, which served for centuries as a prison.
Count Cagliostro is the most famous of the prisoners once kept here. Imprisoned for heresy, his cell, adorned with admirer's flowers, is nasty. 
All he could view from the window is the 9th century church. This was deliberate on the part of his captors who believed it would ensure his repentance.
The torture chamber in the dungeons bear testament to the cruelness of those medieval times. It is only too easy to imagine the screams of centuries of prisoners echoing out through the pitch dark of this hell.
Some of the castle dates back to Roman times but most of it is the work of Francesco di Giorgio Martini, one of the finest renaissance military architects.
Castellans and even those knowing little of medieval military history will be amazed at the complicated and barbaric defences of this castle/fortress.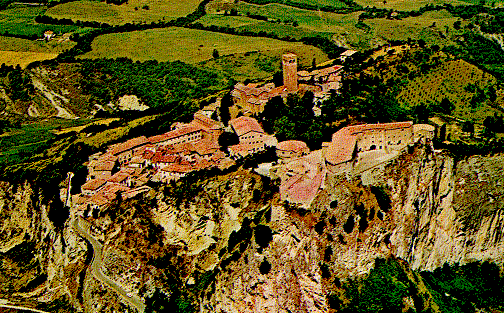 Where is San Leo