The Villa Pisani
by Pete Hussey
(UK)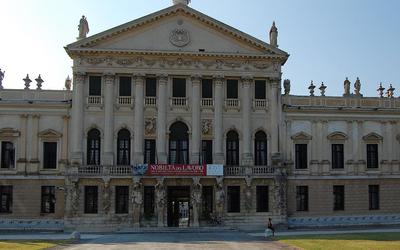 I thought that today I might offer somewhere that I have never seen mentioned on any Italophile page so I guess that makes it part of 'Secret Italy'.

If you wander west from Venice by road along the river Brenta, pass through the small town of Mira that I have written about before, after 30 kilometers you come to the village of Stra. I can't say that I have even seen the village but what you can't miss is an enormous palace commonly known as 'Villa Pisani'.

Although the immensely powerful and wealthy family had a number of villas, this was by far the most magnificent. I attach a photo of part of the front facade.

As you enter the villa immediately in front you see another door giving access to, I suppose one might say, the back garden. You gaze along a pool towards what appears to be another villa but, I am led to believe, was the stable block. Alvise Pisani became 114th Doge of Venice and, to mark this, there are 114 rooms in the main house.

No photography was allowed inside so I attach some that I took (these rules didn't specifically name ME as excluded). The ballroom shimmers as if made of gold and is really magnificent. Take a look at the pillars each side of the windows. They don't, in fact exist but are clever trompe l'oeil works.

In the grounds is a splendid maze -yes, I did go in it and, yes, I did get lost. The Pisanis eventually ran out of money through ruinous gambling and the villa was bought by Napoleon Bonaparte. You can see his bedroom but that I was unable to photograph being very closely watched at that point. The villa was also occupied for a short while by two other dictators as it was where Hitler and Mussolini first met.

My final photo (on the right) is nothing to do directly with the villa but shows an impossibly lovely scene of another more modest villa not far away of the Brenta. Do visit if you pass this way on your way from Venice to Padua, you won't regret it. (Just noticed that I have only mentioned 4 people in this piece - Napoleon, Hitler, Mussolini and me. Must go now, I have Europe to conquer before lunch)
Join in and write your own page! It's easy to do. How? Simply click here to return to Share Your Secrets.
If you enjoy my site I'd love your support.

All you need do is book via the search box below, or any of the hotel links elsewhere on the website. It can be for travel to Italy... or anywhere else on earth.
You'll get the best deal available and the income we receive helps us to stay independent and to keep bringing you the best of Italy.