Another Smaller Venice
by Pete Hussey
(UK)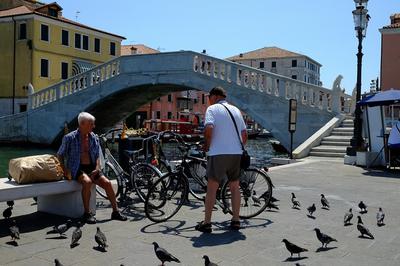 Following Maria's posting of an article about Chioggia, I thought I would show some of my own photographs made recently and which I hope complements those from the her post.

I have been going to Venice for a number of years and the friend I visit has been promising me a visit to this wonderful fishing village for a superb fish meal. Well, after several year we finally got there.

We travelled by bus on a gloriously sunny October day although a cold wind made warm coats a necessity. What we didn't realise was that on a Monday most restaurants are closed but wandering around eventually revealed somewhere that, as it turned out, provided me with the best meal I have ever had

There is nothing pretentious about the inside, just arranged to make for pleasant dining. The main dish that I ate, ravioli made with squid ink and filled with a beautiful, soft and moist mixture using sea bass. The sauce was a light orange butter with shreds of zest, crispy sage leaves and a garnish of flower crumb. The sort of dish I wanted to fill my face as quickly as possible as it was so very good and yet, I wanted to eat it so slowly to make it last. For dessert I chose tiramisu. They tend to vary from place to place but this had the right flavour and nicely chilled on such a hot day on this year's summer visit. A chilled glass of Prosecco was all that was needed to complete the experience.

Chioggia ( or Ciusa to Venetians) is somewhat reminiscent of la Serenissima of course with its canals and bridges, albeit on a more modest scale. What is so good though is the complete lack of guided tours with the 'sheep' following an umbrella with a guide repeating a speech that they must have used dozens of times.

If you go here, make sure you indulge yourself in any of the restaurants. From the one we ate at, one could see the trawlers moored at the end of the street. You won't find fresher fish unless you jump in the sea with your mask and snorkel.

The photo of the men by the bicycles I took on another visit in July showing the traffic problem in the town. Remember, Venice on this afternoon would have been absolutely packed and here I was just a few kilometres away.

Now what was your excuse for not coming here?

Maria's reply: Chioggia is indeed rather special and we feature it in the Secret Italy section. Here is our Chioggia article

If you enjoy my site I'd love your support.

All you need do is book your accommodation via this link, or any of the other hotel links on the website. Whether it's for travel to Italy... or anywhere else on earth, your support means the world to us.
You'll get the best deal available, and the income helps us stay independent and to keep bringing you the best of Italy.