Cervo: Where the "Dolce Vita" begins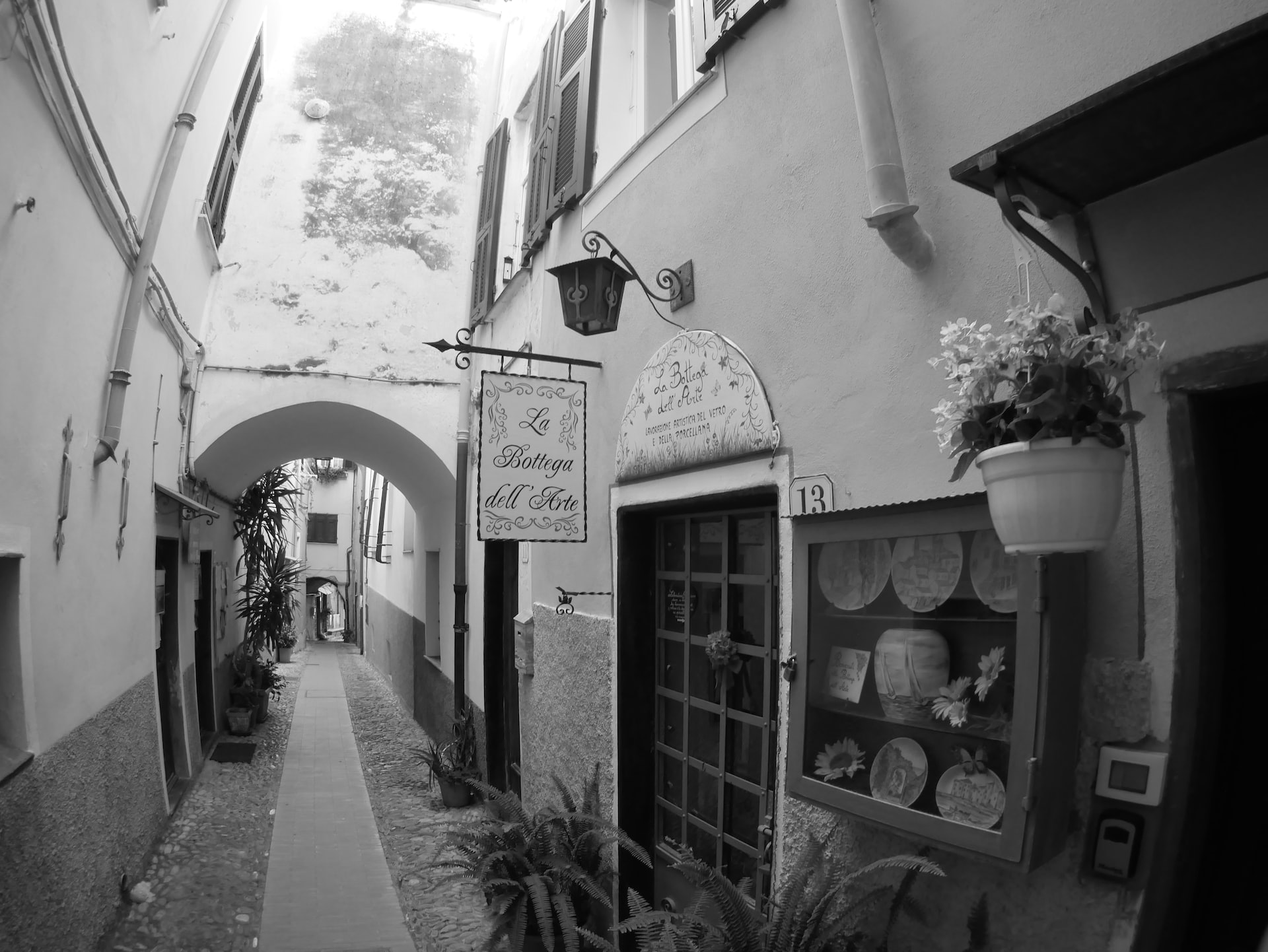 Aah, the Italian Riviera! Cinque Terre… Portofino… Sanremo… and the quieter, sleepier, tinier Cervo : an ancient little ochre village set on a bluff, backed by olive groves and overlooking the bluest of seas. 

The village has medieval origins, but the site was used by the Romans as a fueling station en route to France and Spain.  That tradition of hospitality has endured. Cervo remains most welcoming, and serves you  a unique slice of la dolce vita. 
On entering the maze of ochre buildings and cobbled alleyways, it's easy to see why it's officially one of Italy's prettiest villages. Its 2 showpieces, the bougainvillea-draped Castello dei Clavesanna and the Baroque Chiesa San Giovanni Battista, are as magnificent as any in the heart of Liguria. 

Its big pebble beach may not be the best on the Riviera, but it is still a boon for sun worshipers, intent on a seaside experience without the crowds of, say, neighboring Diano Marina… and the village behind is quite literally a cultural treasure trove.

Where to Stay
We like B&B Corallini. It's cozy, tucked away, and close to the village center. It has all the must-haves: private loos, flat-screen TV, modern décor. Denise, the host, is a mine of tips on where to go, what to see… and she serves a mean marmalade croissant come breakfast time.
Cervo is all narrow alleys and arched overhangs. You might hear a dog bark, but the center is motorcar free. Personally, I sleep like a log when I'm here… due in part to the quietness, and in part to the walking. Cervo is a steep little place. Your Stairmaster can definitely remain at home. It will not be required.
Preferring a hotel, Hotel Le Nereidi is a gem. It has the privacy, the TV, spacious rooms, etc. But the drawcard, for me, is the food. Generally we eat while on our rambles through town, but their restaurant is just so inviting. The lunch is top notch, the dinner superb… and breakfast follows.
Cervo has a strong gastronomic tradition, which Le Nereidi upholds admirably.
Where to Eat
I'm bringing you back to Le Nereidi. The ambience is quiet, the waiters unassuming, the service wonderful, the English broken, and the food, well, that speaks for itself. My risotto with squash flowers was worthy of all this praise; but Maria's swordfish still gave me food envy. You know? When you see a plate go elsewhere and you wish you'd ordered it?

The dishes all look spectacular.
For Cervo's Michelin star experience, try Ristorante San Giorgio, in the heart of town. I'm not sure the food justifies the prices. But it's not just the food you pay for. It's the experience: the royal service and impeccable plating, where everything is presented just so. Generally I prefer simpler, family-run places but once in a blue moon I'll splash out on somewhere like this… and the food is superb, make no mistake.  
Alternatively, you can pop downstairs to Osteria San Giorgio: same establishment, same kitchen, same authentic Ligurian cooking, just different, more affordable dishes. 
Ristorante Serafino provides your classic sea view and al fresco dining experience. We found it a bit of a walk to get there. Once we did, the service was good, the view gorgeous, and menu offered a wonderful choice of locally-caught seafood. 
What to do?
Much of our time in Cervo is spent just strolling through the alleys, browsing the shops… and going up and down stairs. The walks can be a challenge, depending on what one is used to. But there are plenty of little nooks to rest one's feet and restore, perhaps with some bread and cheese or a glass of limoncello. 
Pace is not a factor here.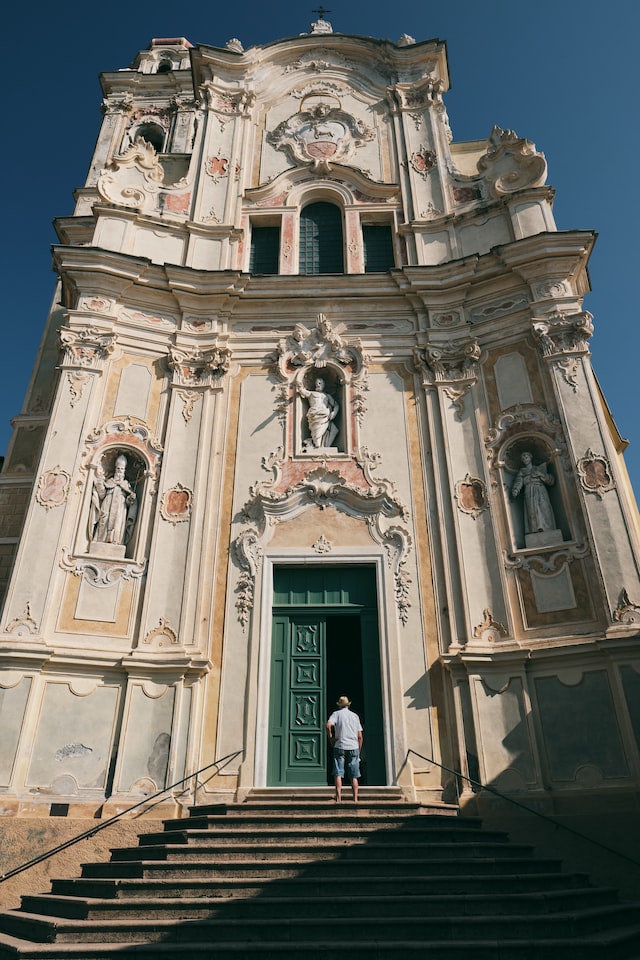 Chiesa San Giovanni Battista
Inevitably, one comes to the main square, the Cervo Piazza, with its bougainvillea, its rustic balconies… and the Church of San Giovanni Battista: with its distinctive Baroque façade and bell tower.  
Culture is a factor here, and throughout the summer, the church houses many a classical music performance. 
The village as a whole hosts the Annual International Festival of Chamber Music, which is quite an event. Art is celebrated too, particularly on the first Sunday in September, when the whole town is turned into an open-air gallery.
Continuing through the alleyways, one happens upon Castello dei Clavesanna. Built in the 11th century, it is Cervo's oldest structure. Impeccably maintained, it has changed function over the years. Originally built to protect, it came to incorporate the Church of Santa Caterina d'Alessandria (17th century); has seen service as a hospital; and today houses the town's tourist office… and a museum. 
If you want the low-down on Cervo, here is where you'll find it.
Nearby attractions include Bussana Vecchia, a fascinating 'ghost village' close to Sanremo; not forgetting Sanremo itself, and other more popular resorts like Diano Marina and Alassio… for the glitzy Riviera experience.
Also, a little further along the coast is a wonderful cycle path. It was once the coastal railway line but now the tracks are no more. Instead you cycle through tunnels, through olive groves and vineyards and along the old cobbled streets of seaside villages and towns.  On one side is the bluest of seas, and many a tempting beach, while on the other hills of green look down upon it all. Details here.

Getting there
By car: take the A10 motorway and the San Bartolomeo al Mare exit. Turn left onto  Via Aurelia, and its 15 minutes from there.

By bus: take the Sanremo-Andora della Riviera Transport line .
By train: your nearest stations are Diano Marina and Andora. Once there, you can hire a car, or take a bus / taxi.
Enjoy!

Map Of Cervo and Nearby