Chiusa/Klausen - Gateway to the South Tyrol,
Picture this: snow at Christmas, roasted chestnuts, cheerfully squeezed accordions, foaming mugs in biergartens and crispy pork knuckle… as enjoyed in a tiny town by a flowing river in a breathtaking alpine valley. That is  Chiusa or Klausen as it is called in German. 

I don't typically address money matters. I simply convey my lasting impressions of the towns and villages my family and I love, share our memories, and present our point of view. Even so, travelling is a practical pursuit, money is critical, and Chiusa is undoubtedly a boutique village. One pays for the postcard… but it comes alive for less than you expect, which is why I mention cost.

I'm so impressed by the value offered here.
Arriving for the first time back in the late 90s, I came upon a town quite unlike what I was used to. Instead of winding alleys and compact centers, Chiusa's equally charming, and car-free 'Oberstadt' (uptown), is laid out in a line.
One enters at the Marktplatz, wanders down The Citta Alta with its boutique shops on either side. It's something like a main street in the USA or the UK high street, although Chiusa retains the cobbles, the narrowness and the story-like atmosphere; and one still feels embraced by the centuries old facades, comfy piazzas and the scattering of gothic churches.
Continuing on, you come to the Unterstadt and the lovely Tinneplatz square – an immaculate lunch spot.
Alternately, wander along the banks of the spectacular Isarco river. From the Eisack promenade, the backbone of Chiusa/sounds as relaxing as it looks.  
Culture
Up here on Italy's Austrian border one is forgiven for thinking this is another country altogether. The familiar "ciao" gives way to the cheerful "Grüss Gott." German is spoken, and strudel is eaten. That said, you'll find delicious fresh pasta here too; ravioli filled with spinach and sour cabbage and deep fried, or stuffed with jam and fried as Krapfen. 

Where to Stay
Residence Schmuckhof Torggelkeller is in the Oberstadt (uptown), offering rooms and apartments, and a restaurant spilling onto a gorgeous piazza, with an American breakfast, including eggs, bacon, fruit and yoghurt. It's a fine place from where to enjoy dinner too, and the phenomenal South Tyrol cuisine… and the pizza gets the thumbs up from my son. Guests enjoy private bathrooms, flat-screen TV, Wi-Fi, comfy beds, and sofa beds. 
Hotel Goldener Adler is in the Unterstadt (downtown). Dine al fresco on another lovely piazza, outside another gorgeous gothic-inspired façade. Inside is as elegant as out, while the jovial mood and the generosity are reflected by the portions put on your plates.  The hotel is geared around 'wellness.' Facilities include a sauna, Turkish bath, and fitness room, and the rooms all sport private bathrooms, Wi-Fi and TV.
Moving out of town, into Bolzano's spectacular countryside. Hintnerhof's exterior has a cottagey feel, not out of place in the pages of Heidi, while the wood interiors are rather more modern. The facilities are up to par, the service is friendly, and the view of the Isarco Valley quite something. Your privacy is maintained, and your comfort extends to the food served. 
Outdoors
Skiing in winter, paragliding in summer, and a host of other physical activities all await the outdoorsy traveller. 
The Bolzano province is a center for health and wellness. Many many tourist establishments cater to that preference, with beautiful spa and fitness facilities studding the region. It makes perfect sense considering the mountain air, the mountain water, and the mountain itself. The majestic peaks surrounding you are the Dolomites, implying mineral-rich springs, fertile, vineyard-loving soil, etc. 
Food
Being physically active, as one tends to be here, one soon starts thinking about food, and all the delightful "Weinstuben" dotted about the valley. Indulgences include roasted chestnuts, the famous speck, eisbien, the biggest cheese gnocchi I have ever seen – 3 to a plate – traditional knodel, mountain honey, Grau Käse cheese… the menu goes on and on. 
My dish of the day:  snails, grilled with goat's cheese, cep mushrooms and fragrant white truffles as had at: Gassl Brau. Something a little more hearty is that pork knuckle I mentioned: a common dish in a Germanic town, done to a T at a little wienstuben in the country called Gasthof Huber
Wine
The local food pairs really well with the local wine. Notable is the famous Gewürztraminer dessert wine. My personal choice is Grüner Veltliner, but I'd also walk a mile for a chilled glass of Müller Thurgau, thanks very much. This is strong wine country. In some of the country stays one can reach out of a bedroom window and almost touch the vines. 
Of course, South Tyrol is also home to the Torgelle, a gastronomic extravaganza marking the start of the wine season, and celebrating the new wines. Food stands are set up throughout the various towns, tours of various weinstruben are taken, there are wine tastings everywhere, and generally a merry time is had. Torgelle is, in other words, gastronomic heaven.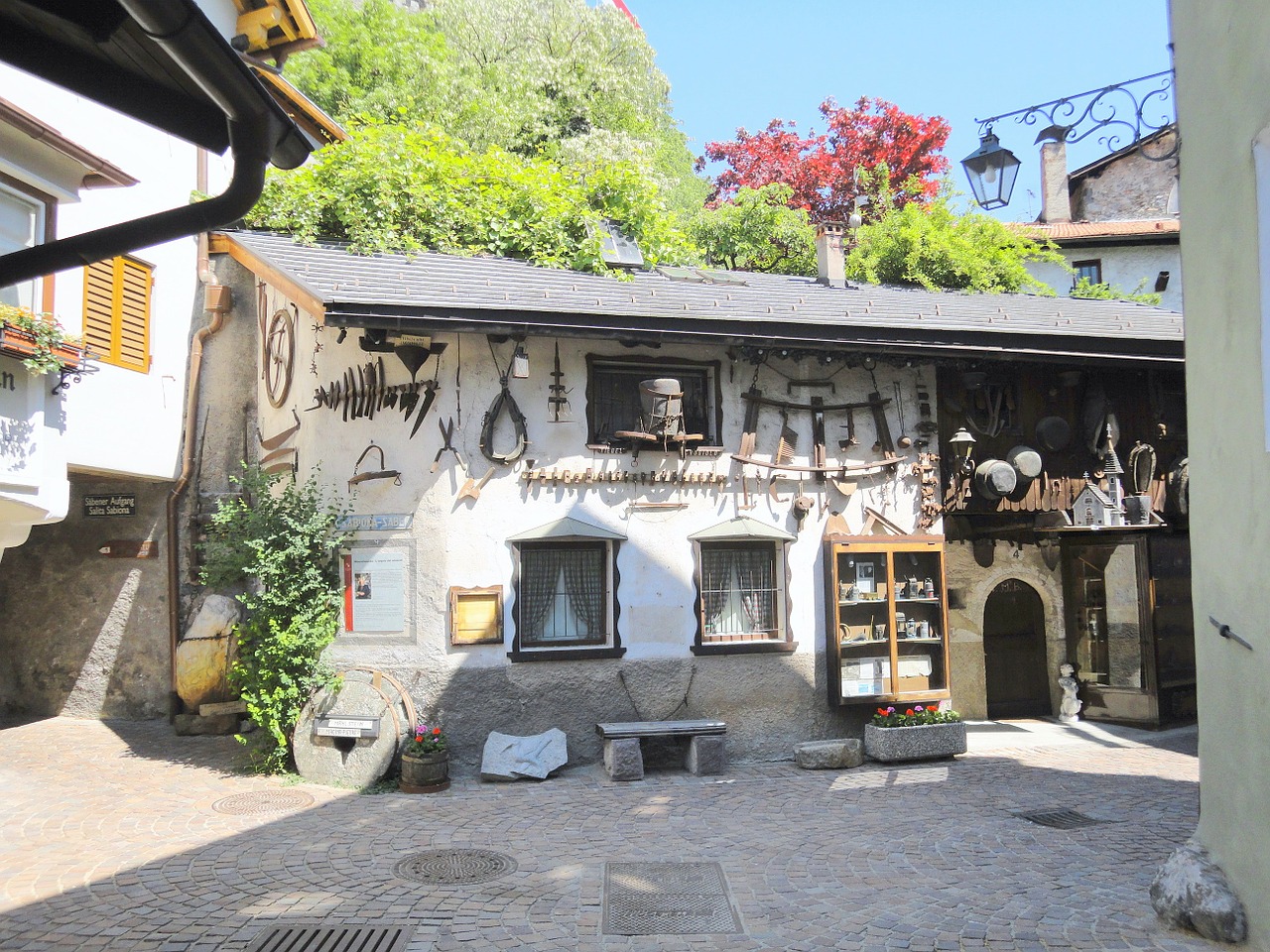 Shop in Chiusa
The Sights
The unmistakable Chiesa di Sante Andrea, at the bridge on the Isarco river, dominates the town-scape, with its elegant gothic design and super-impressive steeple, dating back to the 1200s.
Sabione Abbey is equally unmistakable, perched on its crag, overlooking the town. Part monastery, part fortification, it served as lookout, protector and sanctuary in old times. Its architecture is admired from afar and appreciated up close, after a taxing 30 minute walk up the road from the town. Well worth the effort.
The Museo Civico. A renaissance, Spanish-influenced art collection known as Treasure of Loreto is the famous draw-card. 
Moving outdoors once again, Chiusa and its surrounds are fundamentally ancient sites, making them anthropologically and archaeologically fascinating. 
inclined to more modern pursuits, here you're near the famous spa town of Merano, a hideaway for emperors and nobility. Today, the entire town is a state-of-the-art wellness center, featuring pools and mud baths, traditional massages and the like.
How to Go
Despite being another world, Chiusa is easy to get to. It's half an hour up the Autostrade from Verona and right by the turn off.  You can park at both ends of town, but remember, the center is car-free, so bring your mountain bike if you can.  
Or, hop on a train from Verona. 90 minutes later you will be here.
The nearest international airport is Verona, 90 miles away. And there is a domestic airport just outside Bolzano, with daily flights from Rome.
Bolzano is also well served by buses, which take you from various locations directly to Chiusa
All in all, a picture perfect town, easily reached and heartily enjoyed.   
Map