Lake Orta - Italy's Most Loved Lake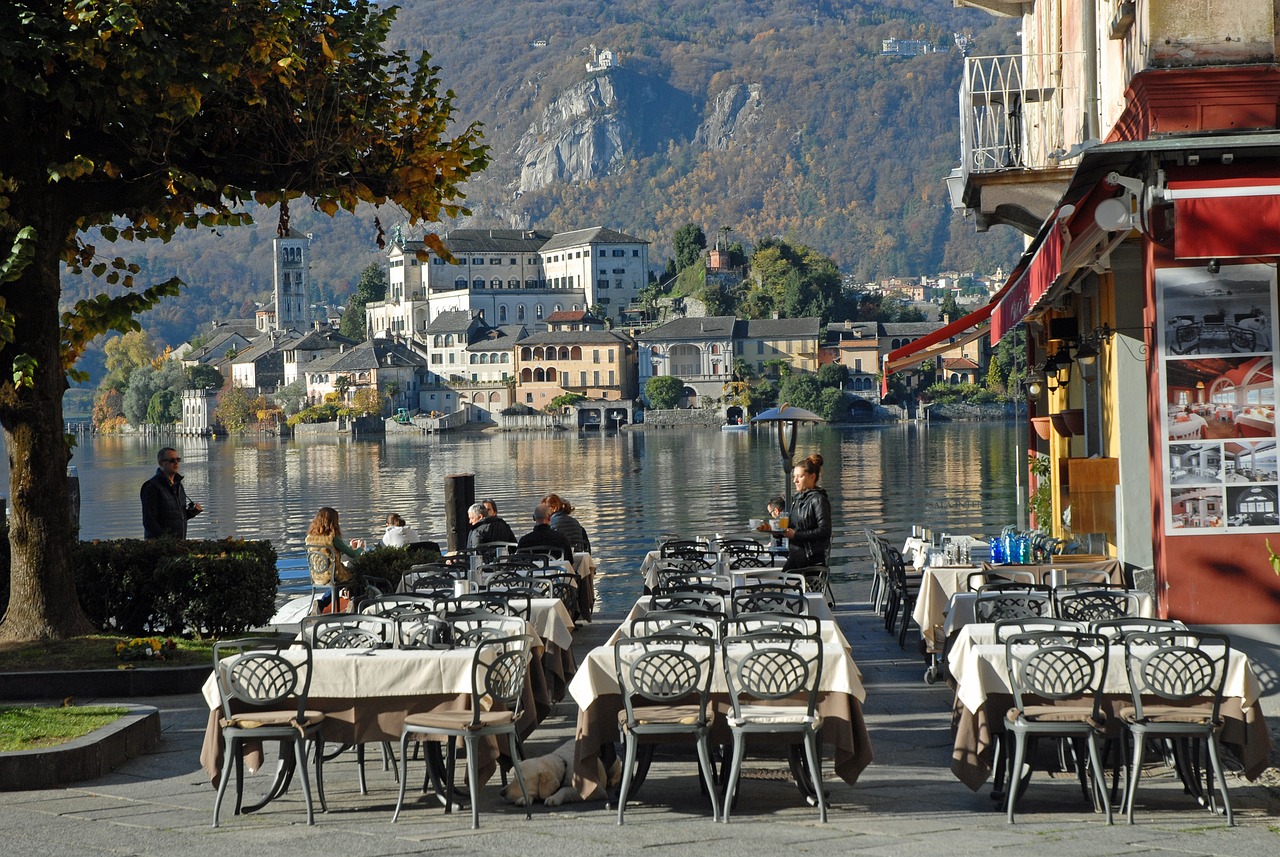 Lake Orta has been an inspiration to poets and writers for centuries and is without doubt the most romantic lake in Italy and one of the most romantic places on earth.
I have spent many a weekend here with my wife Maria - staying in various hotels and apartments (click to view our favorite place). Invariably we come back home feeling more in love!
Lago di Orta, to give it its Italian name, is 13.5 km/ eight miles long and surrounded by mountains covered in lush vegetation. The setting alone is breathtaking but the jewel in the crown is...
The Island of San Giulio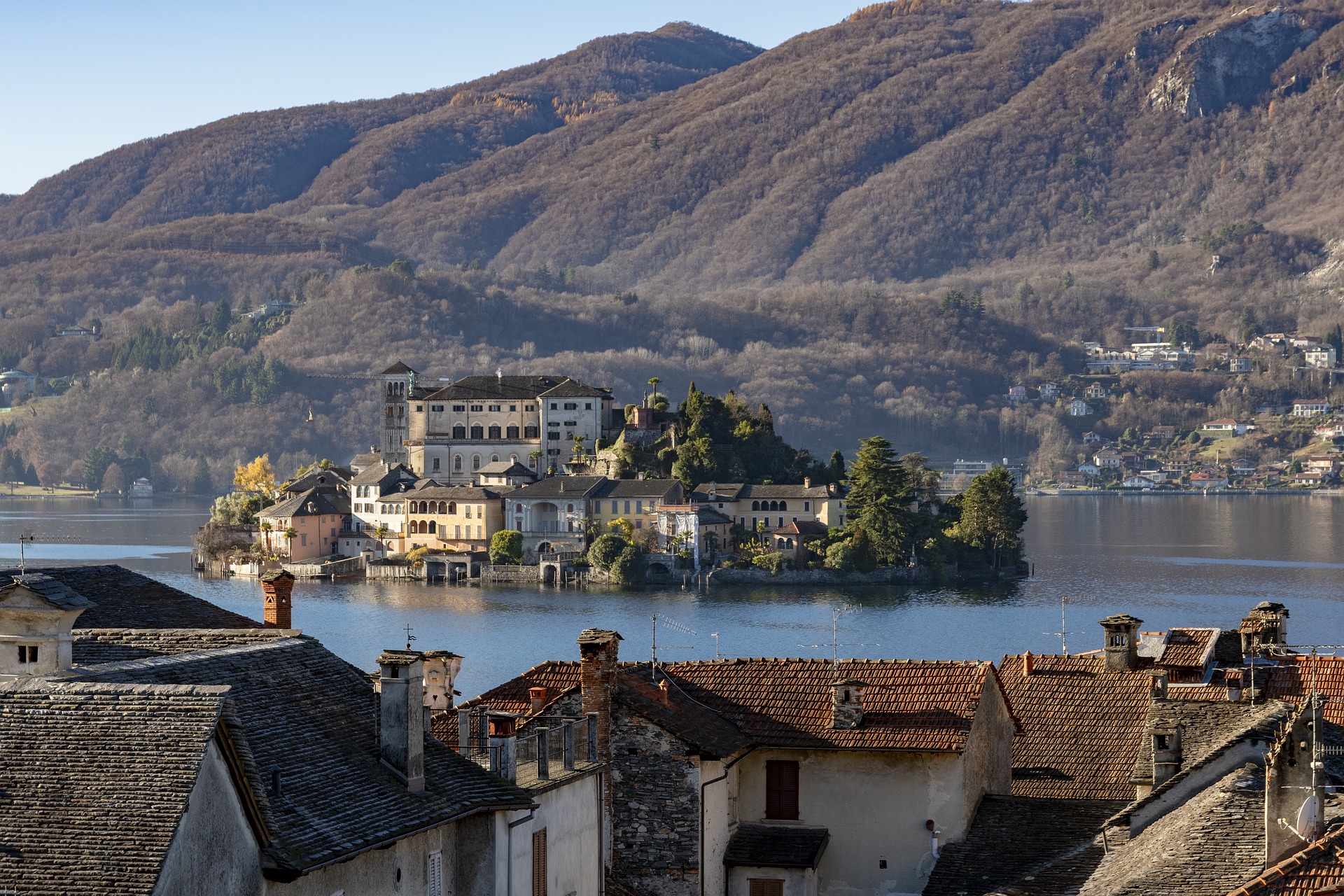 The Island of San Giulio
Set in the middle of Lake Orta and dominated by its thirteenth-century basilica and convent, the little island of San Giulio.
You arrive by boat and then follow the pathway to peace and meditation, as the lane leading around the island is called.
It truly is a gorgeous walk, and you can't help but feel moved, maybe even a little overwhelmed by the beauty of your surroundings. Lucky indeed are the nuns, the only permanent inhabitants, who live in the convent housed in the Abbey on the island.
The island's heart is the Basilica di San Giulio, a sacred sanctuary that dates back to the 4th century, it is spectacular both from inside and out. The walls are covered by frescoes going back four hundred years and a the silent broody quality tends to put one in a very contemplative type of mood, which I suppose is the intention.
In the crypt, you can pay your respects to Saint Julius, the island's patron saint, who is believed to have expelled the serpents that once plagued the area and, together with his brother, built 100 churches across Greece (the brothers were Greek) and Italy.
When is the Best Time to Visit Lake Orta?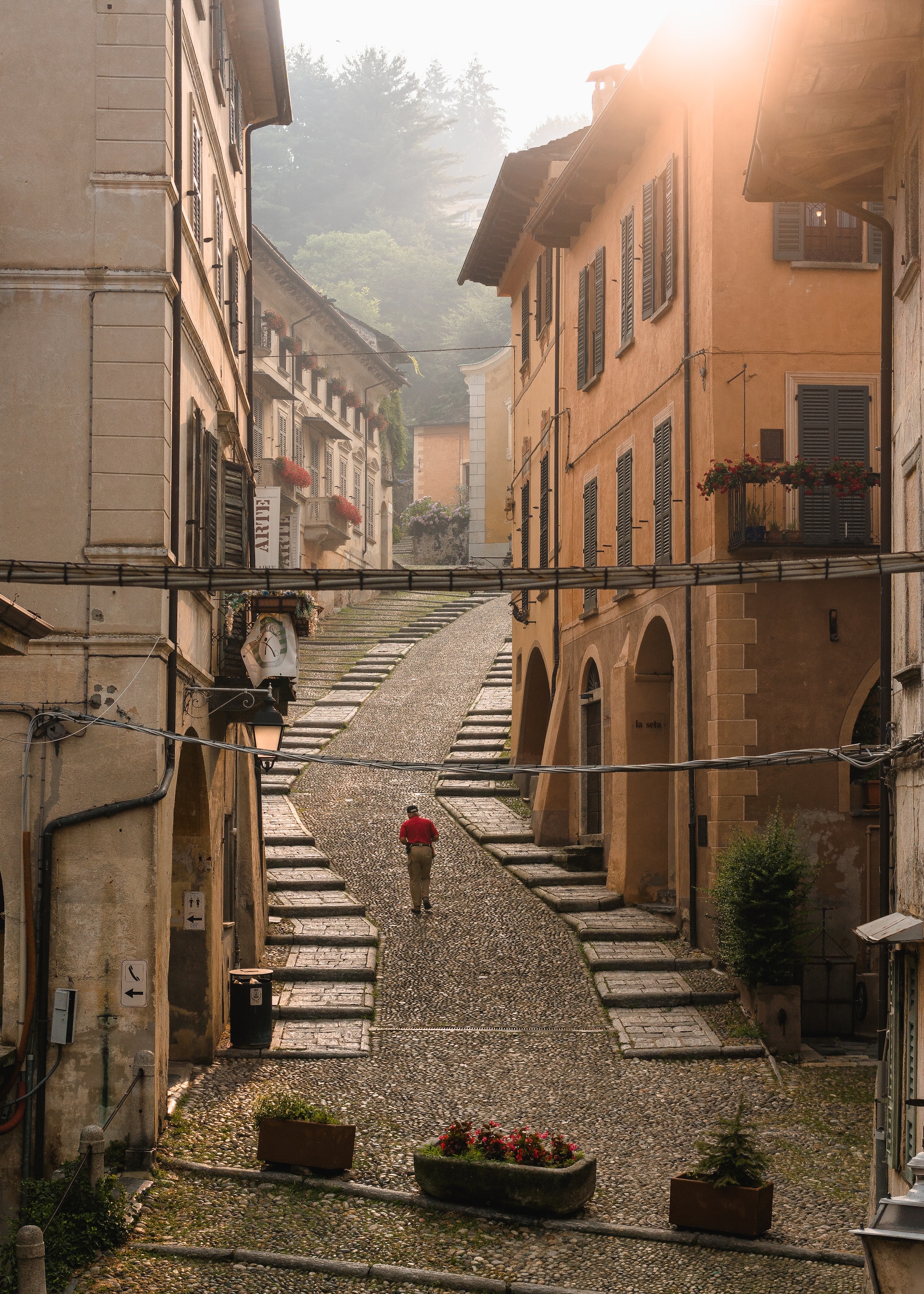 Winter on Lake Orta
Spring awakens Lake Orta with a burst of color. The hills around the lake are a colorful symphony of cherry blossoms and wildflowers, and the summer crowds are yet to arrive. May and June are two of the loveliest months to visit.

Summer is the season for water activities like swimming and boat rides. The balmy evenings are heavenly for lakeside dining, where you can savor fresh fish caught that very day. Anna, a local restaurateur, recommends, "July and August are the months to enjoy a lakeside dinner as the sun sets, and you'll feel the magic of Orta." It can get rather crowded in July and August though and prices are at their highest.
Autumn paints the landscape with gold and russet foliage, turning Lake Orta into a golden wonderland.  Lucia, a vineyard owner, suggests, "September and October are the best times to visit, savor our rich wines, and witness the kaleidoscope of colors."
Winter transforms Lake Orta into a tranquil retreat. Mist rises from the lake's glassy surface, and snow-dusted peaks frame the horizon. The atmosphere is perfect for fireside relaxation and hearty mountain cuisine. This is the most romantic of seasons visit Lake Orta.
Staying on the Lake
Stay in Orta San Giulio on the shores of the lake; it is a charming car-free town and not at all touristy.
These are the preferred options:
The Relais & Chateaux Villa Crespi is the absolute best. It's an opulent and exotic mix of styles that works wonderfully. The Michelin-starred restaurant (three stars) is simply the cherry on top; it is considered one of the best restaurants in all of Italy. Combine the restaurant, the architecture, unmatched levels of service, and an incredible setting, and it is little wonder that this is one of the most highly rated hotels in all of Italy on Booking.com.
If you are going for longer or in a big group, it's probably better to rent an apartment or villa

(these are the ones I like)

.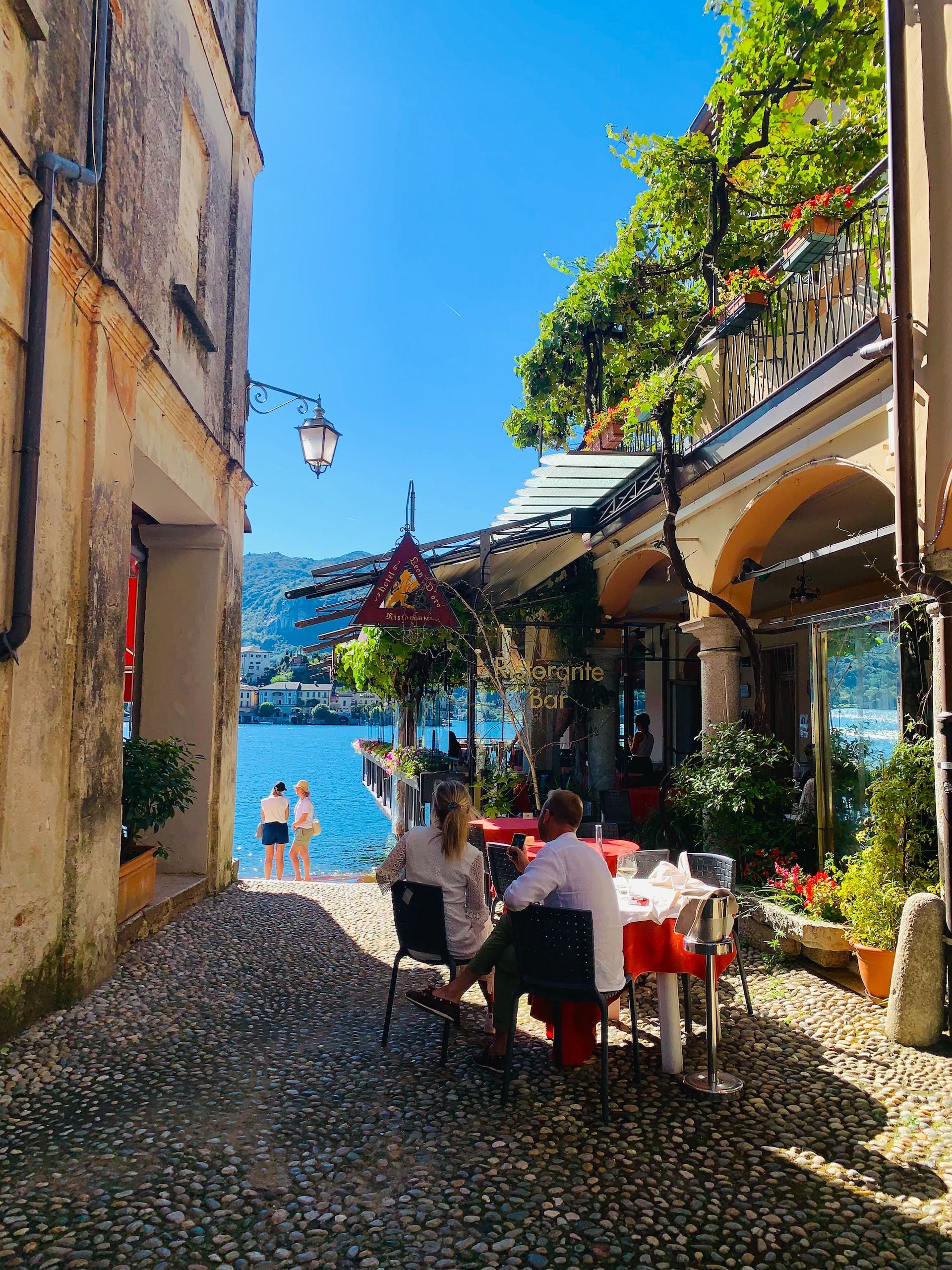 Eating
The restaurant in the Villa Crespi serves superb food in its Michelin-starred restaurant, representing Italian cooking from across Italy, and is fantastic at hosting weddings. 
For traditional fare, cheaper prices, and a more rustic and down-to-earth atmosphere, try the Taverna Antico Agnello (Via Olina 18). Located in the village of Miasino, it's very popular with locals too, which is always a good sign.
Enjoy a great sundowner or aperitivo here while watching the sunset, or take an after-dinner stroll with a "gelato" in hand in the central piazza of Orta San Giulio. The piazza, with its frescoed sixteenth-century town hall, built on stilts, provides lovely views at night right across the lake towards the island of San Giulio, which is lit up gorgeously.
Lake Orta Beaches
Lake Orta has a number of beaches, and swimming in Lake Orta is a refreshing and revitalizing experience. The waters are remarkably clean; in fact, Lake Orta was voted as one of the cleanest lakes in all of Europe for swimming.
So, which are the best Lake Orta beaches? Well, one of the most beloved is the public beach in Miami, located in the town of Orta San Giulio. Here, you can bask in the sun's warmth, take a dip in the crystal-clear waters, and admire the picturesque Isola San Giulio in the distance. Families with children especially appreciate the gradual slope into the water, making it a safe spot for swimming.
For those seeking a more exclusive experience, the beaches of Villa Crespi offer a taste of luxury. This opulent hotel, originally built by a wealthy cotton merchant, features its own private beach, where guests can enjoy personalized service and unrivaled tranquility.    
Tours of Lake Orta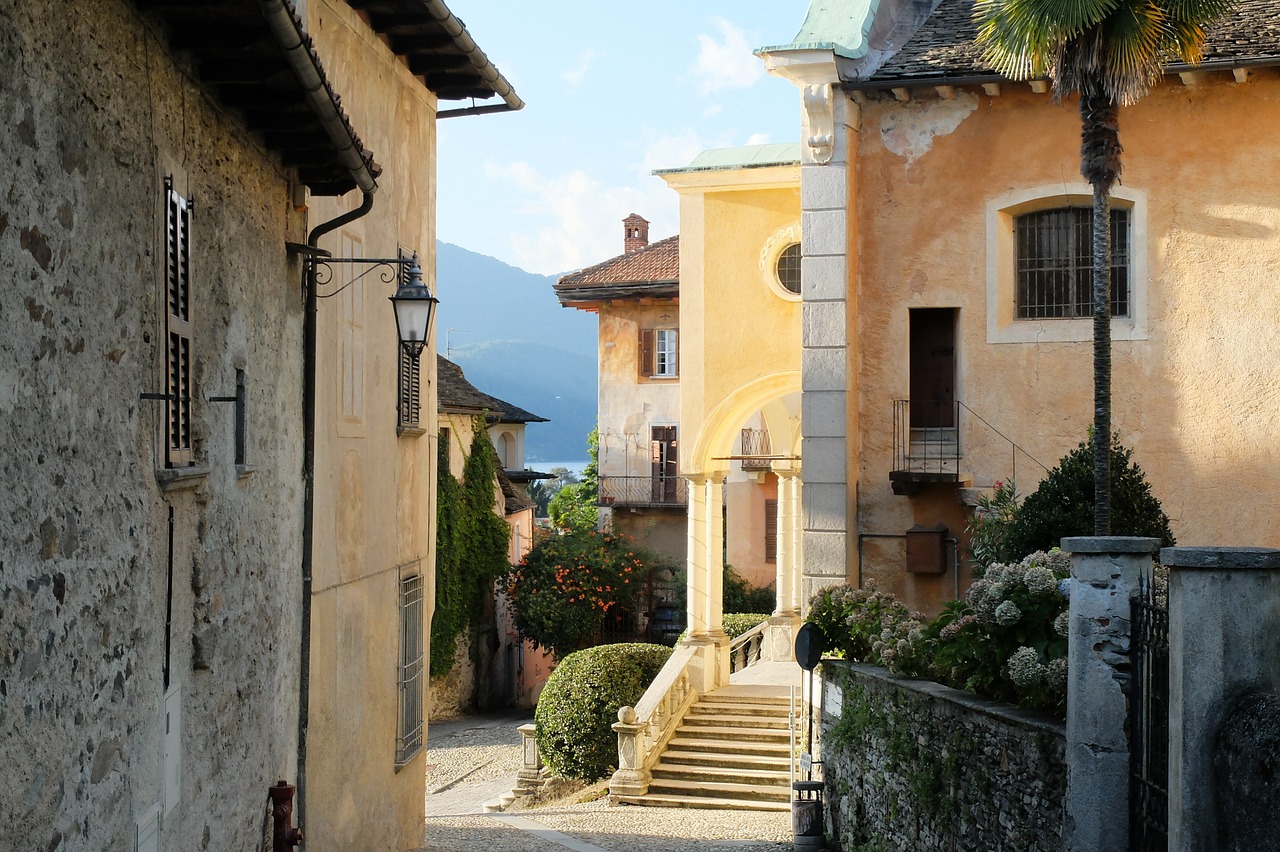 A Lovely Walk
Leaving the center of town, you can follow the 1.5-kilometer "Motta" path that leads up to Sacro Monte - a religious complex built between 1591 and 1700 and consisting of twenty chapels.
The chapels have carvings and frescoes that reflect the saint's life. On the other side of Lake Orta, high up on the hill is the eighteenth century church of the Madonna del Sasso.
Go by Boat...
From Orta San Giulio, boats run across to the island, or if you are feeling more energetic, you can rent a boat and row yourself over—not difficult, as even I managed it.
Where is Lake Orta?
How to get to Lake Orta?

from Torino:
From Turin, you can make your way to Lake Orta by train, car, or bus. Here's how to get there:

1. By Train:
Start your journey at Turin Porta Nuova Railway Station. It's a major transportation hub with connections to various Italian cities.
Take a train to Novara, which is a major train station on the route to Lake Orta. The journey takes approximately 30-40 minutes, depending on the train.
From Novara, you can take a train to the closest train station to Lake Orta, Orta-Miasino. This train ride takes about 30 minutes.
Orta-Miasino is located on the eastern shore of Lake Orta, just a short walk or taxi ride from Orta San Giulio, one of the main towns on the lake.
2. By Car:
If you prefer driving, you can rent a car in Turin and take the A4 highway toward Milan.
Exit the highway at Arona, and from there, follow the signs to Orta San Giulio. The drive takes approximately 1.5 to 2 hours, depending on traffic.
From Milan
From Milan Malpensa Airport (MXP):
Milan Malpensa Airport is the largest and most well-connected airport in the region.
To reach Lake Orta from Malpensa, you can take a combination of a train and a bus.
From the airport, take the Malpensa Express train to Saronno, a journey of about 20 minutes.
At Saronno, transfer to a regional train to Novara. This ride takes approximately 30 minutes.
From Novara, you can catch a train to Orta-Miasino, the nearest train station to Lake Orta, which takes around 30 minutes. Taxis can take you the 5-minute drive to Orta San Giulio or, if you haven't much luggage, it is a pleasant 30 minute walk.
Buses from Novara are available for the final leg of the journey, taking you to various towns around Lake Orta, including Orta San Giulio.
From Milan Linate Airport (LIN):
Milan Linate Airport is another option, albeit smaller than Malpensa.
To get to Lake Orta from Linate, you can take a bus or a taxi to Milan's central railway station, Milano Centrale.
From Milano Centrale, follow the steps mentioned in the previous response to get to Lake Orta by train.
Getting to Lake Orta from Milan City:
If you're starting your journey in Milan city, you have several options to reach the beautiful Lake Orta. Here's how to get there:
By Train:
From Milan's central railway station, Milano Centrale, you can take a train to Novara. The journey typically takes around 30-45 minutes.
At Novara, transfer to a train heading to Orta-Miasino, which is the closest train station to Lake Orta. The train ride from Novara to Orta-Miasino is approximately 30 minutes.
By Car:
If you prefer to drive, you can rent a car in Milan and take the A4 highway (Autostrada A4) towards Turin. Exit the highway at Arona, which is near Lake Maggiore.
From Arona, follow the signs to reach Lake Orta. The journey by car from Milan to Lake Orta typically takes around 1.5 to 2 hours.
Prefer to visit Lake Garda? You must read Maria's guide!

Looking for romance in Italy? This fairy tale castle is the answer!

For more inside information on Piedmont, Le Marche and Sardinia please subsribe to my free monthly newsletter
---
If you enjoy my site I'd love your support.

All you need do is book your accommodation via this link, or any of the other hotel links on the website. Whether it's for travel to Italy... or anywhere else on earth, your support means the world to us.
You'll get the best deal available, and the income helps us stay independent and to keep bringing you the best of Italy.