Very Special Neive

Now, one thing I really hate is getting up early. Most times, you won't see me out of bed much before 8 a.m., and that's in my early days. In Neive, though I'm up and about by 6 a.m., I get up, leave my wife Maria still fast asleep, and wander the village lanes, returning to Villa Lauri (where we always stay) at around 9 a.m. for breakfast.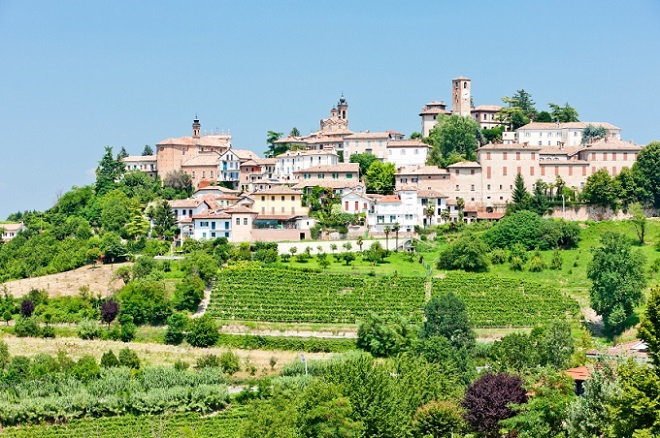 Am I mad? No doubt the thought crossed your mind, and Maria might likely say that I am!  Well I may well be but getting up early in Neive, on a spring morning is a wonderful idea.

You walk through cobbled lanes lined with picturesque cottages, and every now and again you'll catch a spectacular view of the verdant rolling hills and the vineyards cascading down them.

The air still has a slight chill about it, while a soft mist lends a magical atmosphere. Nobody is about, and there is silence, with only the occasional scurry or yowl of a cat to be heard. You begin to wonder what century you're in (Maria reckons this confirms my madness), even though it is easy to do as everything here is exactly as it must have been 200 years ago.

Once I've spent my two hours in the 18th century, I return for a wonderful breakfast feeling like a new person, filled with a joy for life that lasts for days. This alone is reason enough to make me return time and again to Neive.
If Neive can do that for you, all before breakfast, can you imagine what a couple of days here can do for the soul?

What to See
The joy of being in Neive is experiencing one of Italy's loveliest villages and being part of life here, even if only for a few days. 
I mentioned the early mornings, but the whole day is wonderful. After breakfast, you have all the old folk heading to the markets with their shopping carts in tow, ready to load up on groceries and the latest gossip in the piazzas. It goes on like this all through the day with changing characters taking the lead in an unbelievably beautiful setting.

There's a lot of history here too with a number of 13th- to 16th-century villas (Casa dei Cotti is the most famous). Don't miss the charming little chapels of San Rocco and San Sebastiano and the 13th-century Clock Tower (Torre dell'Orologio) either.

Of course, if you enjoy wine, you have endless great wineries on your doorstep; Cascina Saria (read article) is my pick of them.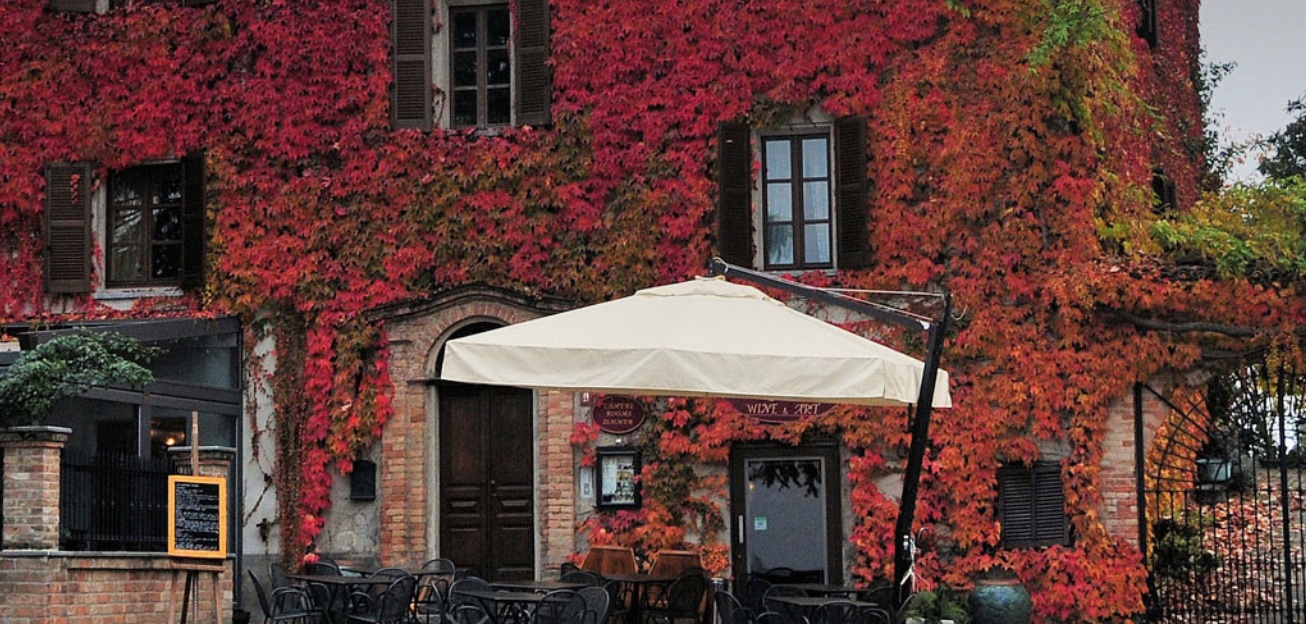 L'Aromatario
Where to Eat
Being Piedmont, anywhere you eat is going to be good and traditional. One of the restaurants I can really recommend is Aromatario. Try their tasting menu, which allows you to sample a selection of local dishes accompanied by excellent Piedmont wine.

Where to Stay
There is not much doubt about it: the Villa Lauri is the place. Personally, I wouldn't stay anywhere else.
That's my choice, though there is a good alternative, judging by the enthusiastic messages I have received raving about just how good the L'Aromatario (photo on page) is, so maybe have a look at them too. If their accommodation is as good as their food, you'll be alright.
What is there to see near Neive?
Neive is an excellent starting point for exploring the surrounding attractions. This area is renowned for its wine culture, historic sites, and stunning landscapes. You will need a car to explore, though. Here is my recommendation on how to get the best rates.
Alba: Located just a short drive from Neive, Alba is another gem of Piedmont. This historic city is famous for its white truffles, which are celebrated each year during the Alba White Truffle Fair. Stroll through its historic center, sample local delicacies, and visit the impressive Alba Cathedral.

Serralunga d'Alba: The Langhe is a UNESCO World Heritage site, and Serralunga d'Alba is nestled within this stunning region. The rolling hills covered in vineyards create an enchanting landscape. Serralunga d'Alba itself is wonderful. The village is characterized by its narrow cobblestone streets, historic buildings, and charming piazzas. Our guide to Serralunga d'Alba is a must-read before you leave.
Asti: Asti, known for its sparkling wine, Asti Spumante, is about 40 kilometers from Neive. This charming town boasts a rich medieval history. Explore the streets, admire the medieval towers, and, if you time your visit right, attend the lively Palio horse race held in September.
Hiking and Outdoor Activities: The Langhe region is perfect for outdoor enthusiasts. Go for a hike through the vineyard-covered hills, explore the various trails, and immerse yourself in the beauty of the landscape.
Wine Tasting: Serralunga d'Alba is part of the Barolo wine region, famous for its robust and prestigious Barolo wines. You can tour local wineries and cellars to learn about the winemaking process and, of course, enjoy tastings of these exceptional wines. The Barolo producers around Serralunga d'Alba are some of the most renowned in Italy.
Truffle Hunting: The white truffle is the most prized and expensive truffle in the world. It cannot be cultivated and must be found by experts and their dogs.  Local truffle hunters offer guided truffle hunting tours. These tours usually include a walk through the woods with trained truffle dogs that are skilled at sniffing out these aromatic treasures. Truffle hunting in the Langhe is not only a culinary adventure but also a chance to connect with the rich traditions of the region. Truly a unique and immersive experience.
When to Visit Neive?
The best time to visit Neive, a charming town in the Piedmont region of Italy, largely depends on your preferences and what you'd like to experience.
Spring (April to June): Spring is a beautiful time to visit Neive. The countryside comes alive with colorful blooms, and the vineyards are lush and green. The weather is pleasant, with temperatures gradually warming up. It's a great season for outdoor activities like hiking and exploring the picturesque landscapes.
Summer (July to August): Summer is a popular time for tourists, so you'll find more activities and events happening. The vineyards are full of grapes, and you can enjoy wine tours and tastings. If you love the buzz of a lively town, summer is a good choice.
Autumn (September to November): Autumn is the grape harvest season, and Neive is at its most picturesque. The vineyards turn golden, and the aroma of ripening grapes fills the air. If you're a wine enthusiast, this is the perfect time for wine tours and tasting.
Winter (December to March): Winters are quieter, with fewer tourists. While the weather is cooler, it's still a lovely time to explore the historic town, taste the rich cuisine, and enjoy the local wines. You'll find cozy trattorias and enotecas to warm up in.
Ultimately, the best time to visit Neive depends on your interests. If you prefer pleasant weather and vibrant landscapes, spring and autumn are ideal. If you enjoy the energy of summer and lively events, visit during the summer months. For a more serene and intimate experience, consider the quieter periods in winter.
Getting to Neive

Getting to Neive from Turin and Milan is a delightful journey through the picturesque landscapes of Piedmont. However, it's essential to note that having a car is highly recommended for exploring this charming region thoroughly.
From Turin to Neive: To reach Neive from Turin, the journey is relatively straightforward. Turin Airport, also known as Turin-Caselle Airport, is the nearest major airport. From the airport, you can rent a car, which is the most convenient way to get to Neive. The drive from Turin to Neive takes approximately 1.5 hours. As you leave the city behind, you'll find yourself immersed in the rolling hills of the Langhe region, with vineyards and quaint villages along the way.
From Milan to Neive: If you're traveling from Milan, you have a few options. The drive from Milan to Neive takes about 2.5 to 3 hours. You can rent a car in Milan and enjoy a scenic road trip through the Piedmont countryside. Alternatively, you can take a train from Milan to Alba, which is one of the larger towns near Neive. From Alba, you can continue your journey to Neive by bus or taxi.
While public transportation is available, it's limited in smaller towns like Neive, and having a car offers greater flexibility to explore the picturesque countryside, visit local wineries, and discover hidden gems. The Langhe region is known for its beautiful vistas and vineyards, making the car ride part of the adventure. Our driving in Italy guide is essential reading before you leave.
Where is Neive?
If you enjoy my site I'd love your support.

All you need do is book your accommodation via this link, or any of the other hotel links on the website. Whether it's for travel to Italy... or anywhere else on earth, your support means the world to us.
You'll get the best deal available, and the income helps us stay independent and to keep bringing you the best of Italy.