Alba Italy

Alba Italy is right in the heart of the Langhe region and an hour by car from Turin. The Langhe is Italy's premier wine region and its most beautiful.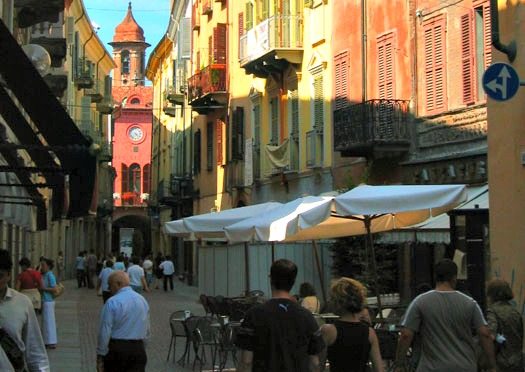 Alba is not only beautiful it is a superb place to eat and it's not for nothing that it is known as the gourmet capital of Piedmont.
In particular famous for its white truffles and chocolates - it is where Ferrero Rocher and Nutella come from and the legendary Gianduia was invented here.
Of course Alba is also the heart of Italy's premier wine region - the Langhe. In April the Vinum wine festival is hosted in Alba and it is a must for lovers of good wine.
Known as the city of a hundred medieval towers the old town centre is a beautifully preserved town, with a great atmosphere.
Strolling the streets and piazza (squares) of Alba on a Sunday afternoon, with the family in tow and a gelato in hand, is one of life's great pleasures.
Particularly when it follows on from a hearty lunch of rabbit, polenta, agnolotti and a robust bottle of Barbera wine.
Where to Stay in Alba
Alba or one of the nearby villages like Neive (voted one of the loveliest villages in Italy) are ideal. 
In Alba itself try the Vincafè (click for more) - it's right in the heart of the town and they offer a great traditional Piemontese dinner. A couple of days here and you'll get a good idea of what it is like to live in Alb.
I bet the thought of coming back for good will cross your mind.
If you prefer a hotel in this countryside then I have no hesitation in recommending the La Villa Hotel - voted one of the top three hotels in Italy.
The other brilliant choice in the Langhe is the Corte Gondina. A quite delightful and beautifully restored villa set in some of the loveliest countryside in Italy.
I cannot recommend enough a visit to Alba Italy. Spend as long as possible exploring this magical region of Italy. It really is a tonic for the soul.

What to See
For me the pleasure of Alba is more about enjoying the holistic experience of being in and being a part of life in this gorgeous town than any one historical building.
If historical sights though are essential to convince you to visit then there are a good few - these are the highlights:
 The14th century towers.
 The old Roman gate, which was once the entrance into the town.
 Church of San Domenico.
 Doumo di Alba (Cathedral).

When to Visit Alba
September and October are two of the best months to visit. The vineyards around town are at their most beautiful, all russets and gold, and the truffle festival is in full swing.
The truffle festival goes on every weekend in October. It starts off with the White Night which is a night long celebration of music, dancing and of course, this being Italy, plenty of eating.
The markets and shops are overflowing with a vast array of great traditional Piedmont foods and a bubbly, enchanting atmosphere pervades.

Around Alba

There is so much to see around Alba, lovely little towns, beautiful scenery and of course the vineyards, up and down the hills and valleys they flow in gorgeous colour.
The best way to explore Alba itself is on foot or by bicycle but to explore the area properly a car is essential. If you would prefer an organized tour why not visit our Piedmont tours page.
Where to Eat
The number of excellent restaurants, as a percentage of the total, has to be higher in Alba and the Langhe than nearly anywhere else on earth. In fact I've never eaten in a bad restaurant here.
Where to eat then? Well give Ugo Gastronomia in Via Vittorio Alfieri a try - they used to be more of a delicatessen selling local specialities, homemade pasta and truffles but now they have a restaurant section and their food is exquisite.  
More expensive, but the ultimate restaurant in Alba, is Ristorante Piazza Duomo in Piazza Risorgimento. Voted one of the top twenty restaurants in Italy and with three Michelin stars you know you'll get fantastic food... but you'll pay for it.

Where is Alba
---
If you enjoy my site I'd love your support.

All you need do is book via the search box below, or any of the hotel links elsewhere on the website. It can be for travel to Italy... or anywhere else on earth.
You'll get the best deal available and the income we receive helps us to stay independent and to keep bringing you the best of Italy.