My House Hunters International Dream Comes True in Italy
What is it that makes someone, normally so measured and so sensible suddenly sit up and say "I need to buy a house in Italy!"?
I know several people who have done so and each one has several reasons, but the one thing I hear more than anything else is "It has always been a dream of mine to live in Italy."
And this is true for me too.
When I was 18 years old, I lived in Brussels, Belgium. I had a boyfriend there and one day his mom surprised us with a trip either to Sweden (mid Winter, no thanks!) or Rome.
It was snowing in Brussels so we jumped on the Rome trip and in a few days we were in the bright sunlight with the sharp smell of Italian coffee in our noses and bustling Italian culture all around us.
And it was magic.
Someday I WILL live here!
As we headed to Roma Termini train station at the conclusion of our trip, I said to myself "Someday I will live here with the love of my life."
Little did I know that the love of my life was not who I thought it was at the time, but the dream never died.
Recently, as my kids got older and my husbands' and my goals for them were met, I realized that in order to keep our marriage fresh, we needed new goals in common.
And the dream started to flare up in earnest. It started with just the thought of having a place on the Mediterranean, somewhere warm with crystal blue sea, the bluest of skies and puffy white clouds.
Finding a Place in the Sun
So, one rainy morning in California, I got out my computer and started looking. My husband happily went about his life and work little knowing that I was researching and scheming.
I started my search in Greece. I even bought a Greek/English dictionary. There were stunning little fishing villages and houses were so cheap you could put them on a credit card. My re- search then revealed that Greece had some major legal obstacles that I could not readily over- come. I put my Greek dictionary aside and started looking elsewhere.
The South of France was lovely but wayyyy too pricey. Ditto for the Cinqueterre and Amalfi although I loved the idea of the lemon trees draping their fragrant bounty over a hillside terrace in Sorrento as we sipped insanely alcoholic, home made limoncello and gloried in the views of the Mediterranean.
I looked in Puglia at the adorable little Trulli houses which are cone shaped dwellings. These were invented by ingenious residents who avoided taxes as these little beehive houses could be dismantled in time for the tax man to arrive and assess, and then reassembled as soon as he left.
Unfortunately, the British had discovered these little marvels and the prices had gone up.
One afternoon, I happened to have the TV on and an episode of House Hunters International came on.
This episode featured a school teacher named Michelle who was looking to explore her roots and to purchase a place in Calabria.
She decided to purchase in the little hill town of Santa Domenica Talao just up the hill from the resort town of Scalea in Southern Italy.
As I watched, I realized that this village was exactly what I was looking for. It had sweeping views of the Mediterranean and the spectacular, jutting mountains of the Pollino National Park. It had fabulous food, some of the best in the world. It had beautiful little hill towns with tons of history.
I tossed my Greek dictionary, tabled my French for the time being and bought "Italian for Dummies" immediately.
Heading off to Italy!
For the following several weeks I tooled around California in my little yellow Miata convertible shrieking Italian phrases at the direction of the "Dummies" narrator who urged me over and over to ascolta a ripeti (listen and repeat.)
By this time I had clued my husband in to my mad schemes. I cornered him one evening and told him we were going to Italy. "Ok but to look Chris! To LOOK, not to BUY"!
"Right!" I said (still scheming) and scheduled a trip. 
First off, let me tell you about the flight over. Alitalia is THE party plane. As soon as we took off the wine came out. Snacks followed, then dinner and lots of lively conversation between people who were wandering the aisles looking for people to talk to about their trips. We had a BLAST! By the way, for the cheapest flight deals have a look at Kayak.
When we arrived at the train station for Santa Domenica Talao, we were picked up by an English gentlemen wearing a waist coat and a hat. He whisked us away to his BNB (Casa Cielo in Scalea, look them up!) and took wonderful care of us the entire time.
The next day we looked at property in Scalea near the beach and in the old town. These were nice but small and somewhat rabbit warreny for my tastes.
The following day our agent took us to see Santa Domenica Talao where Michelle had purchased. Once we arrived, we knew this was the place for us.

Choosing the House
The house we chose was one that Michelle had looked at on the show but had not chosen. It is a part of an ancient nobleman's house. It has wide, white hallways with arches leading into the rooms. It also has a large living room with a balcony overlooking the sea and the mountains.

We fell in love and by the end of the trip my husband was mentally moving money around to make it happen.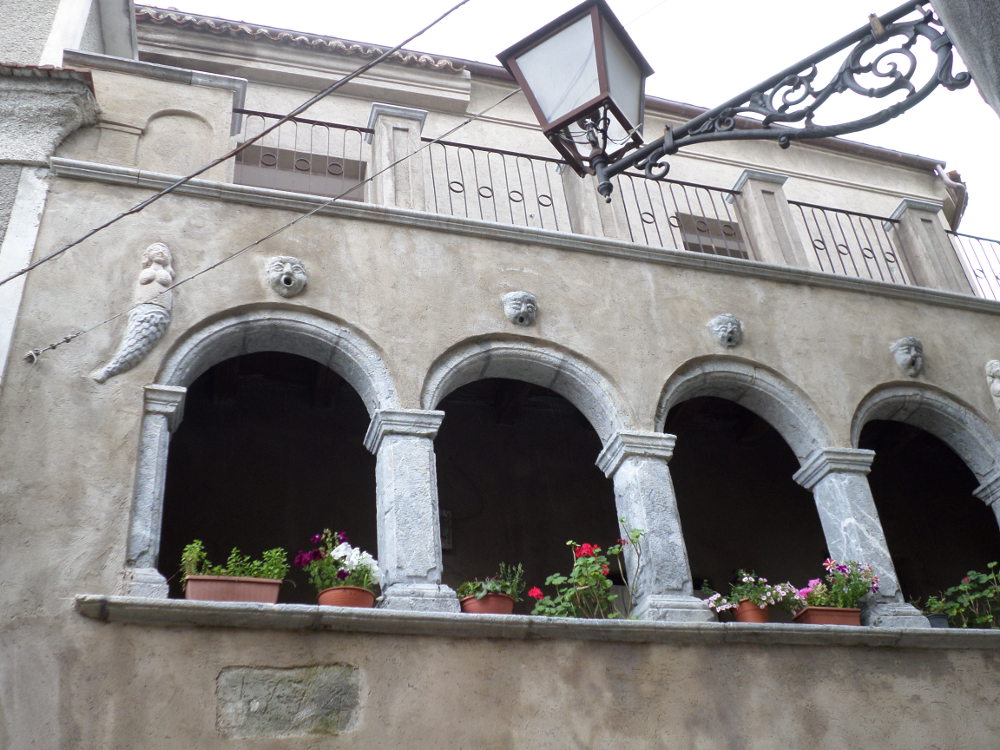 A few months later, after negotiating back and forth we headed back to Italy to finalize the pur-chase.

That was in 2011 and we have never looked back.
As soon as we arrived in the village as proper villagers, we were embraced by the community. We made fast and loyal friends who have helped us negotiate the new culture and language.
We have been gifted with fresh ricotta cheese made that day by friends and layered over mounds of fresh strawberries. We have been given the secret of the BEST pastry shop any- where in Italy. We have been given tours of the village by the proud residents and introduced to everyone.
Americans Welcome
One Florentine friend of mine advised me that Italians love Americans. I have seen this and been delighted and surprised by it. I am treated like a celebrity when I arrive in many Italian cities.

This did not make sense to me because during World War II America and Italy were on opposite sides. Apparently after the war, America sent huge volumes of supplies, food, grain, and other necessities to Italy to help them recover from the most destructive war ever waged on our planet.

And although I have never read this in any American history book, the Italians have not forgot- ten and they welcome us, especially in the South.

Although we have not had the opportunity to spend nearly as much time as we would like to each time, whenever we arrive were are greeted with clouds of evaporating kisses raining down on us from all directions.

Life in Santa Domenica Talao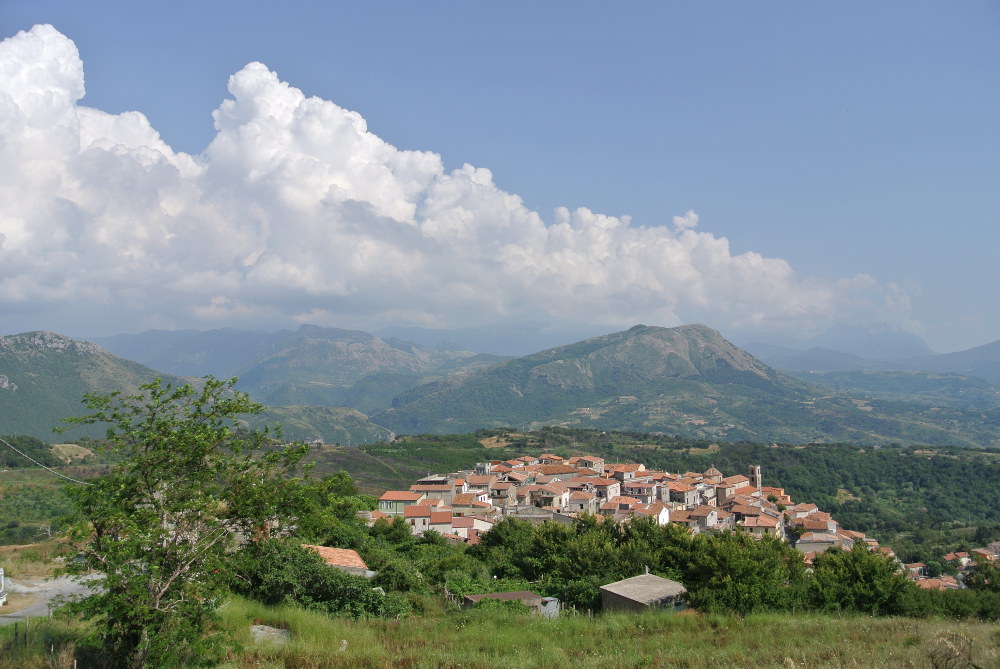 We hear about the news while we were gone and we start receiving the invites for endless dinners on terraces, new restaurants to sample, and exciting adventures here, there and every- where.

Our dance card stays full until the day we reluctantly pack our car for the trip back to Rome and say tearful good byes with promises to one day spend more time there.

Last Summer I returned for over a month. It was the first time I could relax and not worry about time. I woke up early to the sound of the church bells reminding me that I was still in Italy. I smiled looking out my bedroom window and seeing the Pollino mountains behind the village just starting to turn a misty morning green.

I got up and made coffee to take out to our balcony overlooking the village and the Mediterranean. I called to the swallows who temporarily blackened the morning skies, who dip and dive and eat all the mosquitoes saving us from itchy bites.
And midmorning I headed up the medieval stairs to the piazza to have a coffee, greet my friends and settle into the rhythm of village life.
Mad Schemes Come True
We have been very fortunate to have met with our village architect, Antonello who knows the entire history of the village and has the inside scoop on all the properties available there. (Hint, they are not all on the internet property pages.)
Together Antonello and I hatched schemes and plans. In the end, my husband and I are pur-chasing a ruined building on the main street leading to the piazza to renovate into a BNB.
We have also started renovating the ruin that is attached to our house to expand our current living space.
Shortly after I arrived last Summer, I met with Antonello. He showed me the plans for the house renovations and took me aside. "Salvatore (our builder) and I think that you should have a roof terrace as well." Soooooo, after some discussion but not very much, we are getting a roof terrace as we knew that the roof had to be replaced anyway.

In the next several months, things will roll out pretty quickly. We will head over to finalize our purchase of the BNB. The renovations on our house will be completed and the renovations on the BNB will be started.
There will be much chin scratching side by side with Antonello the architect as we figure out how best to transform this ancient beauty into a functioning and beautiful BNB that reflects the character of the village while providing all creature comforts to our guests and an unparalleled aesthetic to delight anyone who sees it.
And these mad schemes and plans have had a fabulous effect on my marriage and other relationships.
Every night at dinner we talk excitedly about our plans. Good friends have already started reserving the top floor of the BNB as "their suite" so they can stay months at a time. Another friend gifted me with beautiful tapestries for our walls that she had lying around.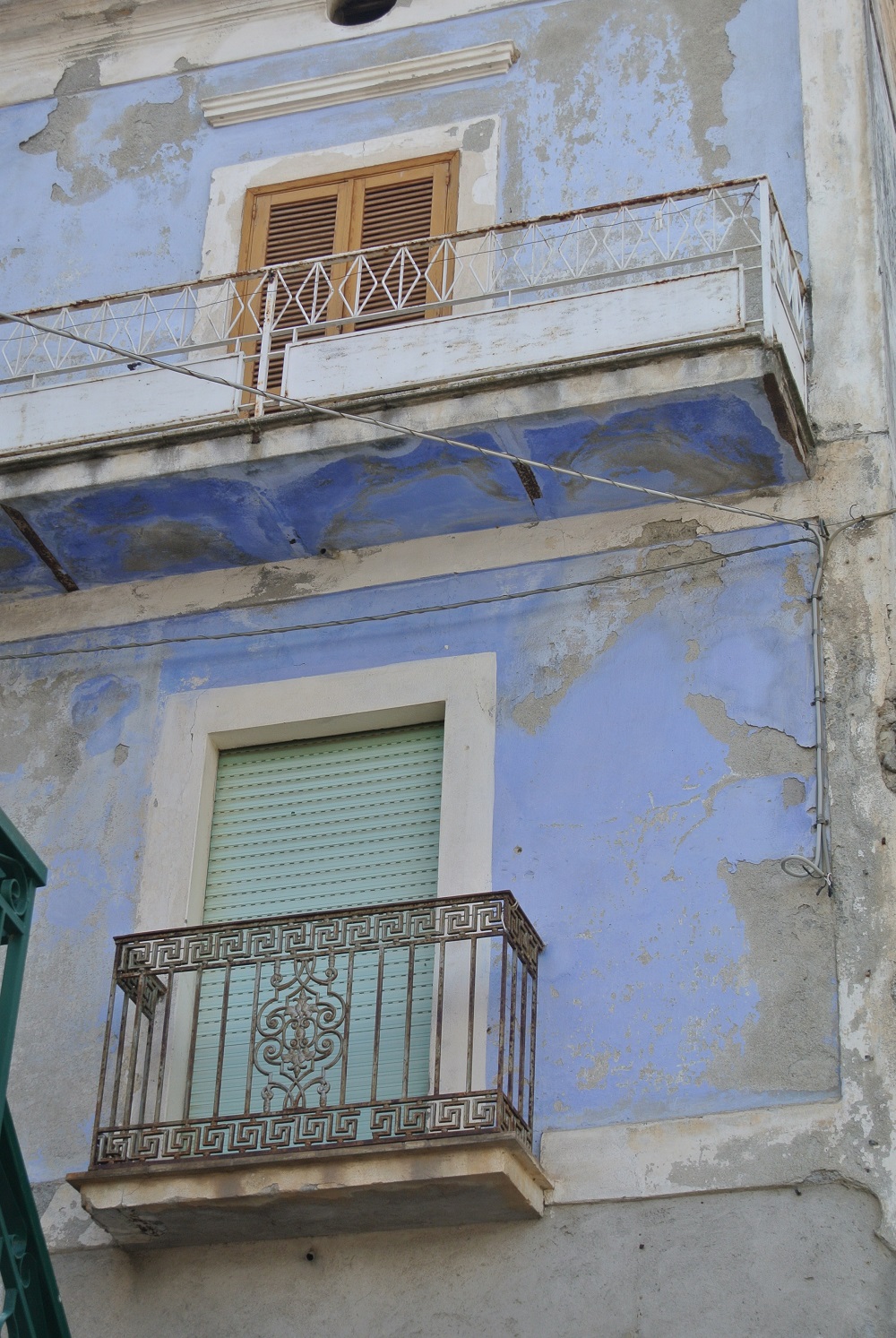 Everyone has ideas and sends me pictures from glossy magazines. It is the most exciting thing I can think of.

In short, this is not only a goal in common for my husband and me but also for our friends and friends of friends who are following the story with great interest and excitement.

Purchasing a house in Calabria and now the BNB has provided us with endless future goals in common. There will be obstacles and barriers but there will also be ecstatic wins.

There will be unforgettable evenings with friends, dinners that have to be experienced to be believed, views that take your breath away, clinking glasses filled with Prosecco on a stunning terrace as the sun sets over the sea, excited plans of visiting all the surrounding countries and areas, lazy walks in the evening, gelato in the afternoon, languages to learn, and new people to love.
I plan on writing more about our adventures there and want to invite you to come along and experience it with us.
Until next time, Ciao and arrivederci!
About the Author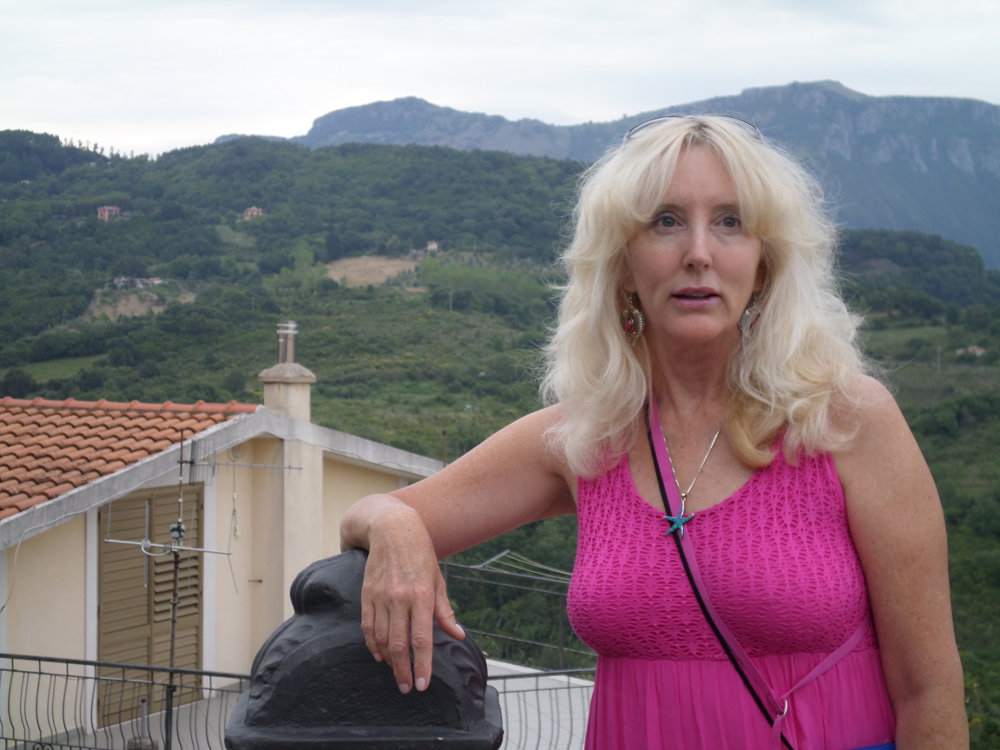 Chris Ellis-Sobolev is a travel professional and a blogger. As a writer for lifehack.org her articles on travel and life improvement have been shared widely on social media.

Chris lives with her husband Pete in California and Santa Domenica Talao, Calabria Italy. Her book Chasing La Bella Vita is available on amazon.com
Get to know Chris and Pete on their website at supersavvytravelers.com or visit them on Facebook at Super Savvy travelers.
If you enjoy my site I'd love your support.

All you need do is book your accommodation via this link, or any of the other hotel links on the website. Whether it's for travel to Italy... or anywhere else on earth, your support means the world to us.
You'll get the best deal available, and the income helps us stay independent and to keep bringing you the best of Italy.