Montefalco: book your spot on the 'balcony of Umbria'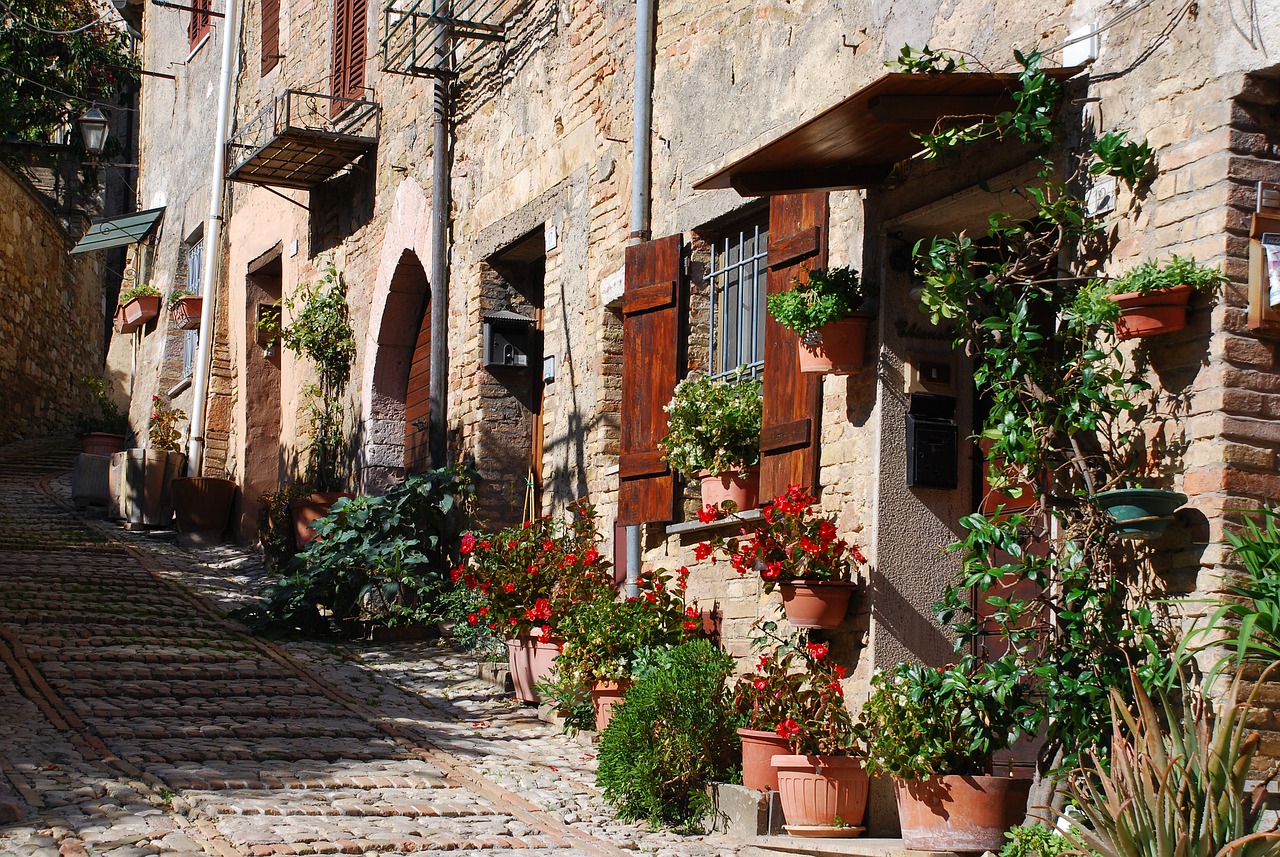 Like any natural phenomenon, Italy pulls toward its center: to the rolling hills, valleys, vineyards and pastures of Umbria. Unsurprisingly, people are attracted in droves, to a region as picturesque as its famous neighbour, Tuscany. 
Towns like Spello, Assisi and Bevagna represent Umbrian charm as well as any. The price paid there is popularity. Book between June and August and you'll see the 'green heart of Italy' at its most glorious… as will everyone else. 

But there are paths less traveled, places not included in the average itinerary that remain relatively peaceful, and offer, as a result, a more authentic experience. 

Montefalco is such a place. 
I can't call it a hidden gem because, well, it was built in plain sight, high enough to earn the moniker 'the balcony of Umbria'. 

Perched atop its Apennine outcrop, it's as if Montefalco was built above and away from the passage of time. Well, part of it anyway. It has an old part and a not so old part. 

But wherever one goes, it has that comfy lived-in feel. This town definitely belongs in Umbria. Even the municipal aqueduct belongs: Montefalco's imposing, if inelegant landmark. 

The 'Mushroom of Montefalco' is not to my or my wife's taste, but it's soon put out of mind, on entering the old town through Porta Sant'Agostino, walking up Corso Goffredo Mameli to the Piazza del Commune, where the vibe is convivial and the pace unhurried, in spite of a beautiful gold-rimmed clock – the square's undoubtable showpiece. 

Where to Stay
If you prefer being out of town, have a car, and enjoy blissful drives through vineyards and olive groves, on pale tree lined roads, etc, etc, etc, I recommend Tenuta Colverano, a country house come B&B, where the hospitality and cooking is… shall I say… from the heart. Anna and Luciano are friendly, helpful and informed hosts. The rooms are comfy, and gorgeously decorated, each with private bathrooms and Wi-Fi.  

Villa Santa Barbara is also a draw card. It's a bit further out, but this is Umbria, where time and space are relative and the journeys as exquisite as the destinations. Gorgeous, well-appointed, air-conditioned rooms await, and an expansive pool welcomes the summer traveller. 

To your in-town options... 

The Hotel Degli Affreschi is a stone's throw from the square. Parking's a bit of a trick, but is workable. It's simple and stylish with modern interiors, TV and Wi-Fi. The rooms are spacious, the bathrooms private; and the breakfast decent. 

For the really close-in experience, the Palazzo Bontadosi Hotel and Spa is one of the buildings facing onto the square. It's pricey by comparison, but this is the full experience. The interiors are… I'd say… 'ornate.' The frescos adorning the rooms echo those in the San Francesco museum. But more about that later. 
Since we stayed there last, there's been a change in management. Palazzo Bontedosi doesn't appear to be quite the same. But by most accounts, it's still an elegant experience, the dining remains sophisticated, and those beautiful rooms are fully appointed. What I can say for sure is, it's an unforgettable stay.
Food and Drink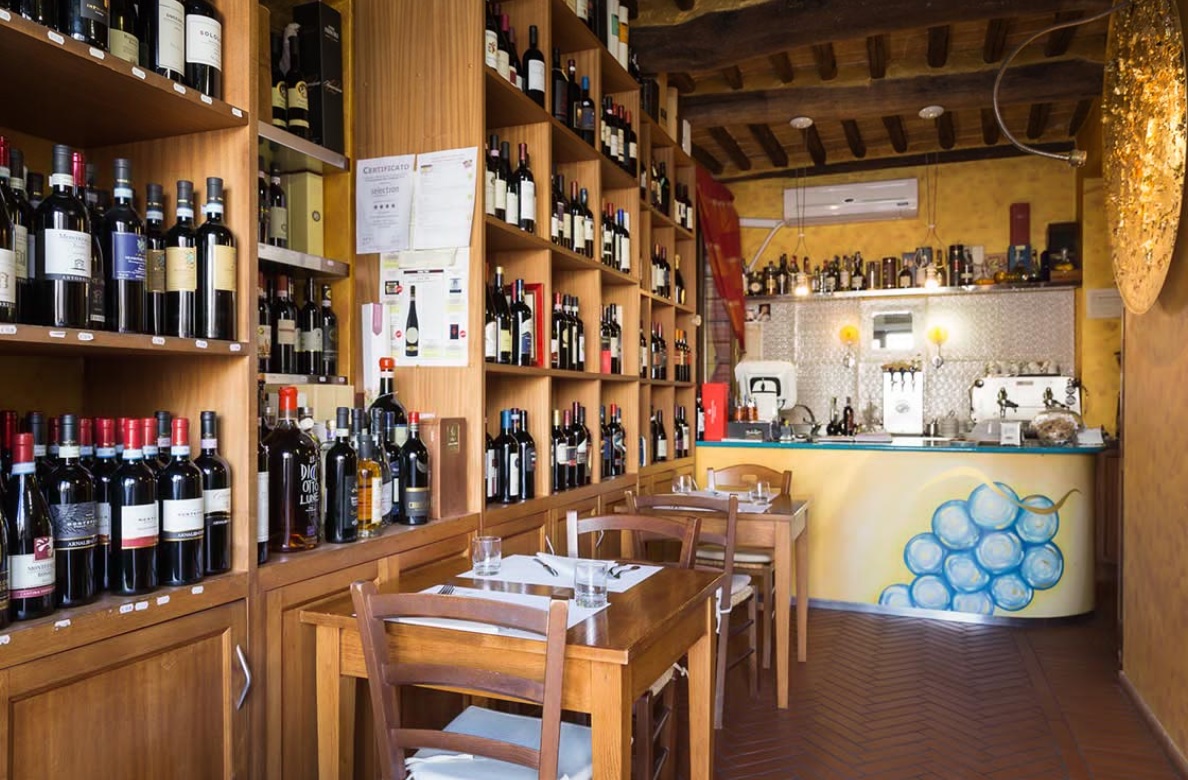 L'Alchimista Restaurant
The ubiquitous vineyards don't let you forget that this is wine country… and neither does the Sagrantino: a rich, dark, plummy red that pairs perfectly with another regional specialty… 
The cured pork in this part of the world is out of this world. To see a plate of prosciutto effectively demolished, place one in front of my son and I after a morning's walk in Umbria. The food disappears fast but the flavours linger, as does the experience. 
We who travel are rich in memories.
L'Alchemista, on the main square, is a tiny place, in which to savour another regional delicacy, the truffle. Shaved over expertly made gnocchi in a rich liqueur-infused sauce, it imparts, to my mind, the very flavour of Umbria. And, if truffles aren't your thing… the carpaccio and pecorino is a noteworthy sub. 
Service – tick.
Price – tick.
Also on the main square is Locanda del Teatro. We popped in for a nightcap one time and were treated to some of nonna's homemade selection of dolci, and a shot or two of grappa, brought out to the terrace by the gracious and gregarious Paolo. 
Wanting to 'eat in,' so to speak, I recommend the restaurant at Villa Zuccari. The preparations are simple, so the ingredients speak loudly. I myself am speaking on the strength of one particular dish. What else but prosciutto? Delish!
What to Do?
Staying with food, I so recommend the "A Day with Locals" tour that leaves from nearby Assisi. The truffle that's been snouted out by truffle dogs, and made the star of a delicious lunch, is the truffle most remembered. 
The drives out here are as gorgeous as the walks and the mountain biking. But you'll find your pleasure. The area has a lot to offer and is as big a treat for the outdoor types as it is for culture buffs. 
Speaking of which…
Montefalco is famous for its art, as displayed in the Complesso Museale di San Francesco, once a church, now a museum/ crypt/ gallery. The gallery walls are literally slathered in 14th- 16th century frescos, as are the ceilings. One's head goes back, one's jaw drops open… Having visited some of Italy's other famous galleries, you'll know that feeling. The museum also includes an old wine-making display.
Be careful if you're on a timetable. It's easy to spend half a day in here.

How to Go
There are busses from Perugia direct to Montefalco, and a train that goes as far as Foligno, from where it's a short taxi ride. But considering the scenery, it's best, if possible, to rent a car.
Montefalco is both out of the way and central, easily accessed from Rome or Florence: an ideal day-trip destination; or a base from where to explore Umbria. 
We love it.

Map