Login with your member password below to see your content

Why not become a Supporter?
Click the more info button to see what we offer...
Delightful Montiglio 
Montiglio, Piedmont, not far from Turin, is drop-dead beautiful. Add to that the unbelievable but wonderful fact that you will be the only foreign tourist in town, and clearly you have found your own little private corner of paradise.
Indeed, you'll probably be the only tourist from outside of Piedmont too—very few Italians even know of this place.
If you want completely undiscovered Italy, then you can't do better than this little Piedmont hill town set in the rolling hills of Monferrato. The town has it all: a stupendous setting, rich in history, and magnificent architecture, including a medieval castle.
Montiglio also has great food, ideal for the true gourmand looking for a taste of authentic Piedmont cuisine.
I am absolutely dumbfounded that such a gem has escaped wider notice, and this can't last, so make sure you get here soon. You will really feel smug having this wonderful village all to yourself.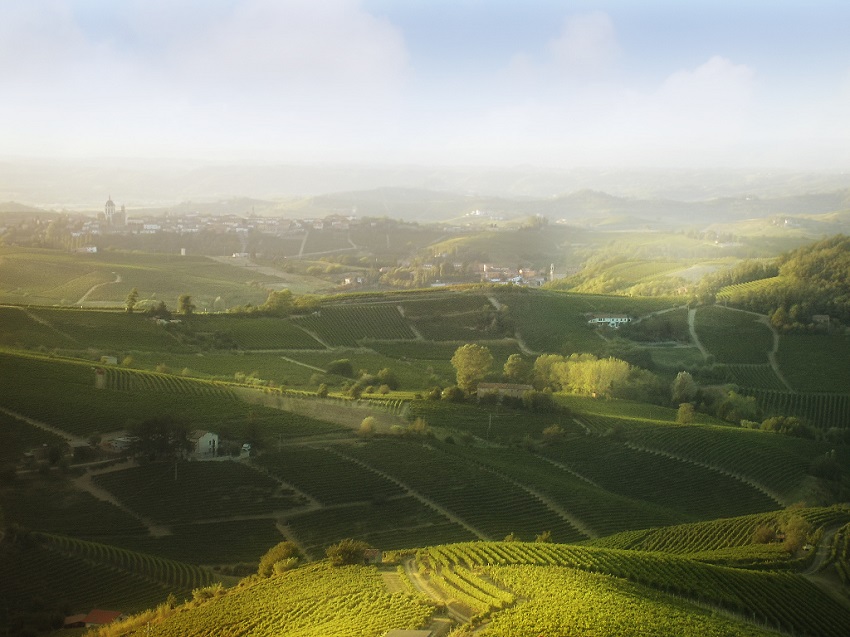 Where to Stay

Montiglio itself doesn't have anywhere that I'd recommend staying.
The absolutely gorgeous surrounding countryside is another story, with many excellent hotels and bed and breakfasts.
My choice? The Locanda Antico Ricetto without a doubt. The Locanda Anitico Ricetto is about five miles down the road from Montiglio, and not only is this a great hotel, but the restaurant's authentic Piemontese cuisine is wonderful too.
Tour the Town

A great place to start a tour of the town is at the market (Fridays only) in Piazza Umberto. In the square itself, you will find the little seventeenth-century Piedmont church of San Rocco.
Make your way to Piazza Regina Margherita and take via Roma until you get to Piazza Belly. Not named after someone's tummy but after a nineteenth century war hero of the same name. The eighteenth century church here, with it's bell-tower and frescoes by Pietro Ivaldi, is lovely.
Continue up via Roma until you get to Piazza Umberto and the Castle of Montiglio, built in 1300. The original castle walls were later extended, and noble homes were built within the confines.
A must see within the grounds of the castle is the Chapel Sant'Andrea, built in 1340. The frescoes within are some of the most impressive examples of fourteenth century art in Piedmont.
Once you have seen the main the sights, I would suggest walking around the town and exploring the little side streets. Savouring the atmosphere of centuries past and enjoying being in such a beautiful, authentic Piedmont town, among genuine Piemontese locals, people who have not yet been changed by tourism.
Food & Wine
You absolutely must try the local specialty, bagna cauda, a warm garlic and anchovy dip served with fresh vegetables. Another must-try dish is vitello tonnato, made with thinly sliced veal and a creamy tuna sauce.
In Montiglio and the surrounding areas, there are plenty of restaurants and agriturismi (working farms offering accommodations and meals) that serve traditional Piedmontese dishes. My pick would be Locanda del Lago di Codana.
In addition to the delicious food, the region's vineyards and wineries offer an array of fine wines where you can taste the famous Barolo and Barbera wines. 
These are some wineries to consider visiting: 
Azienda Agricola Ivaldi Dario: located in nearby Castel Boglione, they produce a variety of wines including Barbera d'Asti and Moscato d'Asti.
Azienda Agricola Tenuta Santa Caterina: located in nearby Serralunga di Crea, they specialize in Barbera d'Asti and also produce other red and white wines.
When to Visit

The castle can be visited all year round with a guide and by booking, but try to visit in June when it is always open and a series of musical concerts are held here, an absolutely moving and emotional experience.
The other good time – especially for gourmands of Piedmont cooking - is in October when the truffle festival occurs and the castle stays open over the whole period.
Where is Montiglio