Alba Truffles
Truffles and Alba are synonymous. Alba truffles, and more particularly the white truffle, are without a shadow of doubt the world's best truffles.
Much like wine the superior truffle is a perfect harmony between nose and taste. The ideal truffle has a slightly garlic nose with a hint of honey. Well so the 'truffle experts' tell me. They all smell much the same to me!

In ancient times the truffle was known as the food of the Gods and in Piedmont it was to be found gracing the tables of the Savoy kings.
Alba is home to the National Centre for the Study of Truffles, this gives you some idea of just how seriously the people of Alba, Piedmont and indeed Italy take their truffles.
More than a hundred of the greatest Italian truffle noses (I kid you not) operate from, or in conjunction with, the centre to ensure optimal quality is maintained.
When is Truffle Harvest Time

Truffle harvest time begins in autumn/fall, Once the first mists begin to roll across the hills around Alba you will find men and dogs on the hunt for the elusive Alba truffle.
If you would like to be part of it I would recommend a truffle tour. The tour involves a lot of truffle and wine tasting and even includes an outing with a truffle hunter and his dog. Here's more on what it includes. 
Most often the truffles are found near oak tree forests or near water. Truffles are rarely found above 2000 feet. Humid areas with rich vegetation and away from direct sunlight are ideal.
The perfect truffle cannot be cultivated and nowhere on earth are the conditions for the white truffle as perfect as they are in Alba. Resulting in a truffle without rivals.
True cognoscenti of truffles can tell just from the nose where they have grown. Those having grown near oak trees smell completely different to those found near linden tree groves. To be honest, I can notice little difference, but the experts can.
To really experience the truffle visit Alba during the October truffle festival.
The place to eat Truffles during this period?
The Cascinalenuovo - Their seven course meal, based on truffles, is legendary. 
If you'd like to prepare your own pasta & truffle dishes then this recipe is one we love.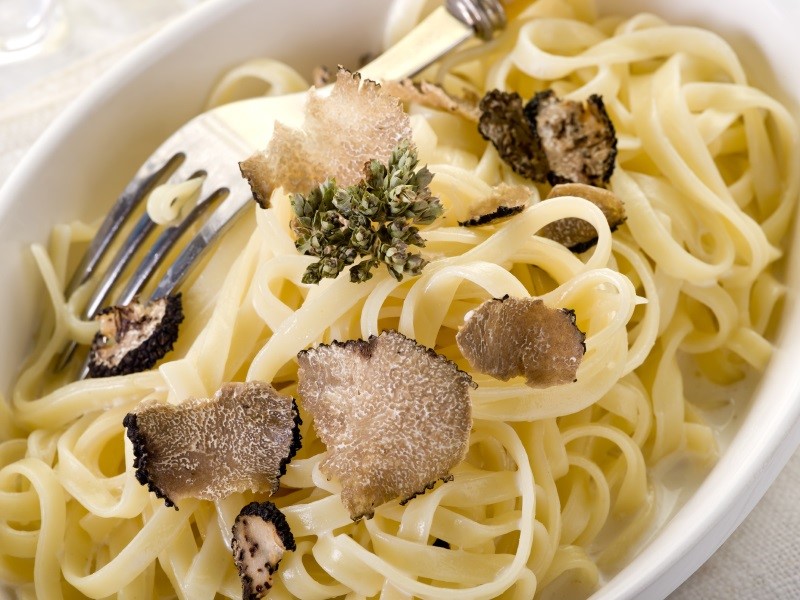 Tagliatelle with Truffles. Click photo for recipe.
Please be so kind to support our family through difficult times when you next travel.
All you need do is book via the search box below, or any of the hotel links elsewhere on the website. It can be for travel to Italy... or anywhere else on earth.
You'll get the best deal available and the income we receive helps us to:
Stay independent and to keep bringing you the best of Italy.
Never have to accept money from hotels directly - meaning that we can share only those we genuinely love.
Mar 15, 21 08:26 AM

Mar 08, 21 09:34 AM

Mar 04, 21 07:05 AM

The Sacra di San Michele looms menacingly over the entrance to the Val di Susa in Piedmont. Legend has it that it was built by angels.

Mar 03, 21 08:40 AM

Everyone knows the Cinque Terre and the Amalfi Coast but there is somewhere just as lovely with hardly any tourists? It's Tellaro!

Mar 02, 21 11:40 AM

What are the tax rates in Italy? Are there tax incentives for moving to Italy? What about inheritance tax? All your questions about tax in Italy answered.

Mar 01, 21 03:45 AM

There are hill towns in Tuscany where life goes on as it always has, where few tourists venture. Yet this Tuscany enchants as much as the other and maybe more?