Piedmont Wine, Vermouth and Spumante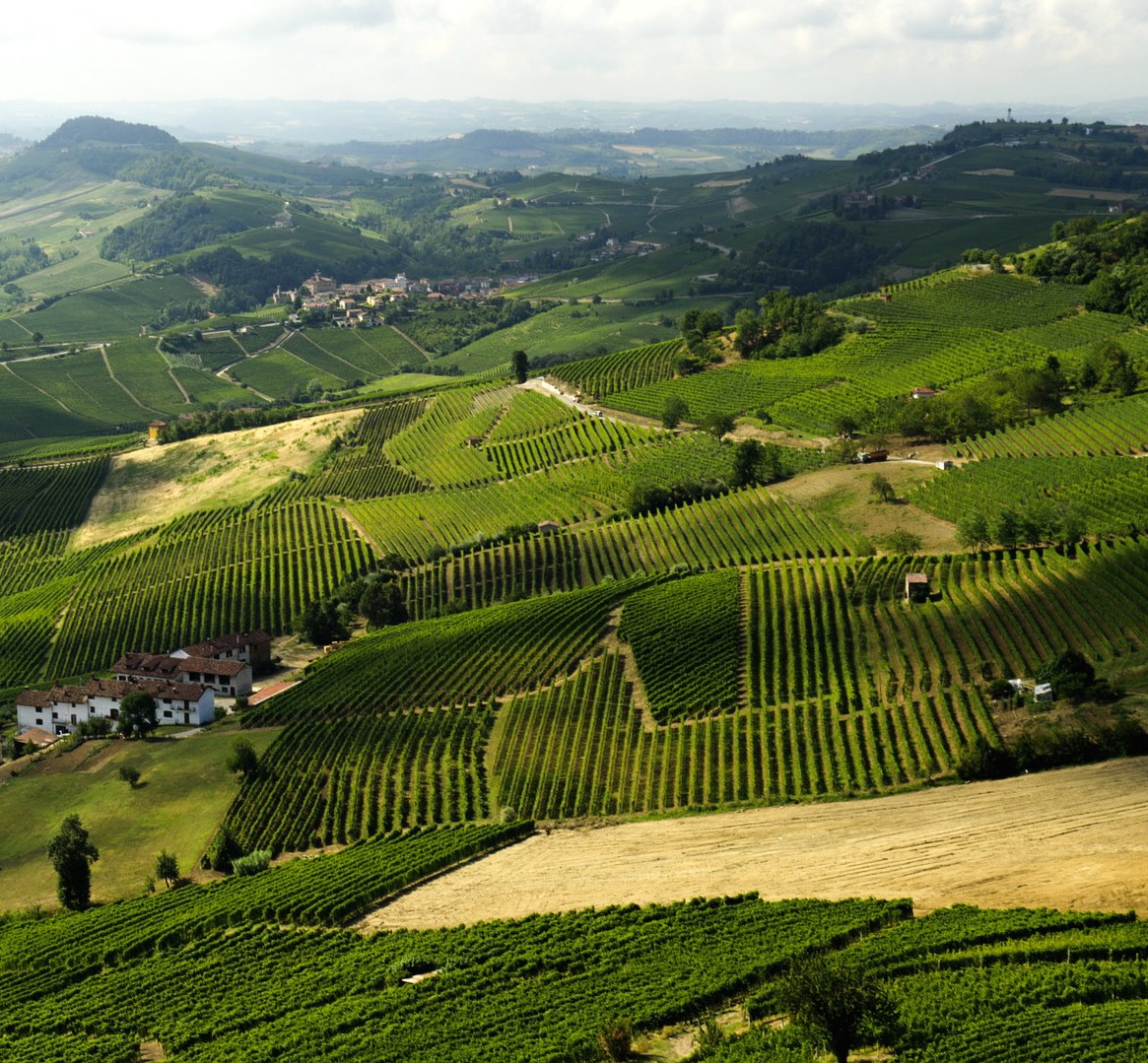 The vineyards around Alba produce the most famous Piedmont wine. The great Barolos and Barbaresco wines made from Nebbiola grapes. These are some of the best Italian wines and are available online through our sister site - click here for more details.
Red Wines
Barolo: Renowned as one of the most illustrious Italian wines, Barolo is only Barolo if it is produced south of the Tanaro River. With its seductive bouquet of violets and a velvety, smooth flavor, this wine captivates the senses. Its unmistakable allure lingers with a subtle hint of  resinous aftertaste known as goudon or tar, adding to its complexity and charm. This is one of Italy's, and indeed the world's, greatest wines and ages well.
Barbaresco: Nestled amidst the steep slopes encircling its namesake ancient town, Barbaresco stands as the "younger sibling" to Barolo—a wine that matures more swiftly yet possesses equal prestige. Produced from the same noble Nebbiolo grape, Barbaresco has its own unique character. Its profound elegance and evolving nature make it a captivating choice for those seeking refined indulgence.
Barbera: Sadly, often overshadowed by its illustrious counterparts, Barbera is a superb wine and a wine I love. Offering great quality at an affordable price, Barbera is a perfect choice for everyday drinking and goes well with many of the classic meat and pasta dishes from Piedmont. Revered for its inherent quality, this good-natured wine captivates with its vibrant acidity and lively personality. Bursting with red fruit flavors and a touch of spice, Barbera provides a pleasurable and approachable experience, making it an excellent choice for everyday enjoyment.
Nebbiolo Wines: Beyond the realms of Barolo and Barbaresco, the wines sourced from the northern region of Tanaro are referred to simply as Nebbiolo. Embracing the hallmark fragrance of violets, these wines showcase the unique character of the Italian Nebbiolo grape. With a lighter body and youthful vigor, they offer an opportunity to revel in their fresh vibrancy. Although not as renowned as their distinguished siblings, Nebbiolo wines possess their own enchanting qualities, making them a delightful exploration for wine enthusiasts seeking the essence of Italian viticulture.
White Wines & Vermouth
Piedmont wines are predominately red. But among the Piedmont white wines, Asti Spumante has become famous.
Nowadays, Asti Spumante is probably Italy's best-known sparkling wine, and it isn't nearly as bad as you think. Unfortunately, in the "80s," the market was flooded with cheap and nasty Asti Spumante, and the reputation of the name was destroyed. They've struggled to overcome that ever since, which is unfortunate as there are some really high-quality producers.
If you're looking for high-quality Asti Spumante, here are a few tips:
Look for DOCG designation: Asti Spumante wines that carry the DOCG (Denominazione di Origine Controllata e Garantita) designation are considered to be of the highest quality. This certification ensures that the wine is made according to strict production regulations and guarantees its origin and quality.
Research reputable producers:  Some renowned producers, with a long-standing reputation for producing high-quality sparkling wines, include Martini & Rossi, Cinzano, and Fontanafredda. The producers I prefer though are Gancia, with a legacy dating back to 1850 and Contratto, a boutique winery that produces artisanal sparkling wines, including Asti Spumante. They focus on traditional methods and careful vineyard management to craft high-quality wines.  
Check reviews and ratings: Read reviews and ratings from reputable wine critics and publications to get an idea of the quality and characteristics of different Asti Spumante wines. These reviews can provide insights into the flavor profile, sweetness level, and overall quality of the wine.
The best of the Piedmont white wines is the Gavi.
A superb wine made primarily from the Cortese grape. It is known for its crispness, refreshing acidity, delicate floral notes, and flavors of citrus and green apple.. Particularly good are those produced by Tenuta San Pietro.

Vermouth is another Piedmont specialty
First produced, commercially at least, in 1786 by winemaker Benedetto Carpano at his wine shop near the Turin Stock Exchange. The stock broker's cries of "punt e mes (a point and a half)" entered the Italian language, like Carpano's own name, to describe a special type of bitter vermouth that is made of white wine infused with herbs, spices, roots, and a whole lot of other ingredients.
In those days, the vermouth producers were small family affairs. Now they are mammoth distilleries and global businesses whose secret formulas are jealously guarded. More than 50 million bottles of Italian vermouth are consumed every year, and the classic cocktail, the dry martini, is named after the most celebrated producer: Martini & Rossi. Martini & Rossi is now a household name throughout the world although they have always stayed true to their Piedmont roots.
The best way to experience all that Piedmont has to offer is by means of a tour around Piedmont's wine route sampling these fantastic wines.
If you enjoy my site I'd love your support.

All you need do is book your accommodation via this link, or any of the other hotel links on the website. Whether it's for travel to Italy... or anywhere else on earth, your support means the world to us.
You'll get the best deal available, and the income helps us stay independent and to keep bringing you the best of Italy.