The Complete Guide to Shopping in Turin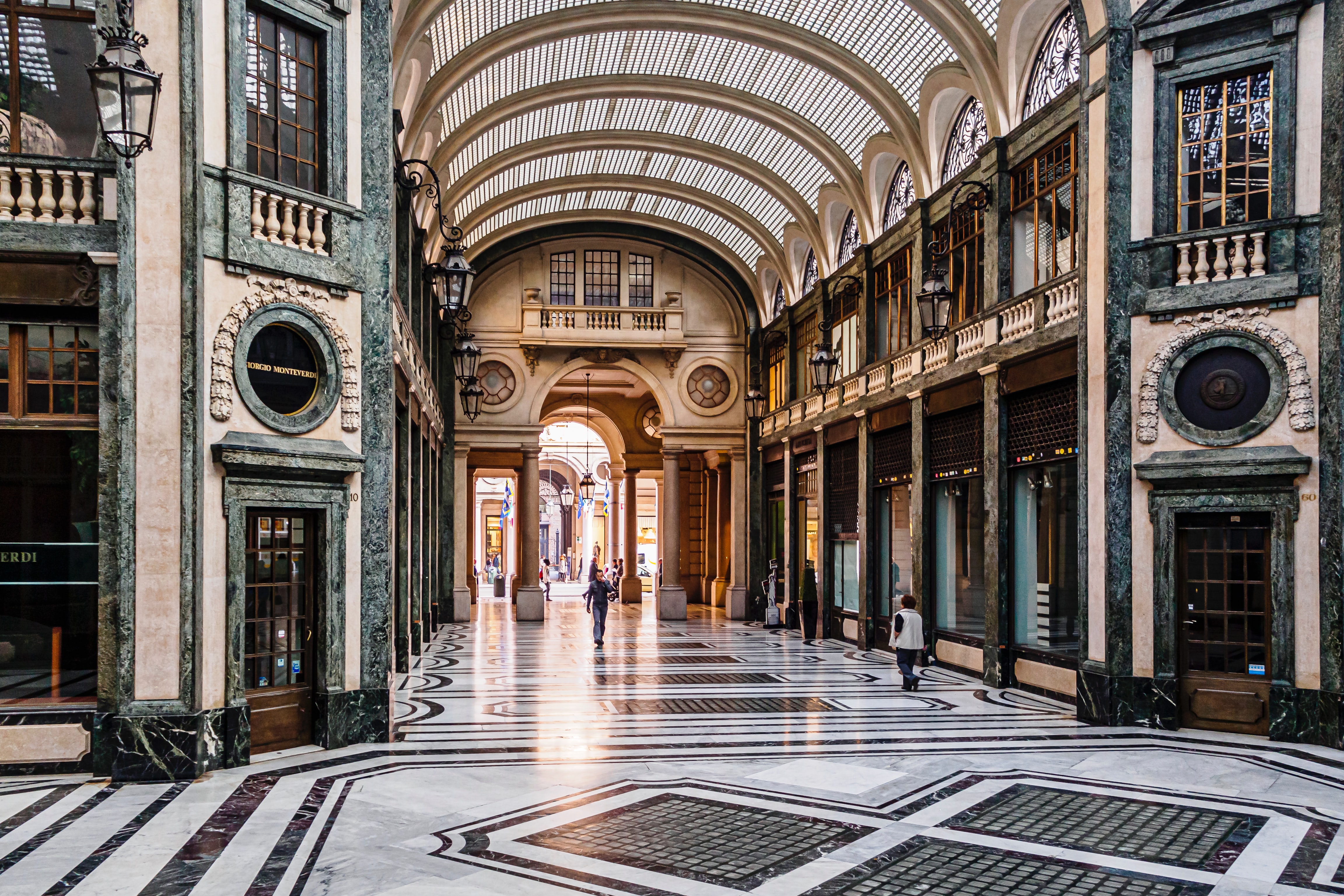 Gallery San Federico
Answer:  Shopping in Turin is sure to satisfy nearly every taste. Whether you are looking for great food, designer clothing, or antiques, you will find it here. We've got an expert to show you around...
My wife, Maria (that's her in the photo down below), is the shopping specialist, so this page was prepared with lots of help from her. Take it from me, you are dealing with a real expert. Over to Maria...

Turin's Markets
For serious shopping in Turin and an immersive cultural experience, a visit to the bustling Porta Palazzo market in Piazza della Republica is an absolute must. This expansive market, the largest in Europe, offers a treasure trove of goods and a vibrant atmosphere that will captivate your senses.
As you step into the market, you'll be greeted by a wild symphony of sounds, aromas of spices, coffee, freshly baked bread and pastries, and fruits, and a visual explosion of color. Stalls stretch as far as the eye can see, showcasing an astonishing variety of products. From fresh produce and local delicacies to clothing, shoes, artisan crafts, and antiques, Porta Palazzo has it all.
The market pulsates with energy as locals and visitors weave through the bustling crowds, engaging in lively banter with the vendors. It's a place where the heart of the community beats, and you can witness the vibrant tapestry of daily life in Turin.
Locals, with a twinkle in their eyes, share their passion for the market. Salvatore, originally from Sicily and a longtime resident of Turin, says, "Porta Palazzo market is a treasure trove of surprises. You never know what unique finds await you. It's a melting pot of cultures and flavors, Southern Italy and Northern Italy, even Asian and African, a place where old traditions intertwine with the modern world."
Stroll through the vibrant sections of the market, each offering its own distinct charm. The colorful fruit and vegetable stands showcase the freshest seasonal produce, while the aroma of freshly baked bread and pastries lingers in the air. Explore the fish market, where an impressive array of seafood entices passersby with its briny scent.
One cannot resist getting lost among the rows of clothing and accessories, where fashionistas and bargain hunters delight in finding unique pieces. And for those seeking vintage treasures or antique collectibles, the market offers a nostalgic journey through time.
Immersing yourself in the Porta Palazzo market is not just about shopping; it's about immersing yourself in the heartbeat of the city. The market is a cultural melting pot, where different languages mingle, and the vibrant spirit of Turin comes alive.
| Tip
Explore the Turin central market with a knowledgeable guide! This way, you'll get to really know and appreciate local culture and cuisine.
Maria is carrying out shopping research
Every second Sunday of the month, the Gran Balon antiques market is held in the same area, and this really has to be seen to be believed.
Grand Balon is one of the biggest antique markets in the entire world, and some incredible bargains can be discovered, but make sure you give yourself plenty of time as there is so much to see.
Corso Racconigi: Particularly good here is the fresh produce section, which is below street level and is home to some of the best cheese, meat, and seafood in all of Turin. This is the market my husband loves; he spends hours here choosing what he'd like me to cook for dinner!
The morning market in Crocetta, just off Corso Duca degli Abruzzi, is another great favorite of mine. Crocetta is the best market for clothes, bags, and shoes. Original and 100% authentic designer names can be found everywhere at a fraction of the retail price.Crocetta is a pretty upmarket area, so they would never dare sell fakes!
The neighborhood here is lovely; exploring this market or just sitting at one of the coffee bars with a morning espresso or cappuccino and croissant while taking in the atmosphere is definitely one of life's little pleasures. If you are looking to do some serious clothes shopping in Turin, then do make a point of visiting.
Eataly
The world's greatest gourmet paradise is here in Turin! Eataly in Via Nizza 230 is the best food store you will ever visit, and Eataly is indeed unlike any other food store you will ever visit.
Inside this massive shop and market, you'll find wall-to-wall gourmet delights and the best food Piedmont has to offer, from truffles to chocolates and everything in between.Nearly everything sold here is produced by small artisans and is of the highest quality.
The ten or so restaurants inside the store allow you to sample some of the best of Italian cuisine, from ice cream made the old-fashioned way to the most wonderful cheeses you will ever eat.
Eataly is almost like doing a tour of the very best of Italian food, but instead of having to travel thousands of miles to discover these wonderful "slow food" producers; they are all here under one roof. It's worth making the trip to Italy just to visit Eataly!
Famous Shopping Streets in Turin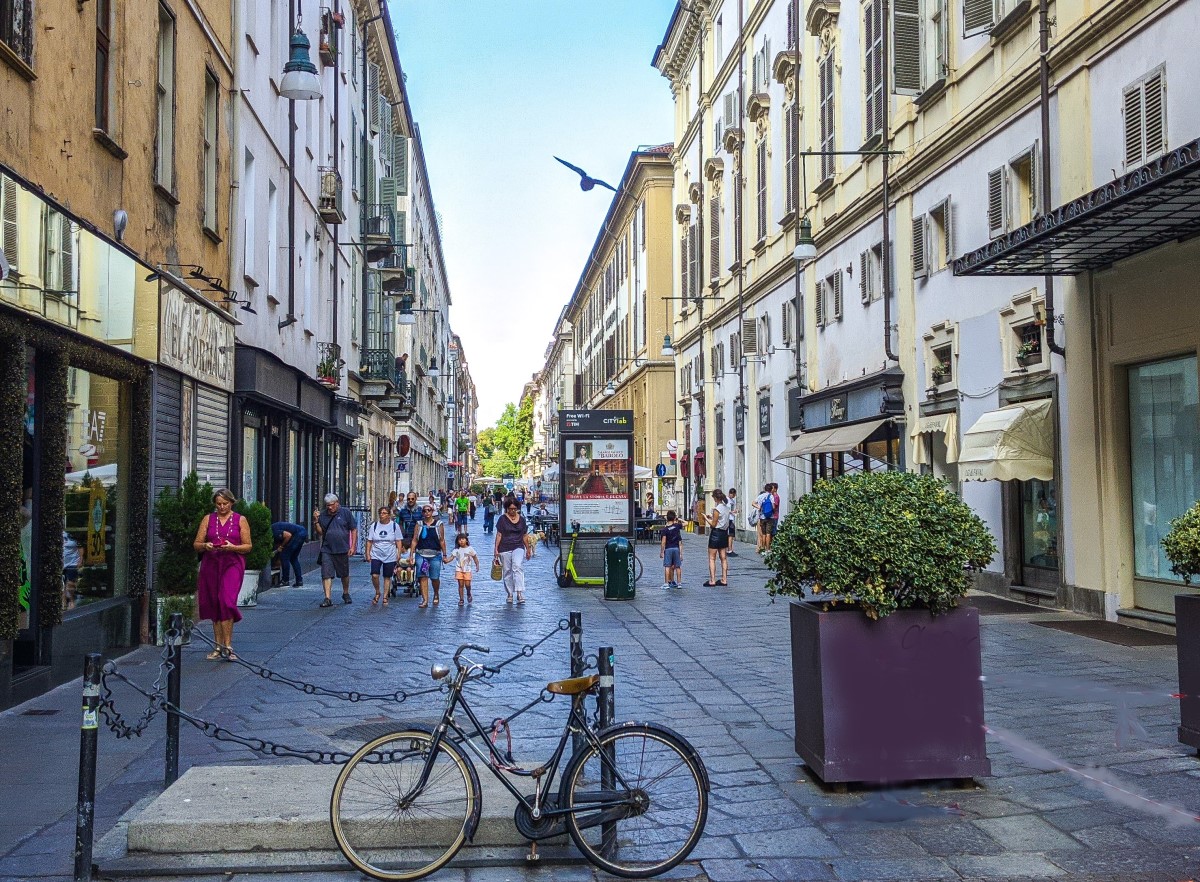 Via Garibaldi
For the most fashionable shopping in Turin, visit Via Roma and the streets leading off it. This is where you will find all the leading designer stores and the prices to match, although you'll still find the fashion here is way cheaper than in Milan.
The best time to visit for shopping is in January or July, when the big sales are held.
Take in the atmosphere on a Saturday, when all of Turin seems to dress up in their finest to parade up and down this street and to be seen at the coffee bars of the adjoining Piazza San Carlo. Also, explore the beautiful Galleria San Federico, home to one of Turin's oldest cinemas, The Lux.
Via Garibaldi is another shopping street that is well worth a visit; not as upmarket as Via Roma, this pedestrianized street is packed with fascinating little shops and always has a wonderfully eclectic feel. I love the old Farmacia Bosio, just one of the many stores in Via Garibaldi that seem to have been here forever.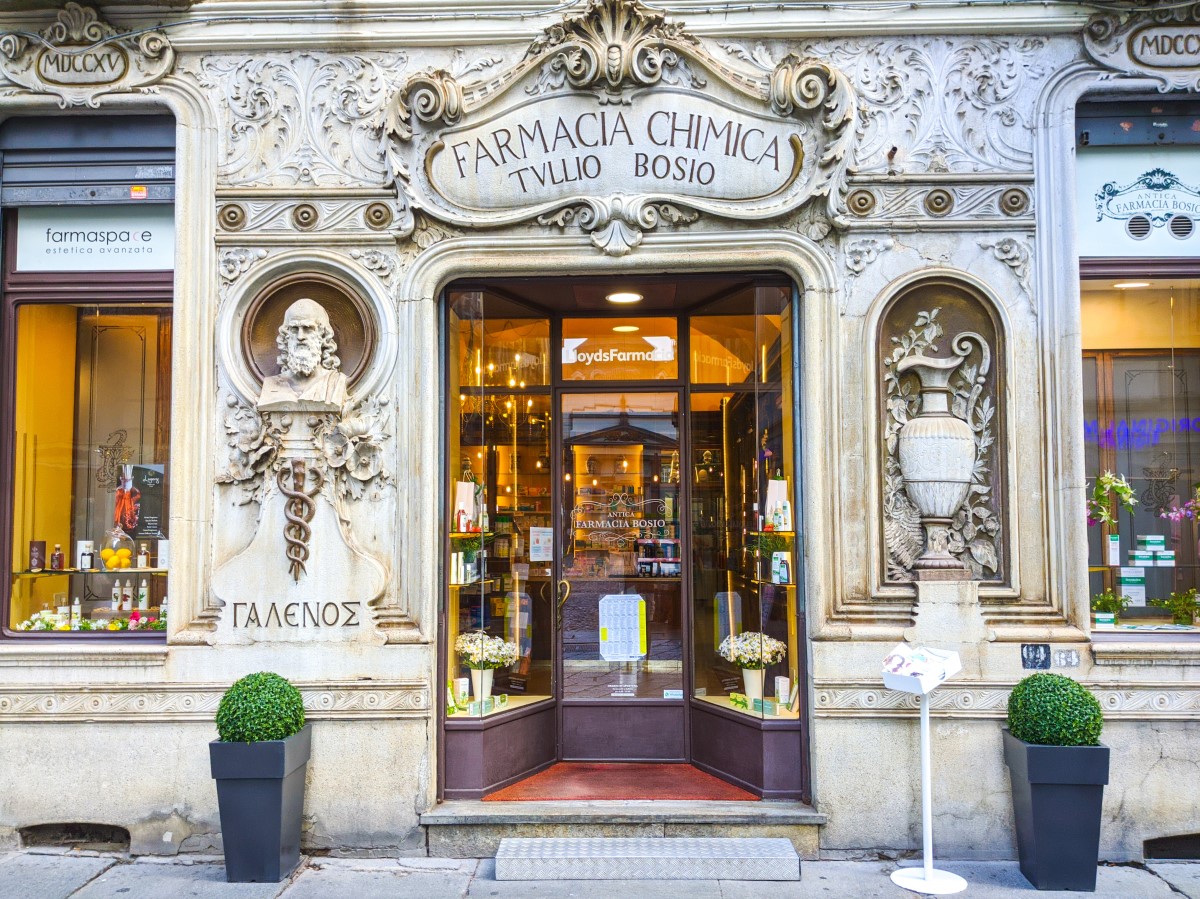 Designer Fashion Outlet Stores
There is an outlet village, the Torino Outlet Village, located in Settimo Torinese.
It's around 20 minutes' drive from Turin, and you'll find all the top designer brands at discounted prices. You can find out how to get there and the brands they feature on their website - here is the link.
🚘 If you are planning to visit the surroundings of Turin during the trip, think about renting a car. Economy Bookings offers great variety of options for any budget!
Click herе to rent
Torino's Shopping Malls
Shopping malls are not common in Italy, but Turin has a few good ones.The most central of them is 8 Gallery at 230 Via Nizza, opposite Eataly.
8 Gallery is very different from most shopping malls in that it is located in the old Fiat car factory in Lingotto.
Lingotto was the famous Fiat factory with the roof-test track. When the factory closed, it was turned into a shopping mall with around a hundred quality shops, many restaurants, cinemas, and the
If you get tired of shopping and want to view the famous test track, this can be done from the shopping center or hotel. Actually, my husband loves this track so much, he could even skip the shopping entirely—talk about going crazy!


SEE WHAT TURIN HAS TO OFFER
For more on wonderful Turin visit my guide.

Need a place to stay in Turin? Try the Grand Hotel Sitea.

Subscribe to our Free Monthly Newsletter full of great insider tips. Perfect for those who love Italy.
If you enjoy my site I'd love your support.

All you need do is book your accommodation via this link, or any of the other hotel links on the website. Whether it's for travel to Italy... or anywhere else on earth, your support means the world to us.
You'll get the best deal available, and the income helps us stay independent and to keep bringing you the best of Italy.