Su Barchile in Orosei Sardinia

Just a note to tell you that the Hotel/Restaurant Su Barchile in Orosei Sardinia should be at the top of your list of places to dine/stay on the island.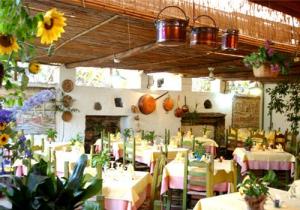 Maria, Peppe and Antonella--family members who own and run this gem of a small hotel (only 10 rooms) offer extraordinary food, simple and pristine decor throughout and the genuine hospitality that so defines native Sardinians.
Maria gives informal cooking lessons in the state of the art kitchen (I learned to make malloredus last year). This is a place that you will return to...close to Bidderossa, Cala Luna, etc.
When we first visited, a few years back now, my husband and I joined Maria for a cooking lesson in the kitchen (son Peppe can take you on a motorcycle jaunt and daughter Antonella is a sommelier and will lead tours of the area ) and I learned to make maccerones di busa, malloredus, fresh tomato sauce and a wonderful ravioli with ricotta and spinach.
The hotel is as thoughtfully put together as another superb nearby hotel called the Su Gologone, with a comparable sense of artistry and design, but when you walk into this tiny hotel and see the family sitting on the couch in the lobby together in the afternoon, kicking back before preparing the evening meal, you feel like you're family too.
Mary


Andrew's reply: Thank you very much for sharing this lovely review. I don't know the hotel at all but you really made me want to visit - it sounds like a really delightful home away from home. For booking info please click here.


Need time on the best beach in all of Sardinia? It's not far from here either! Click for details.
Please be so kind to support our family through difficult times when you next travel.
All you need do is book via the search box below, or any of the hotel links elsewhere on the website. It can be for travel to Italy... or anywhere else on earth.
You'll get the best deal available and the income we receive helps us to:
Stay independent and to keep bringing you the best of Italy.
Never have to accept money from hotels directly - meaning that we can share only those we genuinely love.
Mar 15, 21 08:26 AM

Mar 08, 21 09:34 AM

Mar 04, 21 07:05 AM

The Sacra di San Michele looms menacingly over the entrance to the Val di Susa in Piedmont. Legend has it that it was built by angels.

Mar 03, 21 08:40 AM

Everyone knows the Cinque Terre and the Amalfi Coast but there is somewhere just as lovely with hardly any tourists? It's Tellaro!

Mar 02, 21 11:40 AM

What are the tax rates in Italy? Are there tax incentives for moving to Italy? What about inheritance tax? All your questions about tax in Italy answered.

Mar 01, 21 03:45 AM

There are hill towns in Tuscany where life goes on as it always has, where few tourists venture. Yet this Tuscany enchants as much as the other and maybe more?