Login with your member password below to see your content

Why not become a Supporter?
Click the more info button to see what we offer...
Picture Perfect Trani
As a child I was fascinated by sea pirates. Even today, my son William and I never miss those Johnny Depp movies – although he doesn't have my degree of enthusiasm for them. It's a quirk of mine, I suppose.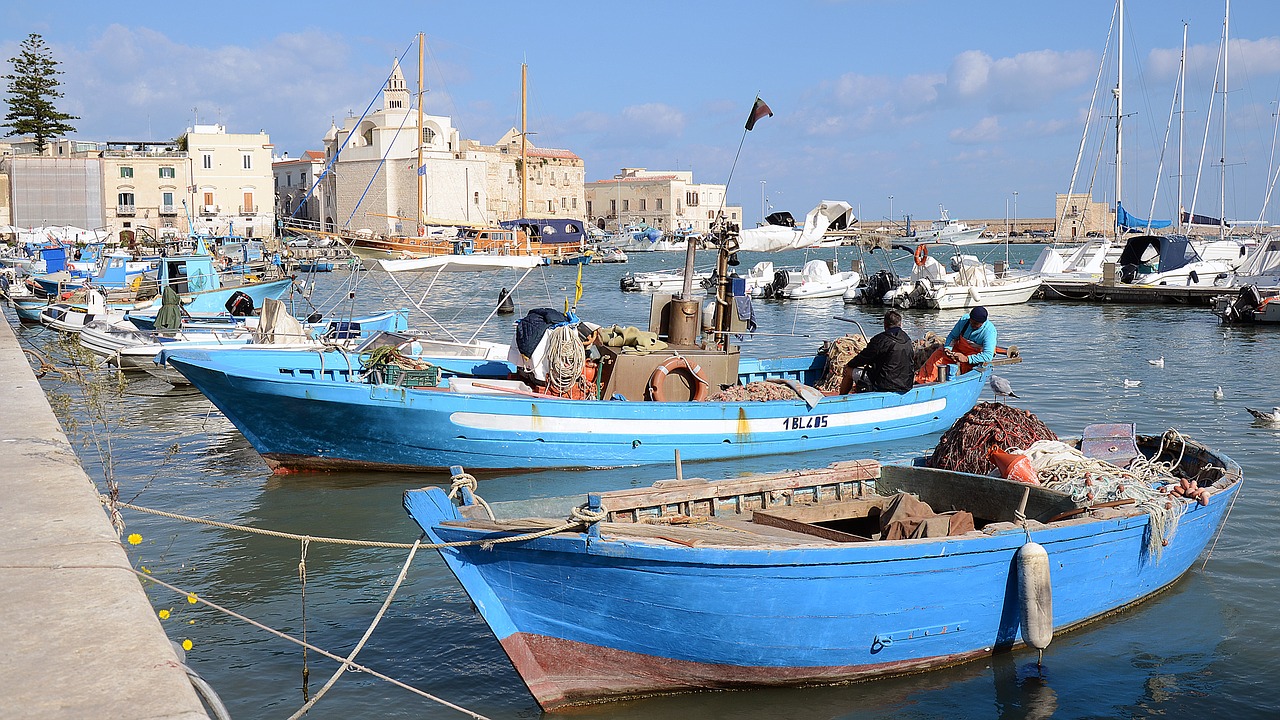 Later in life, pirates were replaced by explorers. I'd wonder what it was like to be Christopher Columbus or Frances Drake, off in search of unknown lands. I guess there – in my imagination – is where my love of travel began… and my fascination with ports.
There's something about Trani that evokes those early memories. It's a weathered old sea port after all, located on the Adriatic coast in the region of Puglia, roughly 30 miles from Bari. Great to use as a base when visiting the South.
Much more peaceful than Bari, for one thing. I'd go so far as to call Trani a sleepy coastal town. It has that slow, quiet feel of many coastal towns its size (about 60 000 inhabitants). But 'sleepy' does no justice to its vibrancy, especially down at the lungomare (promenade) where the day's catch is always cause for a buzz; as are the weekend markets, where you're bound to find some uniquely crafted artifact to remind you of your time spent here.
As tourist attractions go, there's not that much to do and inland, Trani is quaintly ramshackle; unkempt, but classical. Yet the longer you stay, the more it gets into your soul. And it quickly becomes familiar, revealing more and more of its subtle charm as it does so.
As the days go by the thought of leaving again becomes more and more scary - your whole body clock has slowed to the rhythms of Trani and the thought of speeding up again seems unbearable. Somehow, it just feels that Trani speed is the speed we were meant to live at.
It's subtle, but for its icon. The unmistakable Cattedrale di San Nicola Pellegrino fairly dominates the waterfront. Romanesque and supremely elegant, once seen it is never forgotten.
Accommodation 
The superbly located Le Stanze di Corteinfiore is a gem. Run by the Mattera family, who embody the friendliness of their town, this hotel sports all the right amenities, and some exceptional cuisine, both down in the restaurant and in the breakfast, which is brought up to the stylish, quaintly themed rooms. Here you're in the arc of the harbor, close to the main attractions, and across the road from another Trani draw card, the Chiesa di Ognissanti, a twelfth-century church built by the Knights Templar.
But my pick has to be the B&B Torrente Antico, also in the harbor area, close enough to all the places you want to go to. It's a little further from the big cathedral, but the walk along the lungomare, especially at night, is a delight. The fully equipped apartments and traditional breakfast at the bar opposite won't disappoint.
What you'll see...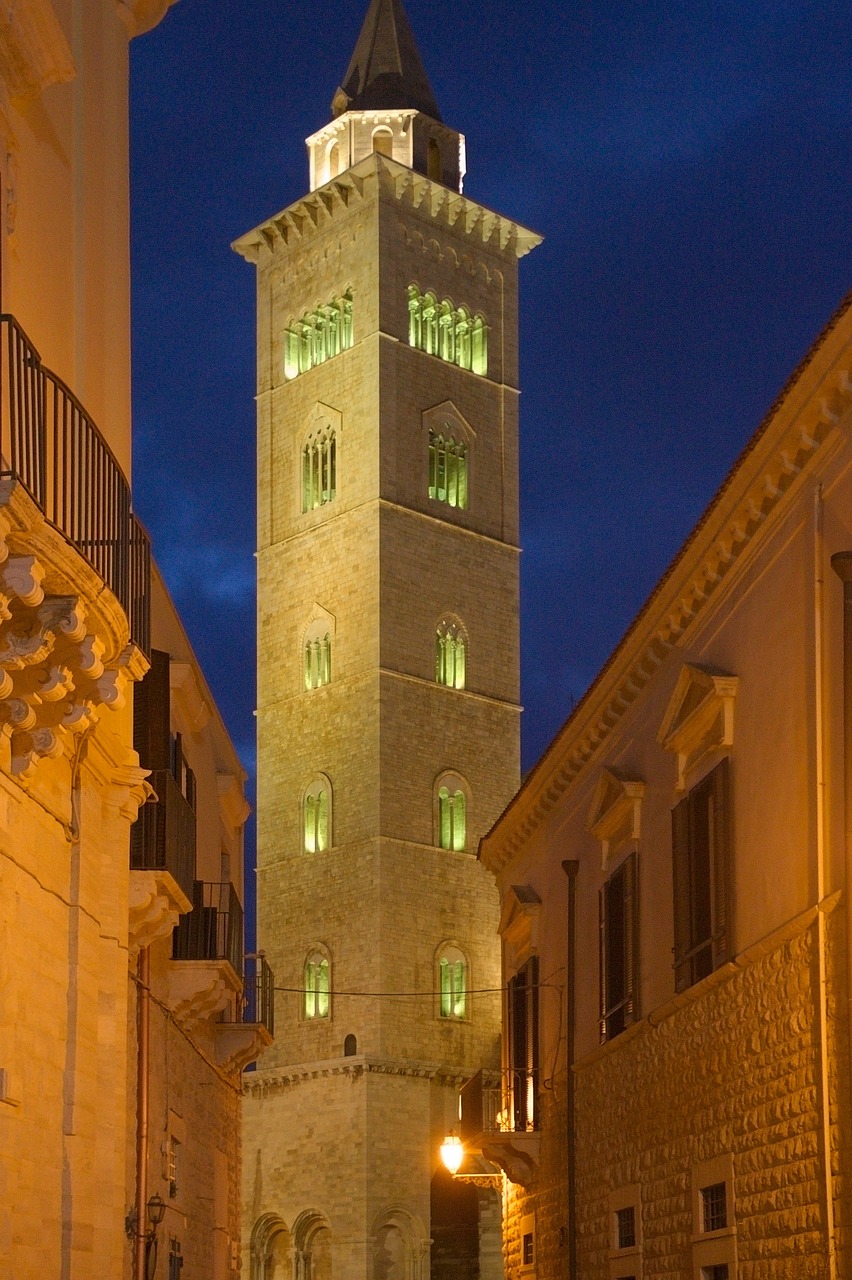 Well, I've mentioned the cathedral, the Knight's Templar church and the lungomare. Notable too is Castello Svervo, an old fortification from the 1200s. And if you're a park lover like me, there's the Villa Comunale, just the loveliest public garden.
From the architecture there's no mistaking that Trani is in the South: full of cobbled lanes, boutiques, and bars and restaurants, all infused with that relaxing feeling one gets in anywhere on the heel of the Italian boot - of course there's also lots of fresh coastal air, bobbing fishing boats and the ever-present sounds and smells of the sea.
Where  to Eat
You don't need me to tell you that seafood is a specialty here, each chef having their own culinary secrets. The catch of the day is always my staple at dinnertime; and the bounty of the Adriatic is beautifully respected at Ristorante Nord-Este, where there is no menu. The waiter simply informs you what's been prepared for that evening. (So you know it's good.)
Wishing to go upmarket, the cuisine at Quintessenza Restaurant is sensational. And, if you just feel like some rib-sticking good value, you might try the Code Café.
Out and about
As I said, Trani is a great base from where to sample Puglia's other offerings, like exploring the Adriatic coastline; or the region's wine and olive lands (here is one of numerous tours available). And then there's Bari, for a more cosmopolitan experience.

Getting there
Bari Karol Wojtyla Airport is the international access point to the region; but Trani is on the main train line and also well serviced by buses. Again, though, if you plan on widespread sightseeing in Puglia, a hired car is your best option.

Map