The Cafe in Turin Guide
Caffe Platti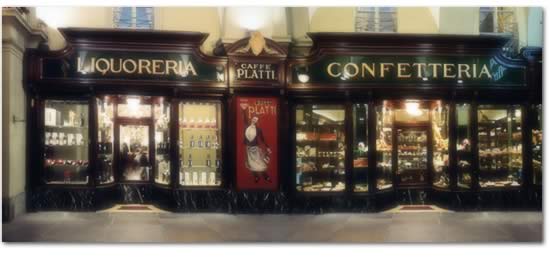 C.so Vittorio Emanuele II 72, The cafe is right in the city centre Tel. (+39) 011 506 90 56
This is a true liberty style original, Turin's Cafe Platti is a relatively new addition, well at least by Turin's standards, to the city's many great Cafes having opened it doors as recently as 1875.
Once the haunt of Pavese, Einaudi, Agnelli, Lavazza and many of the other great names from Turin's past; it is still the retreat of the elite of Turin and indeed Piedmont.
Caffe Platti is a great place to enjoy an aperitif before dinner which is served from 19:30.
An interesting aside is the window display which features displays on loan from the Marionette Museum and is always very interesting.
Caffe San Carlo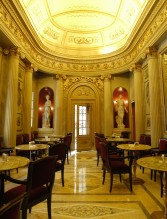 Piazza San Carlo 156, Tel. (+39) 011 561 77 48
Probably the most legendary cafe in all of Turin and one of Italy's loveliest cafes. Caffe San Carlo dates back to the early part of 19th century.
San Carlo quickly became the intellectual lounge of the leading Italian and Piedmont figures of the time. People like Cavour and D'Azeglio were frequently seen here. Indeed the whole Piazza San Carlo area is still known as the intellectual lounge of Turin.
The interior is indeed splendid, I would suggest having a coffee here and savouring the opulent atmosphere.
A Turin tour should always include a visit to this cafe but unless you are very wealthy, don't spend much money here as the prices are extremely high. The atmosphere though does make it all seem worthwhile... despite the prices.
Please be so kind to support our family through difficult times when you next travel.
All you need do is book via the search box below, or any of the hotel links elsewhere on the website. It can be for travel to Italy... or anywhere else on earth.
You'll get the best deal available and the income we receive helps us to:
Stay independent and to keep bringing you the best of Italy.
Never have to accept money from hotels directly - meaning that we can share only those we genuinely love.
Mar 15, 21 08:26 AM

Mar 08, 21 09:34 AM

Mar 04, 21 07:05 AM

The Sacra di San Michele looms menacingly over the entrance to the Val di Susa in Piedmont. Legend has it that it was built by angels.

Mar 03, 21 08:40 AM

Everyone knows the Cinque Terre and the Amalfi Coast but there is somewhere just as lovely with hardly any tourists? It's Tellaro!

Mar 02, 21 11:40 AM

What are the tax rates in Italy? Are there tax incentives for moving to Italy? What about inheritance tax? All your questions about tax in Italy answered.

Mar 01, 21 03:45 AM

There are hill towns in Tuscany where life goes on as it always has, where few tourists venture. Yet this Tuscany enchants as much as the other and maybe more?