Cannelloni Recipe
Cannelloni is a quintessential Italian dish that has become popular worldwide due to its delicious blend of flavors and textures. It's an oven-baked pasta dish that's made by stuffing cylindrical pasta shells with a flavorful mixture of ingredients such as ground beef, spinach, and cheese, then topping it with a tomato-based sauce and baking it in the oven until it's hot and bubbly.
The result is a mouth-watering meal that's perfect for any occasion.
This recipe for homemade cannelloni is my favorites, and I can't wait to share it with you. I'll guide you through the steps of making the perfect cannelloni, including tips for preparing the stuffing mixture, stuffing the shells, and baking the dish to perfection. 
One thing to keep in mind is that while spinach is included in this recipe, it's completely optional. If you're not a fan of spinach (a lot of people aren't judging by the number of messages I've received) simply leave it out. So let's get started and make some mouth-watering cannelloni!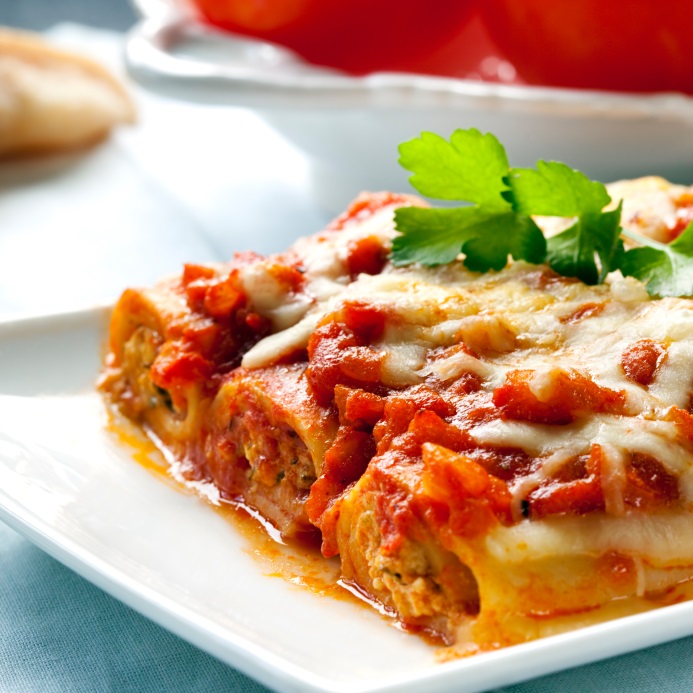 Ingredients
1 lb. of ground beef
Salt & pepper to taste
A quarter of a of cup grated Pecarino Romano cheese.
2 cloves of garlic (minced) - you can add more or less depending on how much you like garlic.
1 egg
1/4 of a cup of chopped fresh parsley
1/4 cup bread crumbs
1 cup of cooked and chopped spinach (leave out if you don't like spinach)
2 cups of tomato puree/passato di pomodoro
Cannelloni shells
Cooking Instructions
1) Fry the ground beef in a pan with a little oil. While the beef is cooking, break it up in small pieces.
2) Transfer the beef to a large mixing bowl and add the salt and pepper as well as the garlic. Mix everything together and then add the egg, Pecorino Romano cheese, parsley, bread crumbs, and more salt to taste.
3) Squeeze water out of cooked spinach and chop. Add the spinach and the half cup tomato puree.
4) Spread some of the tomato puree on the bottom of a baking pan. Stuff the cannelloni shells with the mixture you have made and place in pan. Spread more tomato puree in between each layer and on the top. Add a little cheese on top too if you like.

5) Bake at 350 degrees Fahrenheit for 1 hour. Then, broil for 2 to 3 minutes to brown top.
The great thing about cannelloni is that it's a versatile dish that can be adapted to suit your own tastes and preferences. You can experiment with different ingredients and flavors to create your own unique version of this classic dish. 
With its delicious blend of flavors and textures, it's no wonder why this dish has become a favorite around the world.
So why not give this recipe a try and discover the authentic flavors of Italy in your own kitchen?

Print this recipe...

---
If you enjoy my site I'd love your support.

All you need do is book your accommodation via this link, or any of the other hotel links on the website. Whether it's for travel to Italy... or anywhere else on earth, your support means the world to us.
You'll get the best deal available, and the income helps us stay independent and to keep bringing you the best of Italy.