Cannelloni Recipe
Cannelloni is one of the most popular of Italian pasta al forno (oven baked pasta) dishes and with good reason - it's delicious!! This is one of our favorite recipes and let me tell you that nothing much can beat a dish of homemade cannelloni.
One thing I've noticed is that a lot of people seem to not like spinach and the recipe includes this. If you don't like spinach then there's a simple solution...leave it out. The recipe is still wonderful.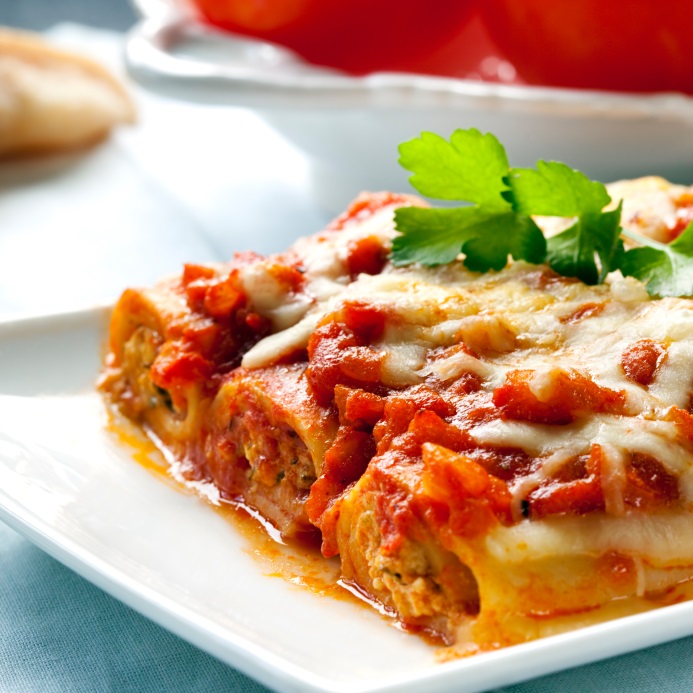 Ingredients
1 lb. of ground beef
Salt & pepper to taste
A quarter of a of cup grated Pecarino Romano cheese.
2 cloves of garlic (minced) - you can add more or less depending on how much you like garlic.
1 egg
1/4 of a cup of chopped fresh parsley
1/4 cup bread crumbs
1 cup of cooked and chopped spinach (leave out if you don't like spinach)
2 cups of tomato puree/passato di pomodoro


Cooking Instructions
1) Fry the ground beef in a pan with a little oil. While the beef is cooking, break it up in small pieces.
2) Transfer the beef to a large mixing bowl and add the salt and pepper as well as the garlic. Mix everything together and then add the egg, Pecorino Romano cheese, parsley, bread crumbs, and more salt to taste.
3) Squeeze water out of cooked spinach and chop. Add the spinach and the half cup tomato puree.
4) Spread some of the tomato puree on the bottom of a baking pan. Stuff the canelloni shells with the mixture you have made and place in pan. Spread more tomato puree in between each layer and on the top. Add a little cheese on top too if you like.

5) Bake at 350 degrees fahrenheit for 1 hour. Then, broil for 2 to 3 minutes to brown top.
Print this recipe...

---
If you enjoy my site I'd love your support.

All you need do is book via this link, or any of the hotel links on the website. It can be for travel to Italy... or anywhere else on earth.
You'll get the best deal available, and the income helps us stay independent and to keep bringing you the best of Italy.